Occupation Update, Volume II (July 2-6, 2014)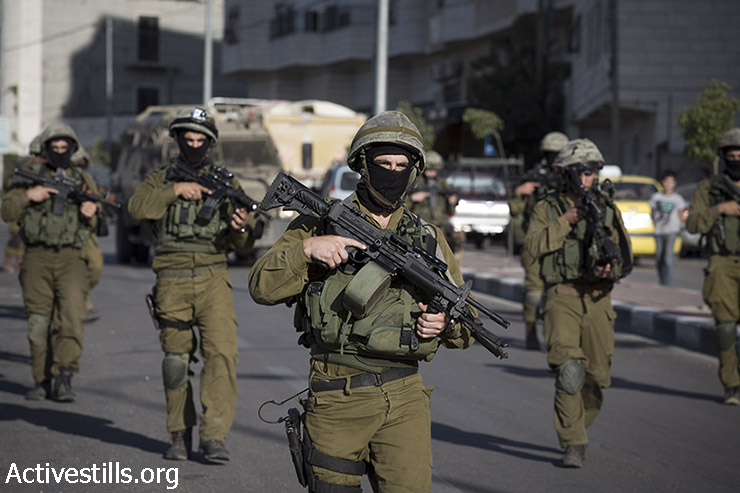 Note: This report is not comprehensive in nature. Many incidents of violence carried out by Israeli settlers against Palestinians, for example, are not reported and therefore not properly documented.
Number of Palestinians Killed by Israelis During Reporting Period: 10
PALESTINIANS KILLED & INJURED BY THE ISRAELI MILITARY
On July 6, the Israeli military killed nine Palestinian militants in airstrikes in Gaza, including seven members of Hamas. Two teenage girls, a child, and two men were also reportedly injured in the attacks. According to Maan news agency, the dead men included Ibrahim Balawi, 24, Abdul-Rahman al-Zamili, 22, Mustafa Abu Mur, 22, his brother Khalid, Sharaf Ghannam, 22, and Juma Abu Shalouf, 24.
On July 5, two Palestinian journalists were injured when Israeli soldiers fired stun grenades directly at them while they filmed a report about protests in occupied East Jerusalem.
On July 4, approximately 60 Palestinians were injured during protests in occupied East Jerusalem following the burial of 16-year-old Mohamed Abu Khdeir. Mohamed was murdered on July 2 in a suspected revenge attack by Israeli Jews in response to the killing of three Israeli teens in the occupied West Bank.
On July 3, Israeli police were videotaped brutally beating a 15-year-old Palestinian-American boy in the Shufat neighborhood of occupied East Jerusalem. The teenager, Tarek Abu Khdeir, was a cousin of Mohamed Abu Khdeir, the 16-year-old Palestinian found murdered the day before. A seriously injured Tarek was denied medical care for five hours and held without charge until Sunday, when he was released under house arrest. Following publication of two videos of the beating a spokesperson for the US State Department replied: "We are profoundly troubled by reports that he was severely beaten while in police custody and strongly condemn any excessive use of force. We are calling for a speedy, transparent and credible investigation and full accountability for any excessive use of force."
Also on July 3, at least 11 Palestinian civilians were injured, including an elderly woman and a teenage boy and girl, as a result of Israeli airstrikes in occupied Gaza.
On July 2 and 3, approximately 200 Palestinians were injured in civil unrest that broke out in occupied East Jerusalem following the murder of Mohamed Khdeir. Israeli forces fired tear gas, stun grenades, rubber-coated metal bullets, and live ammunition at protesters.


ISRAELI CIVILIAN/SETTLER VIOLENCE AGAINST PALESTINIANS
HOME DEMOLITIONS
On July 2, Israeli forces destroyed the home of Hamas activist Ziad Awad and his son in the village of Idna in the occupied West Bank. Israel accuses Awad, who was recently released from an Israeli prison as part of a prisoner swap, and his son of being responsible for an attack that killed an Israeli police officer and wounded two children. Following a Supreme Court ruling, Israel recently resumed its controversial practice of destroying the homes of Palestinian militants as a form of punishment and deterrence, which human rights groups have condemned as collective punishment, deemed illegal under international law. According to Israeli human rights organization B'Tselem, 13 people, including eight children, lived in the home.
On July 4, Haaretz newspaper reported that the Israeli military is contemplating destroying the homes of dozens of suspected Palestinian members of Hamas and other militant organizations in the occupied West Bank.


STATEMENTS/REPORTS FROM HUMAN RIGHTS ORGANIZATIONS
On July 6, Defence for Children International – Palestine issued a statement condemning the beating and arrest of 15-year-old Palestinian American Tarek Abu Khdeir by Israeli police on July 3. Noting that the assault on Tarek was "a clear violation of both Israeli and international law" and that it had received widespread international attention at least in part because he is a US citizen, DCI pointed out that in 2014, "190 Palestinian children on average have been held in Israeli detention… The majority of these children will carry out their sentences without mention in international media."
On July 3, Human Rights Watch released a report on Israel's recent West Bank crackdown entitled, "Israel: Serious Violations in West Bank Operations." It read in part:

"Israel's military operations in the West Bank following the abduction and killing of three Israeli teenagers have amounted to collective punishment. The military operations included unlawful use of force, arbitrary arrests, and illegal home demolitions. During raids on Palestinian towns, refugee camps, and villages, Israeli forces have shot and killed at least five Palestinians and arrested and detained at least 150 more without charge."

On July 2, Defence for Children International – Palestine issued a statement entitled "Tragic deaths of teens do not justify collective punishment against civilians."

"The excessive force employed by the Israeli military in past weeks has amounted to collective punishment of the Palestinian civilian population as a whole, with West Bank homes raided, freedom of movement severely restricted and deaths and injuries rising as residents clash with soldiers.

"In 2014 alone, the use of excessive force by the Israeli military lead to the deaths of six Palestinian children in the West Bank."

"Israeli officials have also called for a new wave of settlement construction in the occupied West Bank in memory of the teens. According to international law, Israel's settlements in the West Bank and transfer of civilians to occupied territory are illegal.

"DCI-Palestine calls upon Israeli authorities to end its policy of collective punishment, and for all parties to ensure that no more children pay the price for armed conflict."