Gaza Crisis Update (July 22, 2014)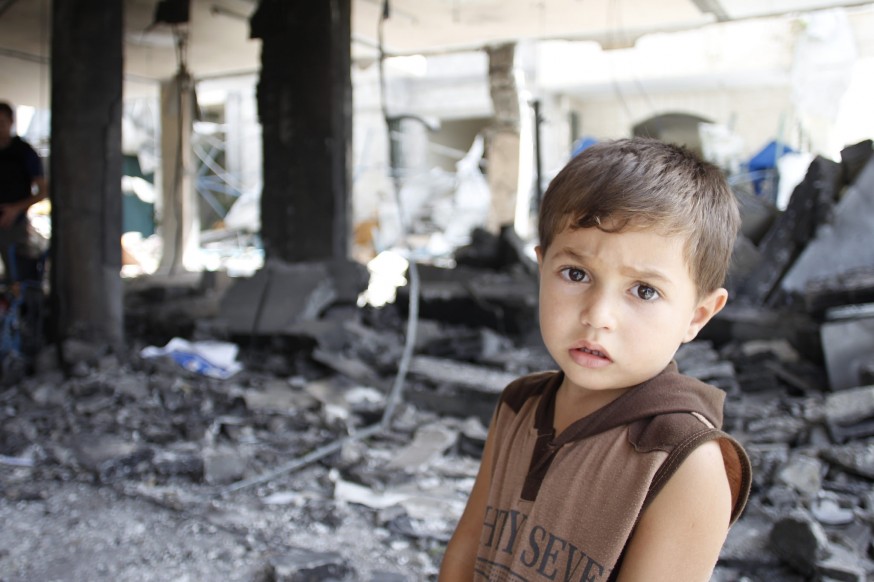 For background on the military strategy that Israel is employing in Gaza, which has caused massive civilian casualties, see our previously released fact sheet, The Dahiya Doctrine and Israel's Use of Disproportionate Force.
Since July 7, Israel has killed at least 584 Palestinians in Gaza, including approximately 121 children.
According to the United Nations, as of July 21 at 8 AM ET:

At least 364 Palestinian civilians have been killed, including at least 121 children and 59 women.
At least 3500 Palestinians have been injured, including at least 1100 children and 608 women.
100,000 internally displaced people are sheltering in 69 United Nations Relief and Works Agency (UNRWA) schools and tens of thousands of others are taking refuge elsewhere.
At least 107,000 children require specialized psychosocial support (PSS) due to trauma caused by the death or injury of someone they know or loss of home.
An estimated 1.2 million people have no or very limited access to water or sanitation services because of damage done to the electrical system or lack of fuel for generators. Repairs to the water and sanitation system are urgently required to avert the outbreak of public health diseases.
At least 85 schools have been damaged by Israeli shelling.
NOTABLE INCIDENTS OF CIVILIAN CASUALTIES
On Monday (July 21), the Israeli military carried out a number of attacks that killed multiple members of several different Palestinian families in Gaza. They included:
On Sunday (July 20), the Israeli military launched a bloody assault against the residential neighborhood of Shejaiya in Gaza City, killing at least 60 people, including at least 17 children, 14 women and four elderly people. Condemning the high civilian death toll, UN Secretary General Ban Ki-moon called Israel's attack on Shejaiya "atrocious." In a press release accompanying an open letter to Israel's attorney general on July 21, ten Israeli human rights organizations expressed "serious concern" about "the legality of the operation, and in particular, the potential violation of the fundamental principles of the laws of war, specifically the principle of distinguishing between combatants and civilians."
Also on July 20, a young Palestinian man searching for family members in the rubble of the Shejaiya neighborhood of Gaza City was shot several times and killed by an Israeli sniper in an incident that was captured on video (WARNING: Disturbing images).
On July 19, five civilians, including four members of one family were killed by Israeli shelling in Beit Hanoun in northern Gaza. The dead family were Mahmoud Zuwaid, his wife Daliah, and their children three-year-old Nagham, and two-year-old Ruya.
On July 18, eight members of the Abu Jrad family including four children were killed by an Israeli missile fired into their home in Beit Hanoun in northern Gaza.
On July 18, four members of the Shaath family were killed and four others injured including one seriously by an Israeli airstrike on their home in Khan Younis in southern Gaza.
On July 16, four young boys were killed and three others injured, all cousins, by Israeli shelling on the beach in Gaza City. The dead were Ahed Atef Bakr and Zakariya Ahed Bakr, who were ten-years-old, eleven-year-old Mohammad Ramiz Bakr, nine-year-old Ismail Mahmoud Bakr, were all cousins.
On July 13, 18 members of the same family, including six children and three women, one of them pregnant, were killed, and 16 others injured by Israel in an unsuccessful attempt to assassinate Gaza's chief of police by attacking his cousin's home.
On July 10, Israeli forces killed 8 members of the Al Haj family, including five children, during an attack on their home in Khan Younis in southern Gaza.
On July 9, Israeli forces killed at least 9 civilians and wounded 16 others as they watched the World Cup at the Fun Time Beach café in southern Gaza.


ATTACKS ON MEDICAL FACILITIES & MEDICAL WORKERS
SHORTAGES OF MEDICAL SPECIALISTS, EQUIPMENT & SUPPLIES
According to the UN, Gaza medical facilities urgently require:

Shifa hospital urgently needs neurosurgeons, anesthesiologists, plastic and general surgeons, and orthopedic specialists, as well as 20 ICU beds, a digital C-ARM machine for orthopedic surgeries, three operation tables and a lighting system for the five operation rooms.
Psycho-tropic drugs for patients with mental illness, trauma and anxiety, which are in critically short supply.

ATTACKS ON MEDIA

STATEMENTS/REPORTS FROM HUMAN RIGHTS ORGANIZATIONS
(Bolding by IMEU)