Gaza Crisis Update (July 24, 2014)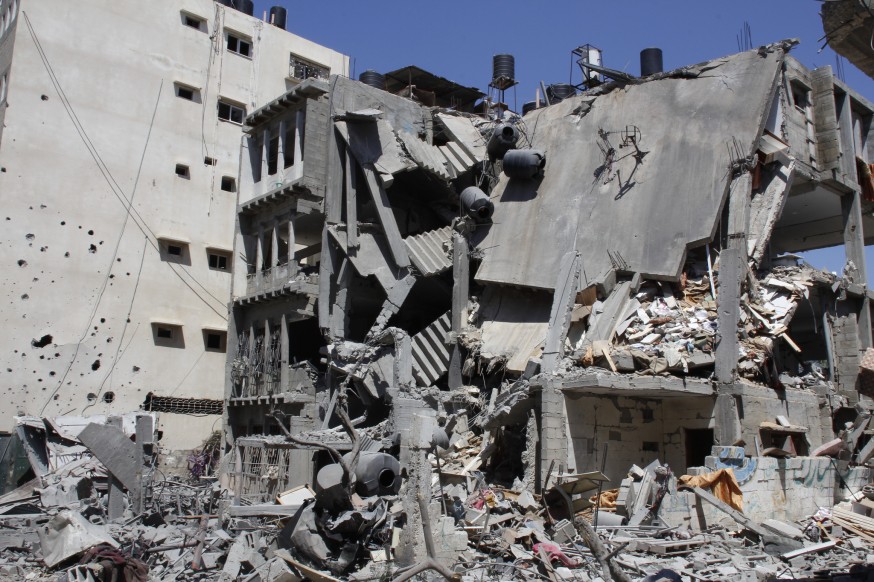 Since July 7, Israel has killed at least 718 Palestinians in Gaza, including at least 170 children.
According to the United Nations, as of July 23 at 8 AM ET:

At least 518 Palestinian civilians have been killed, including at least 170 children and 86 women.
During the 24-hour reporting period (July 22-July 23), at least 98 Palestinians were reported killed or their bodies recovered in the rubble of the Shejaiya neighbourhood of Gaza City. Many residents of Shejaiya, including multiple family members, are reportedly still missing under the rubble of their homes.
Approximately 4000 Palestinians have been injured, including at least 1200 children and 700 women, as of July 22 at 2 PM ET.
140,000 internally displaced people (IDP) are sheltering in 83 United Nations Relief and Works Agency (UNRWA) schools and thousands of others are taking refuge elsewhere. This is more than double the number of Palestinians who took refuge at UN facilities during Israel's devastating three-week assault on Gaza in the winter of 2008-2009, Operation Cast Lead. All are in need of emergency food assistance.
Severe "overcrowding, compounded by the limited access of humanitarian staff to certain areas, is increasingly undermining the living conditions at many shelters and raising protection concerns. Water supply has been particularly challenging, with IDPs in some shelters being supplied with as little as three liters (0.8 gallons) per capita per day, to be used for all purposes including drinking and hygiene."
At least 125,000 children require specialized psychosocial support (PSS) due to trauma caused by the death or injury of someone they know or loss of home.
Israel has destroyed or severely damaged over 564 residential properties, including numerous multi-story buildings, causing many civilian casualties.
During the reporting period (July 22-July 23), six UNRWA schools were damaged by Israeli shelling. Since July 7, Israeli attacks have damaged 116 schools.
The Israeli army has declared 44% of the tiny Gaza Strip a military "buffer zone."
NOTABLE INCIDENTS OF CIVILIAN CASUALTIES
ATTACKS ON MEDICAN FACILITIES & MEDICAL WORKERS
SHORTAGES OF MEDICAL SPECIALISTS, EQUIPMENT, & SUPPLIES
According to the UN, Gaza medical facilities urgently require:

Shifa hospital urgently requires neurosurgeons, anesthesiologists, plastic and general surgeons, and orthopedic specialists, as well as 20 ICU beds, a digit C-ARM machine for orthopedic surgeries, three operation tables and a lighting system for the five operation rooms.
Psycho-tropic drugs for patients with mental illness, trauma and anxiety, which are in critically short supply.


ATTACKS ON MEDIA
DAMAGE TO CIVILIAN INFRASTRUCTURE
According to the UN:

"Public infrastructure and services continued to be struck and sustain damages, including health facilities and ambulances. In the early morning of 23 July, two Israeli missiles landed in the vicinity of Gaza Power Plant (GPP) causing it to suspend operations. Initial reports suggest that two generators in one of the blocks were damaged by the attack and may need extensive repairs. Power supply is further reduced to a few hours per day in Gaza. GPP engineers are seeking guarantees from the Israeli authorities that they will not be targeted while conducting repairs."
15 wells and six sewage pumping stations are not operating. Less than half of the required amount of water is being pumped, according to the Municipality of Gaza. Humanitarian access to allow for repairs of wells, sewage pumping station and water and sewage lines is urgently needed to avert the outbreak of public health diseases. Several areas are experiencing sewage flooding, in particular in Beit Hanoun and Beit Lahiya, posing public health hazards.

An estimated 1.2 million people have no or very limited access to water or sanitation services because of damage done to the electrical system or lack of fuel for generators. Repairs to the water and sewage system are urgently required to avert the outbreak of public health diseases.

The vast majority of households in Gaza have electricity for no more than four hours a day.


On July 23, the Palestine Cellular Communications Company announced that Gaza's only cellular phone network is at risk of going down because of damage done by Israeli bombing.
STATEMENTS/REPORTS FROM HUMAN RIGHTS ORGANIZATIONS

(Bolding by IMEU)