Bethlehem & East Jerusalem: Cities Under Siege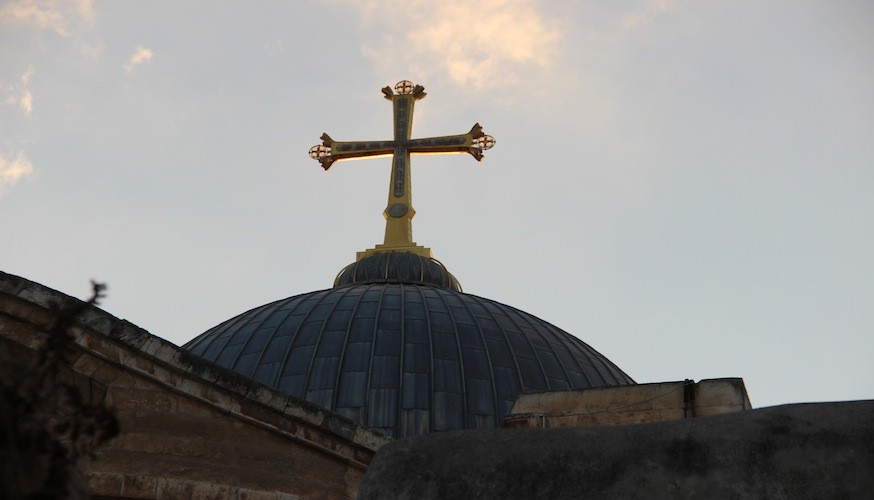 For reference, see also our recently released fact sheet: Discrimination & Hate Crimes Against Christian Palestinians in the Holy Land.

BETHLEHEM
Bethlehem, home to the Church of the Nativity, which rests on the spot where Christians believe Jesus was born, has a population of approximately 22,000 Palestinians, of whom approximately 18% are Christian.
Bethlehem is surrounded on three sides by Israel's West Bank wall, which has been deemed illegal by the International Court of Justice.
There are currently 22 Israeli settlements built on occupied Palestinian land belonging to Bethlehem, including Nokdim, where Israeli Foreign Minister Avigdor Lieberman lives. (See here for 2012 map of settlements and the wall surrounding Bethlehem.)
In and around Bethlehem there are some 32 physical barriers to Palestinian movement erected by Israel, including checkpoints, roadblocks, dirt mounds, and gates. The wall, settlements, and other barriers severely restrict the mobility of Palestinians in the area, preventing farmers from accessing their lands, and wreaking havoc on the local economy.


EAST JERUSALEM
There are approximately 250,000 Palestinians living in occupied East Jerusalem, including approximately 10,000 Christians. They can travel inside Israel and vote in municipal elections, but do not have Israeli citizenship or the right to vote in national elections, and face the constant threat of losing their residency rights if they can't prove the city is their "center of life" to Israeli authorities. There are approximately 200,000 Jewish settlers living in the expanded boundaries of East Jerusalem in violation of international law.
Historically, Jerusalem has been the religious, economic, and cultural center of Palestinian life in the West Bank, and is home to some of Christianity's holiest sites, including the Church of the Holy Sepulchre, which Christians believe was built on the site Jesus was crucified and buried.
Following its capture and occupation in the 1967 War, Israel expanded the municipal boundaries of East Jerusalem, which comprised about four square miles, adding an additional 45 square miles (more than 17,000 acres) of the occupied West Bank to the city, which was then annexed to Israel along with its Christian and Muslim holy sites. Neither move has been recognized by the international community, including the United States.
In an attempt to separate and isolate East Jerusalem from the rest of the occupied West Bank, Israel has built a ring of Jewish settlements around its outskirts. This ring has been reinforced by the wall Israel is constructing, which also separates Israeli settlements in and near East Jerusalem from the rest of the West Bank. (See here for a map of Israeli settlements around East Jerusalem. See here for interactive "Jerusalem and its Environs" map.)
Since 1993, Palestinians living in the West Bank and Gaza have been forbidden by Israel to enter East Jerusalem without a difficult to obtain permit. As a result, millions of Palestinian Muslims and Christians living in the West Bank and Gaza are prevented from accessing the city and its holy sites.

THE 'JUDAIZATION' OF EAST JERUSALEM
Since Israel occupied it in 1967, successive Israeli government have attempted to cement control over East Jerusalem by building illegal settlements for Israeli Jews while attempting to limit the growth and spread of the Palestinian population.
According to Israeli human rights organization B'Tselem: "Since East Jerusalem was annexed in 1967, the government of Israel's primary goal in Jerusalem has been to create a demographic and geographic situation that will thwart any future attempt to challenge Israeli sovereignty over the city. To achieve this goal, the government has been taking actions to increase the number of Jews, and reduce the number of Palestinians, living in the city."
According to the 2009 US State Department International Religious Freedom Report: "Many of the national and municipal policies in Jerusalem were designed to limit or diminish the non-Jewish population of Jerusalem."
Methods used by Israel to "Judaize" or alter the religious composition of Jerusalem by increasing the number of Jews while decreasing the number of Palestinians, include:
PHOTO: Dome of the Church of the Holy Sepulchre in Jerusalem. (Christopher Hazou/IMEU)