Collective Punishment & Ethnic Cleansing: Israel's Destruction of Palestinian Homes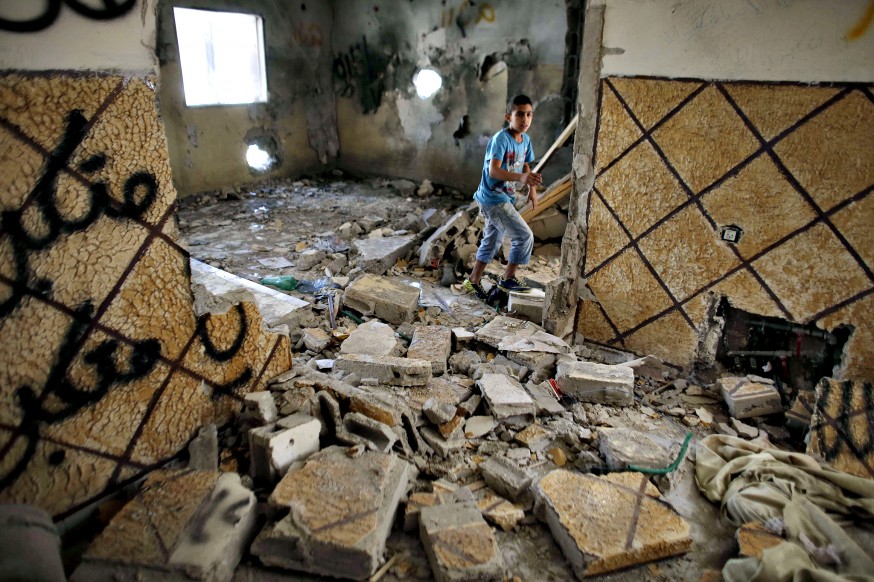 PHOTO: A relative of a Palestinian man who killed two Israelis with his car last month walks through his destroyed home in Silwan, occupied East Jerusalem, after it was razed by Israeli authorities on November 19, 2014. (Ahmad Gharabli/AFP)
HOME DEMOLITIONS AS A FORM OF COLLECTIVE PUNISHMENT
Israel's policy of destroying the homes of Palestinians suspected of attacks against Israelis is a form of collective punishment, which is illegal under international law, and has been condemned as such by human rights organizations such as Amnesty International and Human Rights Watch. On November 22, 2014, Human Rights Watch issued a statement condemning Israel's policy of punitive home demolitions, which read in part:

"The policy, which Israeli officials claim is a deterrent, deliberately and unlawfully punishes people not accused of any wrongdoing. When carried out in occupied territory, including East Jerusalem, it amounts to collective punishment, a war crime."

Between 1967, when its occupation of East Jerusalem, the West Bank, and Gaza began, and 2005, Israel employed the practice in order to punish the families of suspected Palestinian militants and to deter others. In 2005, Israel suspended home demolitions as a punitive measure after authorities concluded it was fomenting more anger and violence rather than acting as a deterrent. However, since 2009 Israel has continued the practice periodically.
According to Israeli human rights organization B'tselem, between October 2001 and the end of January 2005, Israel destroyed 664 Palestinian homes as a form of collective punishment during the Second Intifada (uprising against Israeli occupation), leaving 4182 people homeless.
HOME DEMOLITIONS AS A TOOL OF ETHNIC CLEANSING
In addition to destroying the homes of Palestinians as a punitive measure, Israel uses the practice as a bureaucratic tool to "Judaize" Palestinian areas of East Jerusalem and the rest of the occupied West Bank, as well as inside Israel's internationally recognized pre-1967 borders. (See here for more on Israeli government efforts to Judaize East Jerusalem.)
Israel normally destroys Palestinian homes and other structures under the pretext that they've been built without permission from Israeli authorities. However, in reality Israel makes it almost impossible for Palestinians to obtain construction permits in occupied East Jerusalem and the 60% of the occupied West Bank that is under full and direct Israeli control (Area C) under the terms of the Oslo Accords. According to an August 2013 Human Rights Watch report entitled Israel: Stop Unlawful West Bank Home Demolitions, Spike in Destruction Raises War Crime Concerns:

"Israeli officials justify demolitions of Palestinian structures on the grounds that they were built 'illegally' without building permits in areas not zoned for residential construction. However Israeli authorities have zoned land in ways that unlawfully discriminates against Palestinians. Israeli authorities have zoned 13 percent of East Jerusalem for Palestinian construction, but expropriated 35 percent of the area for [Jewish] settlement construction. Israeli authorities in practice permit Palestinian construction in only one percent of the other area of the West Bank, 'Area C,' that is under exclusive Israeli control."

According to the UN, in 2013 Israel destroyed 565 Palestinian-owned structures in Area C of the West Bank, leaving 805 people homeless, almost half of them children. According to B'tselem, in 2013 Israel destroyed 72 Palestinian homes in occupied East Jerusalem, leaving 301 people homeless, including 176 children.
According to the Israeli Committee Against House Demolitions, since 1967 Israel has destroyed approximately 27,000 Palestinian structures in the occupied territories (the West Bank, East Jerusalem, and the Gaza Strip), including more than 24,000 homes, including approximately 2000 homes in East Jerusalem.
In many cases, Palestinians are forced to destroy their own homes or be faced with an expensive fine from Israeli authorities to pay for the demolition.
Inside Israel's pre-1967 borders, Israeli authorities also use home demolitions to systematically displace Palestinian citizens of the state. In recent years, Palestinian Bedouin in the Negev (Naqab) desert have been a particular target of Israeli authorities, part of an effort to concentrate them in urban centers so that Jewish Israelis can take their place on the land. One Bedouin village, al-Araqib, has beendestroyed more than 60 times since 2010. (For more on Israel's displacement of Palestinian Bedouin inside Israel, see our fact sheet, The Prawer Plan: Ethnic Cleansing in the Negev.)

For more information on Israel's policy of destroying Palestinian homes for bureaucratic reasons, see our previously released fact sheet, Peace Process in Focus: Home Demolitions, Ethnic Cleansing by Bureaucracy.
DESTRUCTION OF PALESTINIAN HOMES DURING MILITARY OPERATIONS
Since 1967, the Israeli military has destroyed tens of thousands of Palestinian homes in the occupied territories during military operations, mostly through the use of massive and indiscriminate firepower during attacks on Palestinian population centers, and the systematic destruction of entire neighborhoods in order to create military buffer zones, particularly in Gaza.
During Israel's attack on Gaza in the summer of 2014, Operation Protection Edge, the Israeli military damaged approximately 100,000 Palestinian homes, with 18,000 housing units totally destroyed or severely damaged, according to the UN. (For more, see our recently released fact sheet, 50 Days of Death & Destruction: Israel's "Operation Protective Edge".)
Between 1948, when Israel was created, and the 1960s, the Israeli government systematically destroyed more than 500 Palestinian towns and villages, including a dozen urban centers, inside of its borders, part of an effort to erase the ruins of Arab Palestine that much of modern Israel is built upon and to prevent the return of the approximately 750,000 Palestinians who were expelled from their homes in order to create a Jewish majority state. (For more on the ethnic cleansing of Palestine during Israel's creation, see our fact sheet, The Nakba, 65 Years of Dispossession and Apartheid.)