Discrimination & Hate Crimes Against Christian Palestinians in the Holy Land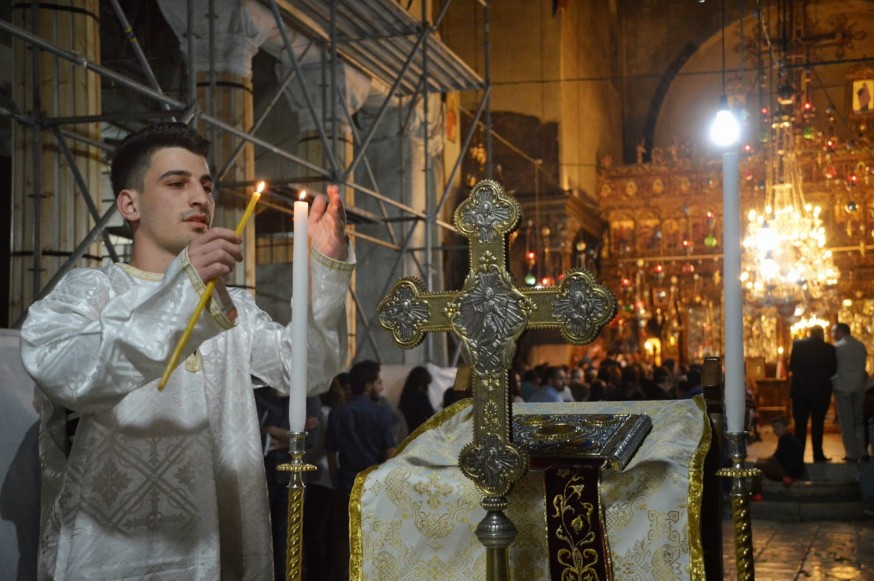 INSTITUTIONAL DISCRIMINATION IN ISRAEL & THE OCCUPIED TERRITORIES
Christian Palestinians who are citizens of Israel suffer from the same widespread official and unofficial discrimination that other non-Jews do, in everything from land ownership and housing to employment and family reunification rights.
There are more than 50 laws that discriminate against Palestinian citizens of Israel, directly or indirectly, based solely on their ethnicity, rendering them second- or third-class citizens in their own homeland.
93% of the land in Israel is owned either by the state or by quasi-governmental agencies, such as the Jewish National Fund, that discriminate against non-Jews. Palestinian citizens of Israel, including Christians, face significant legal obstacles in gaining access to this land for agriculture, residence, or commercial development.
In the occupied territories, Palestinian Christians suffer from the same discriminatory regime and restrictions, including on movement, applied to all Palestinians living under Israel's nearly 47-year-old military rule. These restrictions do not apply to the more than 500,000 Jewish settlers living in illegal settlements in the occupied territories.

---

DENIAL OF FREEDOM OF WORSHIP
Although Israeli officials boast that Christian and Muslim Palestinians have free access to their holy sites in occupied East Jerusalem and other areas under Israeli control, in reality Israeli restrictions on Palestinian movement make it difficult or impossible for most Palestinians in the occupied territories to worship freely.
Since 1993, Palestinians living in the occupied West Bank and Gaza have been forbidden by Israel to enter occupied East Jerusalem without a difficult-to-obtain permit. As a result, millions of Christian and Muslim Palestinians living in the West Bank and Gaza are prevented from accessing their holy sites in Jerusalem's Old City, which contains some of the holiest sites in Christianity and Islam, including the Church of the Holy Sepulchre and the Noble Sanctuary mosque complex.
According to the US State Department 2011 Report on International Religious Freedom, published in July 2012:

"Strict closures and curfews imposed by the Israeli government negatively affected residents' ability to practice their religion at holy sites, including the Church of the Holy Sepulchre and al-Aqsa Mosque in Jerusalem, as well as the Church of the Nativity in Bethlehem."

"Reports of Christian clergy, nuns, and other religious workers unable to secure residency or work permits increased during the year. Christian advocates claimed that the difficulty of obtaining permits gradually worsened in the last 10 years. Israeli authorities continued to limit visas for Arab Christian clergy serving in the West Bank or Jerusalem to single-entry visas, complicating clergy travel, particularly to areas under their pastoral authority outside the West Bank or Jerusalem. This disrupted their work and caused financial difficulties for their sponsoring religious organizations."

"Separately, Israel generally prohibited entry into Gaza by Arab Christian clergy, including bishops and other senior clergy to visit congregations or ministries under their pastoral authority."

"The [West Bank] separation barrier significantly impeded Bethlehem-area Christians from reaching the Church of the Holy Sepulchre in Jerusalem and made visits to Christian sites in Bethany and Bethlehem difficult for Palestinian Christians who live on the Jerusalem side of the barrier."
Inside Israel, many Christian and Muslim holy sites are under threat of destruction and/or off limits to Palestinians. As the US State Department International Religious Freedom Report 2009 noted, "While well-known [religious] sites have de facto protection as a result of their international importance, many Muslim and Christian sites are neglected, inaccessible, or threatened by property developers and municipalities."

---

HATE CRIMES & ATTACKS AGAINST CHRISTIANS & THEIR HOLY SITE BY ISRAELI EXTREMISTS
In recent years, the number of hate crimes against Palestinians and their holy sites carried out by Jewish extremists has risen significantly. Often, these assaults are termed "price tag" attacks, referring to acts carried out by radical settlers in response to Israeli government actions or plans that displease them.
Since 2010, more than 30 Palestinian religious buildings, including churches, monasteries, and mosques, have been vandalized with threatening racist graffiti and/or subject to arson attacks. Over the past year, there have been 14 attacks against property belonging to the Catholic Church reported. (See here for more on attacks against Christians and their holy sites.)
According to the US State Department Country Reports on Terrorism 2013, which was released in April 2014:

"[In 2013, the] UN Office of the Coordinator for Humanitarian Affairs reported 399 attacks by extremist Israeli settlers that resulted in Palestinian injuries or property damage. Violent extremists, including Israeli settlers, vandalized five mosques and three churches in Jerusalem and the West Bank, according to data compiled by the UN."
The report noted: "Attacks by extremist Israeli settlers against Palestinian residents, property, and places of worship in the West Bank continued and were largely unprosecuted according to UN and NGO sources."
On May 7, the Latin Patriarch of Jerusalem, Fouad Twal, the Vatican's representative in the Holy Land, released a statement condemning a surge in hate crimes against Christian holy sites ahead of Pope Francis' visit to Israel and the occupied Palestinian territories later in the month, and calling on the Israeli government to do more to protect Christians and their property. Lamenting that the "wave of fanaticism and intimidation against Christians continues," the Patriarch blamed the Israeli government for the lack of effort that Israeli police have put into bringing the perpetrators of hate crimes against Palestinians to justice, referring to a "lack of responsiveness from the political sector."
Four days later, on May 11, Patriarch Twal again questioned the Israeli government's commitment to stopping anti-Christian attacks, asking at a press conference: "In light of the fact that the great majority of vandalism acts do not lead to trials, we must ask if the government is willing to get down to the root of the problem?"
Echoing the Latin Patriarch's concerns about Israeli government complicity, on May 12, two former heads of Israel's secret police, the Shin Bet, Carmi Gillon and Shabtai Shavit, accused the Netanyahu government of not being interested in stopping hate crimes against Palestinians. Gillon declared: "We don't see results, because we're not intended to see them... There's no such thing as 'can't do' in the Shin Bet, just 'don't want,'" while Shavit stated: "Israel is a lawful country that does not enforce its laws." Similarly, in June 2012, Dan Halutz, former chief of staff of the Israeli army, said that Prime Minister Netanyahu wasn't really interested in stopping the perpetrators of price tag attacks, stating: "If we wanted, we could catch them and when we want to, we will." A few months earlier, in March 2012, the Guardian newspaper reported that senior European Union officials had drafted a confidential report concluding: "settler violence enjoys the tacit support of the state of Israel."
In occupied East Jerusalem, Christian clergy face harassment from ultra-Orthodox Jews in the Old City. In November 2011, Haaretz newspaper reported that ultra-Orthodox Jews were cursing and spitting at Christian clergy in the streets of the Old City "as a matter of routine." The chief secretary of the Greek Orthodox Patriarchate explained: "It happens a lot. You walk down the street and suddenly they spit at you for no reason." A student at the city's Armenian Seminary complained that he was subjected to insults and spitting from ultra-Orthodox men on a daily basis, stating: "When I see an ultra-Orthodox man coming toward me in the street, I always ask myself if he will spit at me." According to a separate Haaretz article published in February 2012, spitting incidents were so prevalent that some priests had stopped visiting certain parts of the Old City.