Dr. Farouq Ahmad Zuaiter ("Abu Abbas") - In Memoriam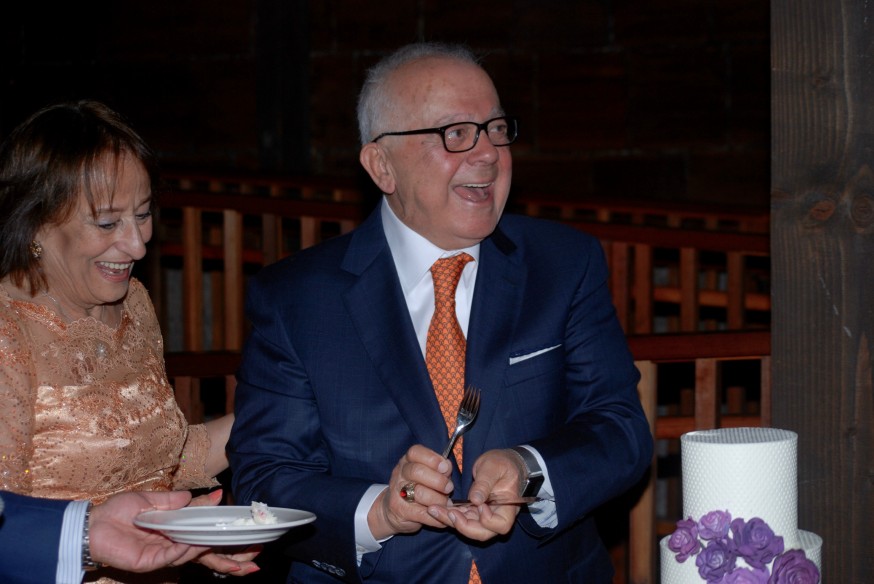 Palestine and the Arab world lost a role model, an esteemed leader in his field, an advocate for investment and education in Palestine, a civil society and human rights advocate and an unwavering Palestinian patriot.
Dr. Farouq Ahmad Zuaiter passed away on February 15, 2018. "Abu Abbas" as he was referred to often was a highly respected financial executive, investment manager and a significant contributor to the economic growth of the Palestinian economy in the face of Israeli occupation.
A son of Nablus, Dr. Zuaiter believed in the power of building Palestine's economic infrastructure and fostering a robust civil society. After a long and successful career as a global investor, economist and financial advisor in Kuwait, Jordan, and the United States, Abu Abbas returned to his beloved Palestine to help develop and serve the Palestinian private sector.
As CEO and a shareholder in the Palestine Development and Investment Company ("PADICO") from 1998-2008, Dr. Zuaiter spearheaded the development of and investment in almost every facet of the private sector in Palestine, including the telecommunications, real estate, tourism, energy, financial institutions and development of the capital markets.
Dr. Zuaiter chaired the first fully automated stock exchange in the Arab World, the Palestine Exchange ("PEX"). Under his leadership, the World Federation of Exchanges (WFE) accepted PEX as a full member, a vote of confidence for the Palestinian economy. He also served as a Board Director of the Palestine Telecommunications Company (PALTEL) in Ramallah, the Palestine Investment Bank (Al-Bireh) and as Vice Chairman of the Board of Directors at Cairo Amman Bank. Unofficially, Dr. Zuaiter was a mentor and advisor to many aspiring Palestinian and Arab business professionals.
Dr. Zuaiter's accomplishments in the education and not for profit sectors of Palestine were equally commendable. He was one of the earliest supporters of Taawon/ Welfare Association (Ramallah). Taawon is a Palestinian organization conceived in 1983 with the critical mission to, through income generating developmental and humanitarian programs and youth empowerment, build generations of Palestinians capable of reaching their full potential.
In 2014, Dr. Zuaiter joined the Board of Trustees of Al Najah University (Nablus) as Vice Chairman. Al Najah is one of the oldest and largest universities in Palestine. Dr. Zuaiter also led and spearheaded the development of Al-Najah University Hospital where the first open heart surgery was conducted in Palestine.
His passion for education and supporting Palestinian human rights was continuous. He sponsored many young Palestinians' educational efforts from kindergarten all the way through completion of their medical school training. He was an avid supporter of Palestinian human rights from his earliest days as a student in Nablus.
Abu Abbas received his undergraduate degree from the University of Cairo in Accounting in 1961. He obtained an MBA from Texas Tech University in 1969 and a doctorate degree in Accounting, Economics & Statistics also in 1974.
Dr. Zuaiter instilled in his family and anyone who met him a deep sense of duty to Palestine. Inspired by his vision, his sons Abbas ("Eddy"), Ahmad, and Waleed caringly devote time and resources to Palestine and are committed to amplifying Palestinian voices and stories here in the US. Together, they, with their father, were producers (and Waleed in a starring role) of 2014 Oscar Nominated and 2013 Cannes Film Festival Special Jury Prize Winning film "Omar." The film honestly and openly depicts the harsh reality, suffering, and humiliation of Palestinians' daily life under occupation and the unnatural divisions of the separation wall through a vividly poignant love story.
Perhaps it was those closest to him, beloved family and friends, who sought Dr. Zuaiter's sound counsel the most. So many were touched by his vision and example, and we are fortunate to live with his lasting impact. Dr. Zuaiter will be sorely missed by the whole Palestinian community.
His son Abbas is often quoted stating "My father had an incredible ability to both learn and teach at the same time. He loved and supported entrepreneurs all over the world - none more than the Palestinian entrepreneur. The additional burdens placed on Palestinian entrepreneurs, as a result of the occupation, made his support all that more important. Those that met and engaged with my father were left better as a result of that engagement."
Dr. Zuaiter is survived by his wife Nuhad, three children Abbas ("Eddy"), Ahmad and Waleed, and their spouses and six grandchildren. In lieu of flowers, the Zuaiter Family has asked that a donation be made in the name of Dr. Farouq Ahmad Zuaiter to the IMEU, an organization he supported and was proud of.