Endgame Apartheid: The US-Sponsored "Peace Process"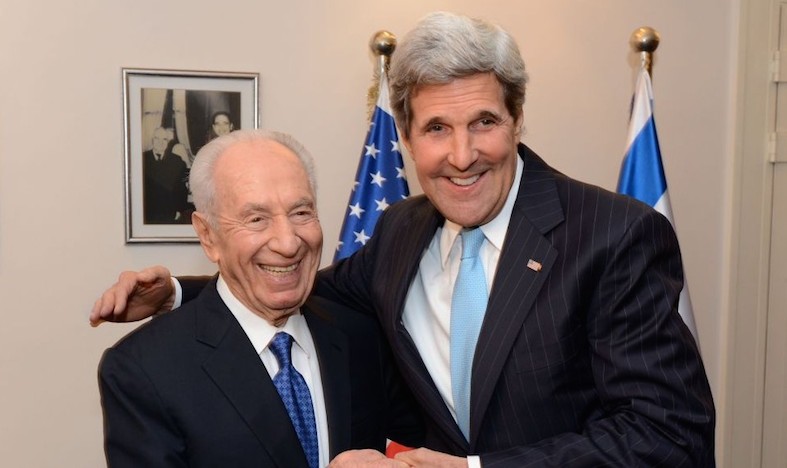 For more than two decades, the United States has maintained a monopoly on mediating Israeli-Palestinian peace negotiations. During this time, the situation of most Palestinians living in the occupied territories has deteriorated steadily while Israel's domination over their lives has become ever more entrenched. More than 20 years after the US-sponsored "peace process" began, the creation of an independent Palestinian state – the ostensible endgame of negotiations – is more distant than ever, and Israel's nearly 47-year-old discriminatory occupation regime becomes more permanent by the day. The following fact sheet provides an overview of the US role in the "peace process" and the consequences it has had for the Palestinians

ACTING AS "ISRAEL'S ATTORNEY"
Over twenty years of peace talks, the United States has consistently sided with Israel on virtually every major issue while overlooking or downplaying illegal and provocative Israeli actions, even when they contradict official US policy and undermine the negotiations process.
In 2005, former State Department official Aaron David Miller, who advised six secretaries of state and played a key role in peace efforts under President Bill Clinton, published an op-ed in the Washington Post lamenting the biased way in which US officials handle negotiations. In the piece, entitled "Israel's Lawyer," Miller wrote:

"For far too long, many American officials involved in Arab-Israeli peacemaking, myself included, have acted as Israel's attorney, catering and coordinating with the Israelis at the expense of successful peace negotiations. If the United States wants to be an honest and effective broker on the Arab-Israeli issue, than surely it can have only one client: the pursuit of a solution that meets the needs and requirements of both sides."

Individuals associated with the pro-Israel lobby group the American Israel Public Affairs Committee (AIPAC) and the think tank it established, the Washington Institute for Near East Policy (WINEP), have played central roles overseeing the "peace process" for the US, including:

Martin Indyk: A former deputy director of research for AIPAC, Indyk co-founded WINEP and served as its Executive Director from 1985 to 1993. He served in several senior positions in the Clinton administration, including as ambassador to Israel, and played an important role in Israeli-Palestinian negotiations as an advisor to the president. In 1992, then-president of AIPAC, David Steiner, was recorded during a phone conversation referring to Indyk as an asset within then-Arkansas Governor Bill Clinton's presidential campaign, stating:

"We gave two employees from AIPAC leave of absences to work on the campaign. I mean, we have a dozen people in that campaign, in the headquarters… In Little Rock, and they're all going to get big jobs. We have friends AIPAC. I also work with a think tank, the Washington Institute [WINEP]. I have Michael Mandelbaum and Martin Indyk being foreign policy advisers. Steve Speigel—we've got friends—this is my business…"

Indyk also helped set up and served as the director of the Saban Center for Middle East Policy at the Brookings Institution, a think tank established by Israeli-American billionaire Haim Saban. Saban has declared, "I'm a one-issue guy, and my issue is Israel" and openly acknowledged his desire to influence American policy in favor of Israel. In July 2013, US Secretary of State John Kerry appointed Indyk Special Envoy for Israeli-Palestinian negotiations for the Obama administration. He currently serves as US mediator in the talks.

Dennis Ross: Co-founder of WINEP with Indyk, Ross played a major role in negotiations during the Clinton administration and is known as a strong supporter of Israel. According to one Palestinian negotiator, at times Ross was "more Israeli than the Israelis themselves." In 2009, Obama appointed Ross to a senior position at the State Department and then named him as his Special Assistant and a Senior Director for the Central Region (which includes the Middle East) at the National Security Council. During his time in the Obama administration, Ross clashed repeatedly with George Mitchell, Obama's special envoy to Israel/Palestine. The two reportedly refused to speak to one another at times, "partly over Ross' tendency to hold talks with Israeli officials behind Mitchell's back," according to Israel's Haaretz newspaper. Mitchell tendered his resignation in May 2011, while Ross left his position in November 2011 and returned to WINEP.

David Makovsky: A senior fellow and director of the Project on the Middle East Peace Process at WINEP and a former executive editor of The Jerusalem Post, Makovsky took a leave of absence from WINEP after being appointed by President Obama to serve as an assistant to Indyk in November 2013. Makovsky is probably best known for creating a set of maps of possible two-state solution scenarios, all of which allow Israel to keep most of its illegal settlements, including so-called "blocs" that effectively dissect the West Bank into cantons and sever it from occupied East Jerusalem. In exchange, the Palestinians would receive an equal amount of Israeli territory, most of it less valuable and strategically important land in the Negev (Naqab to Palestinians) desert. In an op-ed in The New York Times in June 2013, Makovsky called on the European Union to "get tough" with the Palestinians and force them into talks with Israel, despite the fact that the current Israeli government is the most hardline right-wing in Israel's history and is fundamentally opposed to the creation of a genuinely independent Palestinian state in the occupied territories.

FINANCING, ARMING, & SHIELDING ISRAEL DIPLOMATICALLY
The US gives Israel more than $3 billion (USD) in military aid annually. This huge US-taxpayer provided subsidy allows Israel to direct massive resources to its illegal settlement enterprise and repressive military occupation of Palestinian lands, the ending of which is supposed to be the goal of negotiations. Between 2009 and 2018, the US is scheduled to give Israel $30 billion in military aid.
The US provides vital diplomatic cover to Israel at the UN and other international forums, allowing Israel to evade legal consequences for its violations of international law and abuses of Palestinian rights. The US has used its Security Council veto 42 times since 1972 to protect Israel from censure over its illegal actions such as settlement building and the systematic use of disproportionate military force, most recently in February 2011 when the Obama administration vetoed a resolution condemning settlement construction.

EROSION OF PALESTINIAN RIGHTS & DISREGARD FOR INTERNATIONAL LAW
President Bill Clinton
Prior to 1992, successive US governments had voted at the United Nations to reaffirm Security Council Resolution 194, which calls for the right of return for Palestinian refugees to homes and lands they were expelled from during Israel's creation in 1948. Under the Clinton administration, the US changed policy regarding the internationally recognized Palestinian right of return to something to be negotiated between the parties, at first abstaining from voting on 194, then voting against it beginning in 1998.
During President Clinton's two terms in office (1993-2001), Israel almost doubled the number of Jewish settlers living illegally on occupied Palestinian land in the West Bank (not including East Jerusalem), from 110,900 to 190,206, according to Israeli human rights organization B'Tselem. Unlike his predecessor, President George H.W. Bush, who applied significant pressure to Israel to agree to a settlement freeze, Clinton took no action to slow the massive expansion of Israel's settlement enterprise at a time when Israel was supposedly negotiating an end to its occupation, severely undermining Palestinian confidence in the political process and in America's role as a peace maker.
In July 2000, in the waning months of his time in office, and after failing to stop Israel's massive expansion of settlements on occupied Palestinian land and other violations of Palestinian rights over the previous seven years, Clinton convened the Camp David summit with PLO Chairman and PA President Yasser Arafat and Israeli Prime Minister Ehud Barak. Fearing that he was being lured into a trap where he would be pressured by the US and Israel into signing an unfair and unworkable agreement, Arafat sought and received assurances from Clinton that if talks didn't succeed responsibility for the failure wouldn't be attributed to the Palestinians. When Palestinian concerns proved warranted and talks failed after Clinton and Barak attempted to corner Arafat into a bad deal, Clinton broke his word, publicly placing all blame on Arafat, thus helping to create the "no Palestinian partner for peace" myth propagated by Israeli and US politicians for much of the next decade. Former senior State Department official Aaron David Miller would later write: "What we ended up doing was advocating Israel's positions before, during and after the summit."
President George W. Bush
During his eight years in office (2001-2009) President George W. Bush continued Clinton's strategy of appeasing Israel, the stronger party, rather than confronting the Israeli government over its violations of international law and flouting of US policy in regard to settlement construction, home demolitions, and other matters.
In 2004, Bush sent a letter to then-Israeli Prime Minister Ariel Sharon in which he:
Began to support the idea that the Palestinians should formally recognize Israel as a "Jewish state," even though doing so would undermine the rights of Palestinian refugees and Palestinian citizens of Israel, who make up about 20% of Israel's population. Previously, the US and Israel had only demanded that Palestinians recognize Israel's "right to exist" without reference to its ethnic or religious character, which they did in 1988 and again in 1993.
Implicitly recognized Israeli control over some Israeli settlements on occupied Palestinian land, including so-called "blocs," which divide Palestinian population centers in the occupied West Bank into isolated cantons and sever the West Bank from occupied East Jerusalem.
Declared that Palestinian refugees should be resettled in a future Palestinian state instead of being allowed to exercise their legal right of return to homes and lands inside Israel's pre-1967 borders which they were ethnically cleansed from in 1948.
Referring to the "Road Map to Peace" put forward by his administration in 2002, Bush added, "the United States will do its utmost to prevent any attempt by anyone to impose any other [peace] plan."
President Barack Obama
Although some critics have accused President Obama of being insufficiently supportive of Israel and the government of Prime Minister Netanyahu, or even outright hostile to them, a close examination of his record shows that, apart from briefly calling for a complete settlement freeze and then backing down, he has been extremely supportive of Israel both diplomatically and militarily while doing little to rein in Israeli human rights abuses.
In terms of the "peace process," since assuming office in 2009, Obama has:
Appointed Dennis Ross, Martin Indyk, and David Makovsky, all former employees of AIPAC and/or the think tank it created, WINEP, to senior positions in his administration and the US team overseeing negotiations. Indyk currently acts as US mediator between the two parties while Makovsky is his deputy.
Legitimizing Apartheid: The Kerry Peace Initiative
Shortly after taking up his post as Secretary of State in February 2013, John Kerry began a major push for a resumption of negotiations, applying pressure to both sides to return to the table. Refusing to freeze the construction of illegal settlements on occupied Palestinian land, as the Palestinians had insisted, Israel instead chose to release 104 long-serving Palestinian prisoners (who were supposed to be freed years ago as part of the Oslo Accords) in four stages. In exchange, PLO Chairman Mahmoud Abbas agreed to return to talks without a settlement freeze and not to advance the cause of Palestinian statehood or Israeli accountability by joining international organizations or treaties while negotiations were ongoing. Talks resumed in late July 2013 with Kerry setting out a nine-month deadline ending on April 29, 2014 for reaching a comprehensive peace agreement.
In late December 2013, following months of fruitless talks during which time Israel approved thousands of new settlement units and carried out numerous other provocations, reports began to surface that Kerry was lowering his expectations, from reaching a full peace agreement by the end of April 2014 to achieving a "framework" agreement that would allow the two parties to negotiate past the nine-month deadline. Although news reports varied on the details, the proposed framework agreement combined with the positions of previous US administrations provide a general picture of what the Obama administration's vision of a final peace agreement might look like:

A demilitarized Palestinian "state" in the occupied territories based on the pre-1967 borders, with Israel annexing several settlement "blocs" containing 75-80% of Jewish settlers in the West Bank (excluding those in East Jerusalem), with land swaps to compensate Palestinians for the lost territory. So-called settlement "blocs" encompass a far greater amount of land than the currently existing settlement buildings within them cover and are strategically located to divide the occupied West Bank into easily controlled cantons. If Israel continues to control these areas under a peace agreement, the Palestinian "state" will consist of several isolated Bantustans, divided from one another and the outside world by walls and Israeli territory. Any land offered to the Palestinians in "swaps" is unlikely to be of the same quality as that of the land lost to the settlement blocs, which sit in strategically important areas and on large aquifers.
At best, areas of occupied East Jerusalem that have yet to be colonized by Israel will become part of a Palestinian capital, while several hundred thousand Israeli settlers will remain in place under Israeli sovereignty.
If any at all, a small token number at most of the approximately seven million Palestinian refugees will be allowed to exercise their internationally-recognized legal right of return to lands they were expelled from during Israel's creation, while Israel will refuse to acknowledge any responsibility for their displacement.
The Israeli state will continue to systematically privilege Jews and discriminate against its Palestinian and other non-Jewish citizens, who make up about 20% of the population, while economically and militarily dominating millions more Palestinians living in the Bantustan-like Palestinian "state."
In return for a tiny Bantustan divided into several cantons, surrounded and dominated by Israel, Palestinians will be asked to formally end claims in the conflict, thereby formalizing the apartheid regime that Israel has instituted in the territories it controls between the Jordan River and Mediterranean Sea.

MORE INFORMATION
Human Rights Watch
Separate and Unequal: Israel's Discriminatory Treatment of Palestinians in the Occupied Palestinian Territories (December 2010)

Adalah - The Legal Center for Arab Minority Rights in Israel
Discriminatory Laws in Israel (Database)

IMEU
Is Israel an Apartheid State? (October 2013)
Reference Sheet: The Oslo Accords, 20 Years Later (September 2013)
Oslo Timeline: 20 Years Of Failed US-Led Peace Talks (September 2013)