Expert Q&A: Amnesty International & Human Rights Watch on Being Denied Entry to Gaza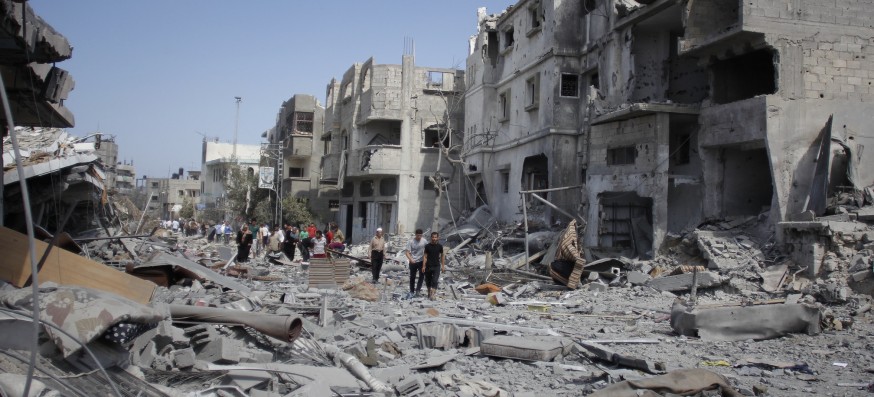 PHOTO: Jehad Saftawi/IMEU
Experts
Edith Garwood, Amnesty International USA Country Specialist on Israel and the Occupied Palestinian Territories (Israel/OPT/PA).

Sarah Leah Whitson, Executive director of Human Rights Watch's Middle East and North Africa Division.

Q&A
Q - Israel is currently denying representatives of Amnesty International and Human Rights Watch entry to Gaza, and Egypt is blocking entrance to Palestinian Center for Human Rights investigators. Why do you think this is?

EG - "Amnesty International does not speculate on the reasoning behind the new restrictions on international human rights organizations such as Amnesty International, but we do know the Israeli authorities are playing bureaucratic games. Keeping independent teams out of Gaza serves to prevent the reporting of serious violations of international law, including alleged war crimes, and suggests a disregard for the right to seek, receive and impart information.

"The Israeli authorities should facilitate independent, impartial, thorough, prompt and effective investigations into all alleged violations."


SLW - "Obviously, Israel doesn't want us investigating alleged war crimes in Gaza, even though we would look, as we always do, at the conduct of both sides. That said, Israel's official reason for denying HRW and Amnesty entry to the Gaza Strip is that we are not registered organizations with the Ministry of Foreign Affairs, which only registers diplomats and UN personnel, or the Ministry of Social Welfare. Registration with the Social Welfare Ministry is an option for humanitarian and development organizations with offices in Israel and the Occupied Palestinian Territories, but it is virtually impossible for Amnesty and HRW, as international human rights organizations, to meet the conditions for registration.

"Israeli authorities at the Erez Crossing acknowledged to HRW that they had discretion to make an exception and to permit HRW to enter the Gaza Strip. HRW requested such an exception as soon as possible; Israeli authorities denied it on August 19. Prior to 2006, Israeli authorities repeatedly granted HRW access to Gaza without requiring the group to register or seek a special exception.

"Egypt has not officially stated that HRW is denied entry to Gaza, but has not permitted entry, either."
Q - If you are unable to enter Gaza, can you still carry out an effective investigation into what has been occurring there?

EG - "While Amnesty International has trusted sources on the ground in Gaza and is able to obtain other evidence through remote research, Israeli authorities must allow in independent fact-finding missions with field experience and weapons expertise to go to the areas of fighting so they can investigate allegations of serious violations of international humanitarian law by all parties to the conflict.

"Although patterns can be seen and conclusions drawn remotely, there needs to be the ability to conduct in-person interviews with multiple witnesses and the examination of forensic and/or hard evidence to produce the high-quality reports that meet our own internal, as well as, international standards. There are some questions that can only be answered with direct examination and a professional methodology for collection of data. This independent verification is what is needed for the victims to obtain justice.

"Active human rights monitoring on the ground can also help serve to prevent further abuses from being carried out. With renewed fighting possible at any time, independent monitoring is essential."


SLW - "Yes, because HRW already had staff members on the ground in Gaza. Our request, given the amount of work to be done, was to supplement those staff members with additional help from outside. That is the request that has been rejected."
Q - Based on the evidence that is available now, do you believe war crimes have been carried out by either or both sides during the fighting?
EG - "Over the decades, Amnesty International has collected compelling evidence of war crimes, crimes against humanity and other crimes under international law committed during past Israeli-Palestinian conflicts through our independent research missions to the region. For victims, both Israeli and Palestinian, to obtain accountability and justice, for crimes committed during this latest conflict, the same thorough, independent and impartial investigations must be allowed.

"While Amnesty has identified patterns by Israeli forces and armed Palestinian groups of reckless military tactics that appear to violate international humanitarian and human rights law during the current conflict, there needs to be an independent, thorough, transparent investigation before final conclusions can be reached.

"For instance, there is mounting evidence that the Israel Defense Forces have launched what appear to be deliberate attacks against hospitals and health professionals (including doctors, nurses and ambulance personnel) in Gaza, as well as on civilian homes, schools and other civilian targets. Israel appears to consider the homes of people associated with Hamas to be legitimate military targets, a stance that does not conform to international humanitarian law.

"Armed Palestinian groups continue to fire rockets into Israel. The rockets fired from Gaza into Israel cannot be aimed precisely at their targets and their use violates international humanitarian law. The firing of indiscriminate rockets and mortars also endangers Palestinian civilians inside the Gaza Strip and in the West Bank."


SLW - "Yes. We have found that both Hamas and Israel have been responsible for serious violations of the laws of war in Gaza. Individuals who commit or order serious violations of the laws of war either deliberately or recklessly are responsible for war crimes.

"To elaborate, the laws of war prohibit deliberate or indiscriminate attacks against civilians or civilian objects. Indiscriminate attacks are of a nature to strike military objectives and civilians or civilian objects without distinction. Examples of indiscriminate attacks are those that are not directed at a specific military objective or that use weapons that cannot be directed at a specific military objective. Also prohibited are attacks that violate the principle of proportionality. Disproportionate attacks are those that may be expected to cause incidental loss of civilian life or damage to civilian objects that would be excessive in relation to the concrete and direct military advantage anticipated from the attack.

"We have investigated Israeli attacks in Gaza in which there was no evidence that the target was a military object, and others in which the harm to civilians was disproportionate to any direct military advantage.

"The rockets launched by Palestinian armed groups are so inaccurate as to be incapable of being aimed in a manner to discriminate between military targets and civilian objects when, as has been the case, they are launched toward populated areas in Israel. Statements from Palestinian armed groups indicate that they are intentionally directing their rockets at Israeli population centers."


Q - Western countries like the US and some European nations are reportedly applying heavy pressure on officials at the International Criminal Court (ICC) not to allow any future indictments against Israel over its actions in Gaza or elsewhere. If Palestinians are unable to seek redress for alleged war crimes and crimes against humanity at international legal forums like the ICC due to American and European efforts to block them, what other avenues do Palestinians have to seek justice and an end to Israeli impunity?

EG - "While Amnesty International calls on the Palestinian Authority and Israel to accede to the Rome Statute (the treaty that established the ICC) and accept the ICC's jurisdiction over crimes committed since 1 July 2002, when the Court was established– we realize this may not happen for a variety of reasons.

"The Palestinian Authority has been consistently pressured by the USA, Israel, Canada, the UK and other EU Member States not to take steps to seek the ICC's jurisdiction; such pressure has included threats to withdraw financial assistance on which the Palestinian Authority depends. And while Israel participated in the negotiations leading to the ICC's establishment, in 2002 Israel stated that it would not ratify its Statute.

"While that avenue to accountability and justice may be closed, states should still use the 2009 report of the UN Fact-Finding Mission on the Gaza Conflict and the upcoming report of the commission of inquiry mandated by the Human Rights Council as a basis to exercise universal jurisdiction to investigate and prosecute crimes under international law before their national courts. Universal jurisdiction, now considered part of customary international law, is the ability of the court of any state to try persons for crimes committed outside its territory that are not linked to the state by the nationality of the suspect or the victims or by harm to the state's own national interests."


SLW - "Human Rights Watch has repeatedly urged President Mahmoud Abbas to resist efforts to politicize justice for victims of serious crimes under international law, and to urgently seek the jurisdiction of the ICC, despite contrary pressure from the United States, Canada, and certain European powers, such as France, the United Kingdom, and Italy. Given the abysmal record of both Israel and Hamas in bringing their own war criminals to justice, the ICC is a key alternative avenue of redress. It could bring a modicum of justice to the victims and help to deter further war crimes. Those who claim that the ICC's involvement would undermine efforts to achieve peace ignore the role that unchecked war crimes with impunity are having in raising tensions and hostility and undermining any prospect of a lasting peace."
Q - What are the broader implications, if any, of efforts by the US and some European countries to undermine attempts to hold Israel legally accountable for alleged human right abuses and violations of international law?

EG - "To be absolutely clear, AI is calling for all those responsible for war crimes and crimes against humanity – on all sides of the conflict – to be brought to justice. The victims of such crimes have a right to see the truth of what was done to them publicly established, to see those responsible brought to justice and removed from positions in which they can continue to perpetrate abuses, and to receive reparations.

"Ongoing impunity for war crimes and crimes against humanity is a shame that hangs heavy on the world. Once again the international community has done little more than wring its hands over the latest hostilities. The persistent cycle and environment of impunity must be broken. The victims, both Israeli and Palestinian in Israel and the Occupied Palestinian Territories, deserve justice.

"The lack of accountability, justice and reparations not only crushes the hope of the victims of a conflict, but perpetuates the climate of impunity that already exists in Israel and the Occupied Palestinian Territories and encourages all parties to a conflict to continue using reckless or deliberate tactics that violate international human rights and humanitarian law. Political obstacles within the United Nations that block accountability of one or more parties to a conflict only makes a sham of the whole system and raises questions about the extent of their commitment to human rights and international justice.

"Without any accountability and prosecution of those responsible for violations, the cycle of impunity, violence and human rights violations will only continue."


SLW - "The more Western governments use their power to protect their friends like Israel from any possibility of prosecution for war crimes, the more unprincipled antagonists of the ICC will portray its justice as selective. That undermines the global effort to build a strong international system of justice."