Facts on the Ground Peace Index: Volume IX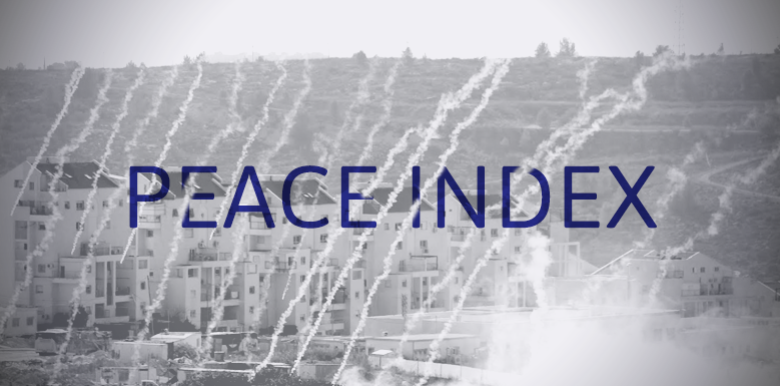 Note: The Peace Index is focused on the actions of the Israeli government and military, and statements of Israeli officials. It does not include frequent attacks carried out by Israeli settlers against Palestinians and their property and other non-official provocations and incitement, nor is it comprehensive in nature.
SUMMARY OF MAJOR ISRAELI PROVOCATIONS & ABUSES ON THE GROUND DURING COURSE OF TALKS
Between July 2013 when negotiations resumed and April 2014 when they reached the current impasse, Israel:
Approved or advanced plans for 13,851 new settlement units to be built on occupied Palestinian land in violation of both international law and official US government policy.
Killed approximately 50 Palestinians, including a number of minors, an 85-year-old man, and a mentally ill woman.
Destroyed approximately 500 Palestinian structures, including more than 300 homes, displacing almost 900 people.
(Covering Period: April 3, 2014 to April 30, 2014)

SETTLEMENT EXPANSION & CONFISCATION OF PALESTINIAN LAND

PROVOCATIVE MILITARY RAIDS & KILLINGS OF PALESTINIANS
On April 25, Human Rights Watch issued a statement entitled "Israel: Stop Shooting at Gaza Civilians" condemning the Israeli army's use of lethal force against Palestinians in Gaza. Noting that Israeli soldiers had killed 4 civilians and wounded more than 60 others near the boundary fence/wall between Israel and Gaza since the start of 2014, the statement urged Israel to "immediately stop shooting at Palestinian civilians inside Gaza." It continued:
"Human Rights Watch investigated seven incidents between January 2 and March 1, in which Israeli forces shot civilians in the vicinity of the fence. Four were killed, including a high school student on a picnic and a woman with an intellectual disability who was lost. Five others were wounded, including two journalists and two demonstrators planting olive trees, none of whom posed a threat to the soldiers or others. The Israeli military has not claimed that any of the victims in the seven cases were engaged in military operations or that armed groups were in the area when the shooting occurred."
HRW's Middle East director, Sarah Leah Whitson, concluded:
"Month after month, Israeli forces have wounded and killed unarmed Palestinians who did nothing but cross an invisible, shifting line that Israel has drawn inside Gaza's perimeter… It's appalling that soldiers have shot men, women, and children apparently for simply crossing a line."

EVICTIONS & DEMOLITIONS OF PALESTINIAN HOMES & STRUCTURES
Note: Israel usually destroys Palestinian homes and other structures, both within Israel's pre-1967 borders and inside the occupied territories, on the pretext that the structures were built without permission from Israeli authorities. However, as the recently released 2013 US State Department Human Rights Report for Israel and The Occupied Territories noted, "In both the West Bank and Jerusalem, Israeli authorities placed often insurmountable obstacles in the way of Palestinian applicants for construction permits."

PROVOCATIVE & INFLAMMATORY STATEMENTS FROM SENIOR ISRAELI OFFICIALS