Facts on the Ground Peace Index, Volume VI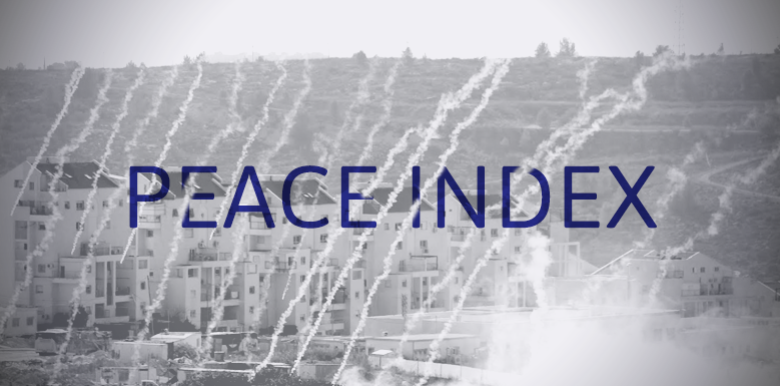 (Covering Period: January 2, 2014 to February 2, 2014)
See here for part one, here for part two, here for part three, here for part four, and here for part five.
NOTE: The Peace Index is focused on the actions of the Israeli government and military, and statements of Israeli officials. It does not include frequent attacks carried out by Israeli settlers against Palestinians and their property and other non-official provocations and incitement, nor is it comprehensive in nature.
SETTLEMENT EXPANSION
PROVOCATIVE MILITARY RAIDS & KILLINGS OF PALESTINANS
EVICTIONS & DEMOLITIONS OF PALESTINIAN HOMES & STRUCTURES
Note: Israel usually destroys Palestinian homes, both within Israel's pre-1967 borders and inside the occupied territories, on the pretext that the structures were built without permission from Israeli authorities. However, as documented by the United Nations and human rights organizations such as Human Rights Watch, it's nearly impossible for Palestinians to obtain construction permits in areas under Israeli control. Meanwhile, the expansion of Jewish communities is encouraged in all parts of Israel and in occupied East Jerusalem and much of the West Bank.
On January 31, UN Humanitarian Coordinator James W. Rawley issued a statement expressing concern over the destruction the previous day of 36 Palestinian structures in the Jordan Valley town of Ein al Hilwe in the occupied West Bank. The demolitions by the Israeli army left 66 Palestinians homeless, including 36 children. The statement read in part:
"I am deeply concerned about the ongoing displacement and dispossession of Palestinians in Area C, particularly along the Jordan Valley where the number of structures demolished more than doubled in the last year. This activity not only deprives Palestinians of access to shelter and basic services, it also runs counter to international law... The destruction of Palestinian-owned property and forced eviction of Palestinians must be brought to an immediate halt until Palestinians have access to a fair planning and zoning regime that meets their needs."
Rawley's statement also noted:
The number of Palestinians in the occupied territories displaced by Israel rose 25% in 2013, with more than 1100 displaced in the West Bank.
Since the beginning of 2014, over 100 Palestinian-owned structures have been demolished in the occupied territories, forcibly displacing more than 180 Palestinians, including almost 100 children.
On January 27, Israeli forces destroyed four residential structures, including multiple-apartment buildings, in the Beit Hanina and Al Isawiya neighborhoods of occupied East Jerusalem, displacing19 people, including 11 children. According to the UN, two of the displaced families were reportedly evicted forcibly from their homes without being given sufficient time to evacuate their belongings. The third family affected was displaced for the second time in less than year, their previous home in the same location having been demolished in February 2013.
On January 15, Israeli authorities handed out a series of demolition orders in the town of Sair in the southern occupied West Bank, threatening to leave 50 people homeless. The residents were given until February 15 to leave their homes.
On January 8, Israeli authorities destroyed 17 Palestinian-owned residential and other structures in and around the cities of Jericho and Nablus, resulting in the displacement of 33 people, over half of them children.
On January 5, Israeli authorities delivered a series of demolition orders against Palestinian structures in the highly sensitive East Jerusalem neighborhood of Silwan, including homes, shops, storage facilities and an athletic field.
On January 16, the UN Office for the Coordination of Humanitarian Affairs occupied Palestinian territory (OCHA) reported that the number of Palestinian structures in the Jordan Valley destroyed by Israel and the number of Palestinians subsequently displaced more than doubled in 2013 over the previous year. In 2013, Israel destroyed 393 Palestinian structures in the Jordan Valley, displacing 575 people, up from 192 structures demolished and 279 Palestinians displaced in 2012.
PROVOCATIVE & INFLAMMATORY STATEMENTS FROM SENIOR ISRAELI OFFICIALS