Facts on the Ground Peace Index, Volume VII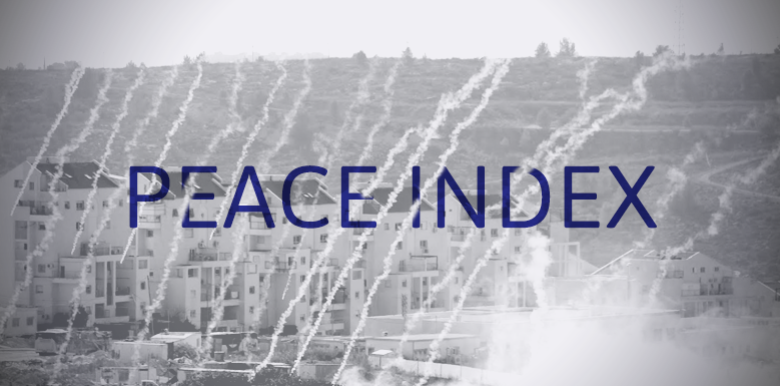 (Covering Period: February 2, 2014 to March 3, 2014)
See here for part one, here for part two, here for part three, here for part four,here for part five, and here for part six.
Note: The Peace Index is focused on the actions of the Israeli government and military, and statements of Israeli officials. It does not include frequent attacks carried out by Israeli settlers against Palestinians and their property and other non-official provocations and incitement, nor is it comprehensive in nature.
SETTLEMENT EXPANSION
PROVOCATIVE MILITARY RAIDS & KILLINGS OF PALESTINANS
EVICTIONS & DEMOLITIONS OF PALESTINIAN HOMES & STRUCTURES
Note: Israel usually destroys Palestinian homes, both within Israel's pre-1967 borders and inside the occupied territories, on the pretext that the structures were built without permission from Israeli authorities, however as the recently released 2013 US State Department Human Rights Report for Israel and The Occupied Territories noted, "In both the West Bank and Jerusalem, Israeli authorities placed often insurmountable obstacles in the way of Palestinian applicants for construction permits."
PROVOCATIVE & INFLAMMATORY STATEMENTS FROM SENIOR ISRAELI OFFICIALS
On February 26, Israeli media reported that a meeting between the US ambassador to Israel, Daniel Shapiro, and a group of right-wing parliamentarians from Israel's coalition government intended to improve relations between the Obama administration and Israel's right turned ugly, with the legislators accusing the US of failing to support Israel strongly enough. The Knesset members in attendance from Netanyahu's Likud party included governing coalition chairman Yariv Levin, Deputy Speaker of the Knesset Moshe Feiglin and Deputy Transportation Minister Tzipi Hotovely, along with a half dozen members of the Jewish Home party, and one member of the Yesh Atid party. David Rotem, of the Jewish Home, questioned America's commitment to Israel, asking: "How can we depend on you? When have you stood by us?" Deputy Minister Hotovely warned that any agreement that called for the removal of settlers from the occupied territories would lead to the collapse of the government and be opposed by most members of Likud, stating:

"Any framework agreement that talks about the 1967 lines or includes the evacuation of settlements or giving up sovereignty in Judea and Samaria and Jerusalem will lead to the fall of the current government… [there is no] real possibility of bridging the gaps between Israel and the Palestinians and no majority in Likud for a plan containing a division of the land."

Coalition Chairman Levin told Shapiro that the US should support Israel unconditionally, even when it disagrees with Israel's actions, stating: "We see our alliance with you as unconditional. When there is a true alliance, it is proved by you standing behind us, even when you think we're wrong." Moshe Feiglin, a notorious extremist appointed as a Deputy Speaker of the Knesset by Netanyahu last year, claimed that the refusal of the US government to release Jonathan Pollard, a US citizen sentenced to life in prison in 1986 for spying for Israel, "reeked of anti-Semitism." After the meeting, Rotem and fellow Jewish Home Knesset member Orit Strock sent Shapiro a letter stating: "We are convinced you understood that we disagree on the principles you laid out for us as a basis for diplomatic negotiations, and we are determined to prevent this kind of deal."
On February 20, more than 21 members of the Israeli Knesset, including seven deputy ministers in the government, sent Netanyahu a letter warning against any freeze in settlement construction, as media reports claimed the US was requesting. The letter's signatories included Deputy Foreign Minister Zeev Elkin, who is a settler himself, Deputy Defense Minister Danny Danon, Ofir Akunis, deputy minister in the Prime Minister's Office, and Deputy Transportation Minister Tzipi Hotovely, all of whom are members of Netanyahu's Likud party. Netanyahu's coalition chairman Levin told Israeli Army Radio that the letter was intended to "strengthen the prime minister's policy" of expanding settlements, adding that there is a "solid bloc of MKs in the Knesset that [are] determined to preserve the settlement enterprise."
On February 19, settler media reported that Housing Minister Uri Ariel, who is also a settler, lashed out at reports that the US was requesting a settlement freeze, saying a freeze "is a redundant, deluded idea." Adding that Secretary Kerry had made "severe mistakes" in the ongoing peace negotiations, he continued:

"If we look 270 degrees around Israel, we can see how everything the Americans touch escapes from their hands… Thus we have Libya, Egypt, Syria, Iraq, and more. Everything is one giant failure and it is worth it for the Americans to stop and think about what they have done. Let them think about it and correct it."

Asked about reports that settlement construction had increased greatly in 2013 over the previous year, Ariel replied:

"It's not good enough, but this is still significant progress… It fills me with joy to announce it and the fact that we have just approved 296 new housing units for Beit El."

On February 18, Deputy Knesset Speaker Feiglin issued a statement calling on the government to "implement Israeli sovereignty" over the Noble Sanctuary mosque complex in the Old City of occupied East Jerusalem, known as the Temple Mount to Jews. The Noble Sanctuary is one of the holiest of sites for Jews and Muslims and has long been a flashpoint for violence as Jewish extremists have attempted to extend Israeli control over the area, including through plots to destroy the Al Aqsa and Dome of the Rock mosques. The statement was signed by several other members of Israel's governing coalition including coalition Chairman Levin and Miri Regev from Netanyahu's Likud party.

"The Knesset calls upon the Prime Minister to implement Israeli sovereignty on the Temple Mount, to stop the discrimination there and to allow all people to ascend the Mount through any of the entry gates, regardless of religion, race, sex or nationality - in accordance with the fundamental laws of Israel."

Israeli law currently prohibits Jews from praying on the Muslim holy site to prevent conflict. Additionally, since Israel occupied East Jerusalem in the June 1967 War most Israeli rabbis have prohibited Jewish worship on the site for theological reasons.
On February 17, Naftali Bennett, who is also Minister of Jerusalem and Diaspora Affairs, told a meeting of the Conference of Presidents of Major Jewish Organizations that Israel was attempting to exercise greater control over the Noble Sanctuary mosque complex in occupied East Jerusalem. Bennett told the conference that he had already taken measures that would "ultimately influence the eastern side of Jerusalem, and that will include the Temple Mount." He also denied that Israel was occupying the West Bank or East Jerusalem, stating: "There's a land dispute, that's no secret, but it's no occupation because you can't occupy your own home."
On March 13, a number of members of Israel's Knesset, including ministers and deputy ministers from Netanyahu's government, marched with thousands of young right wing Israelis and notorious extremists such as Rabbi Dov Lior from the settlement of Maale Adumim outside of East Jerusalem to the so-called "E1" corridor of land which if colonized by Israel would effectively sever the West Bank into two parts. Speakers demanded that Israel build settlements in E-1, something Israeli governments have resisted doing in the face of intense pressure from the US and international community. Inflammatory statements made by senior government officials included:
On February 7, Housing Minister and settler Ariel told a group of leaders from the Zionist Council in Israel and the World Zionist Organization: "We will build in Judea and Samaria [the occupied West Bank] and we will also build in [occupied East] Jerusalem, there is no way that we won't build in every part of the Land of Israel."
On February 6, Minister of the Economy and Religious Services Bennett blamed the US for "wrong decisions" that endangered Israel, stating: "Washington insisted on instituting elections for the Palestinians, and they elected Hamas… Washington insisted that Israel withdraw from Gaza, and in return we got tens of thousands of rockets on southern Israel, after democratically elected Hamas took over Gaza."
Also on February 6, Deputy Minister of Religious Services Rabbi Eli Ben-Dahan of Bennett's Jewish Home party told a group of extreme right-wing Israeli settler activists that Israel should annex the occupied West Bank, stating:

"We demand that Israeli sovereignty be applied on all of Judea and Samaria [the West Bank]. This is our land – we were never ashamed of it… I was born in Morocco, and everyone who made aliyah knows that the Jews simply wanted to reach the Land of Israel, and they were never told that one place is alright and the other is off bounds…"

"We were warned when we [annexed occupied East] Jerusalem, and we did it in the Golan, too – yet the state of Israel is still alive… The same thing will happen when we do it with Judea and Samaria – at first there will be various statements, but in the end they will get used to it and understand. When our determination is clear, and we project certainty in the justice of our path, everyone will accept it, because that is the world's nature."

On February 5, Housing Minister Ariel declared: "Everyone in the [governing] coalition agrees, including [Justice Minister Tzipi] Livni and [Finance Minister Yair] Lapid, that the major settlement blocs will remain intact, the Jordan Valley will remain part of Israel, there cannot be a right of return and Jerusalem will remain united."
Also on February 5, Israeli media reported that a group of right-wing nationalist rabbis had sent an open letter to Secretary of State John Kerry telling him that he had declared war on god because he was pressuring Israel to make peace with the Palestinians. The letter warned Kerry to stop the negotiations "in order to avoid severe Heavenly punishment for everyone involved."
On February 4, Bennett declared: "Our job is to turn the state into a real Jewish state…. Every day, the state is becoming more Jewish and that is a great blessing… In the end, that is the battle: Are we a regular country like Norway or Sweden or are we a Jewish state? That is our role."
Also on February 4, Housing Minister Ariel told a conference sponsored by a far-right settler media outlet "Across the Jordan River there will be only one state, and that is the State of Israel… All this talk of two states will not succeed and will not weaken our nation. This is a nation which has survived Pharaoh, survived hardship and will also survive this."
On February 2, Deputy Foreign Minister and settler Elkin called for Israel to build in the sensitive "E-1" area in the occupied West Bank east of East Jerusalem in response to Secretary of State Kerry's warning that Israel faced increased international isolation and boycotts as a result of continued settlement expansion, stating:

"It is now, when we've been threatened by boycotts, that we should build more in E-1... Anyone who wants to see strong blocs of Jewish communities [in the occupied territories] must do everything within his power to promote construction in the Land of Israel. Otherwise, all the talk about consensus and strengthening the communities within the 'settlement blocs' remains only on paper… The construction of the [E-1] neighborhood is of strategic importance because it connects Maale Adumim and Jerusalem."
PROVOCATIONS ON THE NOBLE SANCTUARY / TEMPLE MOUNT
Note: Since Israel occupied East Jerusalem and its holy sites in the June 1967 War, Jewish extremists have wanted to build a Jewish temple in place of the Noble Sanctuary (Haram al-Sharif in Arabic) mosque complex in the Old City, which sits atop the ruins of two ancient Jewish temples. At first they were relatively small in number and restrained by Israeli authorities who sought to avoid the explosive reaction any damage done to the Noble Sanctuary, the third holiest site in Islam and one of the most sensitive holy sites in the world, would provoke. Israeli law prohibits Jewish prayer in the Noble Sanctuary, as do the teachings of many rabbis who oppose it for theological reasons. However, in recent months and years as Israeli Jewish society has moved further to the right, an increasing number of Israelis, including government ministers and members of parliament from Netanyahu's Likud party, have been attempting to pray in the Noble Sanctuary, and are calling for Israel to take direct control over the site, which is currently run by a joint Palestinian-Jordanian Islamic trust (waqf). There is growing concern amongst some observers about the dangers of repeated Israeli provocations on the Noble Sanctuary, particularly in the context of failed peace negotiations. The second Palestinian Intifada (uprising) against Israel's occupation began following a provocative visit to the Noble Sanctuary by the notorious then-opposition leader Ariel Sharon after the failed Camp David negotiations.
Recent provocations include: