Facts on the Ground Peace Index: Volume VIII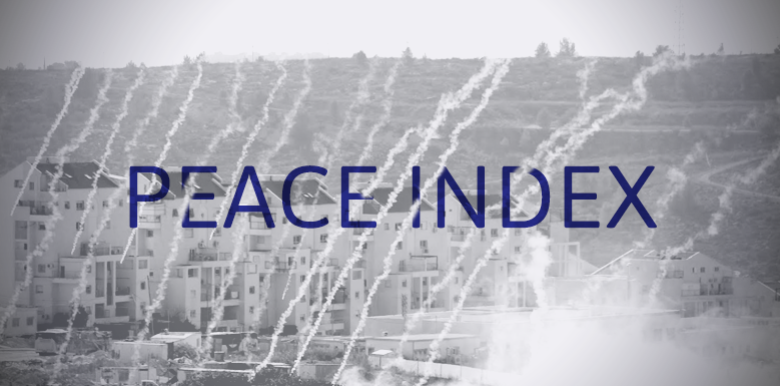 (Covering Period: March 3, 2014 to April 3, 2014)
For reference see past editions here: Volume I, Volume II, Volume III, Volume IV, Volume V, Volume VI, and Volume VII. See also our recently released fact sheets Talking Peace While Making War: Benjamin Netanyahu & The Peace Process and Making Painful Compromises for Peace: A Comparison.

Note: The Peace Index is focused on the actions of the Israeli government and military, and statements of Israeli officials. It does not include frequent attacks carried out by Israeli settlers against Palestinians and their property and other non-official provocations and incitement, nor is it comprehensive in nature.

SETTLEMENT EXPANSION & CONFISCATION OF PALESTINIAN LAND

PROVOCATIVE MILITARY RAIDS & KILLINGS OF PALESTINIANS
"B'Tselem's investigation indicates that the three youths were crossing the barrier in order to pick gundelia [Arabic: 'Akub], a thistle-like edible plant annually harvested at this time of year that serves as an important source of income for local residents. The section of the Separation Barrier in this area lies within the West Bank, some 200 meters east of the Green Line, not far from the village homes. The a-Shawamrehs own farmland that is now separated from them by the barrier, and that land is where the three youths were heading to gather plants."

"The decision to mount an armed ambush at a point in the barrier known to be crossed by youths, who pose no danger whatsoever to anyone, for the purpose of harvesting plants is highly questionable. It also indicates, at the very least, extremely faulty discretion on the part of the commanders. Moreover B'Tselem's findings are markedly different from the description given by the IDF Spokesperson: the youths made no attempt at vandalism; they were crossing through a long-existing breach, and the soldiers did not carry out suspect arrest procedure, shooing at a-Shawamreh with no advance warning."
On March 22, Israeli forces killed three Palestinians during a raid in the Jenin refugee camp in the north of the occupied West Bank. According to witnesses, Israeli forces opened fire on the home of 22-year-old Hamza Abu al-Haija, a member of Hamas Israel accused of being behind attacks on Israelis. According to local residents, following a shoot-out Israeli soldiers executed a wounded Abu al-Haija as he attempted to flee. Seventeen-year-old Mahmoud Abu Zeina and 23-year-old Yazan Jabarin, whom the Israelis also accused of being militants, were also killed in the raid. In the unrest that followed, 15 more Palestinians were wounded by Israeli fire, according to Palestinian sources.
On March 19, Israeli soldiers shot and killed 14-year-old Yousef a-Shawamreh Abu Akar south of Hebron in the occupied West Bank. The Israeli army claimed soldiers opened fire because the boy and two friends were attempting to damage the West Bank barrier Israel has built which separates local Palestinians from their lands. Residents said the three boys were going to pick gundelia, an edible plant traditionally harvested by Palestinians in the area. According to a report released on March 26 by Israeli human rights organization B'Tselem entitled "Responsibility for killing 14-year-old Palestinian lies primarily with commanders who ordered armed ambush," Israeli soldiers had been lying in wait to ambush the boys. The report stated:
The report concluded: "By justifying the use of lethal fire in broad daylight at youths who posed no danger to any other persons, the [army's] statement conveys a cynical lack of concern for the life of a Palestinian teenager."
On March 14, Israeli soldiers shot and critically wounded 16-year-old Mohammad Abu Ayyash, who was struck in the head with live ammunition during a protest in the town of Beit Ummar, north of Hebron.
On March 11, the Israeli air force killed three members of Islamic Jihad in occupied Gaza as they fired mortars at Israeli soldiers who had invaded the besieged coastal strip. The dead men were identified as 23-year-old Ismail Abu Jouda, 24-year-old Shaer Shanab, and 33-year-old Abdel Shafi Abu Muammar.
Also on March 11, Israeli soldiers shot and killed 18-year-old Saji Darwish near Ramallah in the central occupied West Bank. Israeli authorities claimed that Darwish, an undergrad in media studies at Birzeit University, was throwing stones at settler cars when soldiers killed him.
On March 10, Israeli soldiers shot and killed 38-year-old Raed Zeiter, a Palestinian-Jordanian judge at the Allenby border crossing between Jordan and the occupied West Bank. The Israeli army claimed that Zeiter tried to grab the weapon of a soldier who was searching the bus he was aboard. Eyewitnesses told Zeiter's family that soldiers shot him without warrant following an argument. Zeiter was traveling to Nablus in the West Bank to collect rent money in order to pay for medical care for his four-year-old son, who passed away shortly after his father was killed. Following outrage in Jordan and complaints from the Jordanian government, Israeli officials stated their "regret" for the killing and opened a new investigation.

EVICTIONS & DEMOLITIONS OF PALESTINIAN HOMES & STRUCTURES
Note: Israel usually destroys Palestinian homes and other structures, both within Israel's pre-1967 borders and inside the occupied territories, on the pretext that the structures were built without permission from Israeli authorities. However, as the recently released 2013 US State Department Human Rights Report for Israel and The Occupied Territories noted, "In both the West Bank and Jerusalem, Israeli authorities placed often insurmountable obstacles in the way of Palestinian applicants for construction permits."

PROVOCATIVE & INFLAMMATORY STATEMENTS FROM SENIOR ISRAELI OFFICIALS

PROVOCATIONS ON THE NOBLE SANCTUARY / TEMPLE MOUNT
Note: Since Israel occupied East Jerusalem and its holy sites in the June 1967 War, Jewish extremists have wanted to build a Jewish temple in place of the Noble Sanctuary (Haram al-Sharif in Arabic) mosque complex in the Old City, which sits atop the ruins of two ancient Jewish temples. At first they were relatively small in number and restrained by Israeli authorities seeking to avoid the explosive reaction any damage done to the Noble Sanctuary, the third holiest site in Islam and one of the most sensitive holy sites in the world would provoke. Israeli law prohibits Jewish prayer in the Noble Sanctuary, as do the teachings of many rabbis who oppose it for theological reasons. However, in recent months and years as Israeli Jewish society has moved further to the right, an increasing number of Israelis, including government ministers and members of parliament from Netanyahu's Likud party, have been attempting to pray in the Noble Sanctuary, and are calling for Israel to take direct control over the site, which is currently run by a joint Palestinian-Jordanian Islamic trust (waqf). There is growing concern amongst some observers about the dangers of repeated Israeli provocations on the Noble Sanctuary, particularly in the context of failed peace negotiations. The second Palestinian Intifada (uprising) against Israel's occupation began following a provocative visit to the Noble Sanctuary by the notorious then-opposition leader Ariel Sharon after the failed Camp David negotiations.

Recent provocations include: