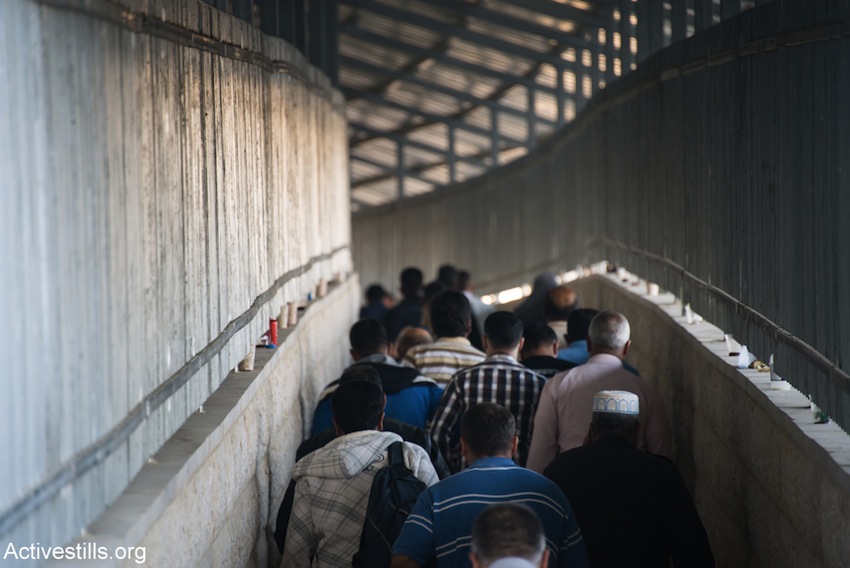 Palestinians enter the main Israeli checkpoint separating Bethlehem and Jerusalem. (Activestills)
In 1993, Israel and the Palestine Liberation Organization (PLO) signed the first of a series of agreements known as the Oslo Accords. The US-sponsored Oslo process created the Palestinian Authority (PA), which was supposed to be a temporary body preceding a final peace agreement to be reached by 1999. However, instead of rolling back its occupation of the West Bank, East Jerusalem and Gaza, and allowing Palestinians to create a state, Israel entrenched the occupation and deepened its control over their lives, taking more and more of their land for Jewish settlements and imposing harsh restrictions on their movements. Today, more than two decades after it began, many Palestinians consider the Oslo "peace process" a disaster.
Since the Oslo process began in 1993, Israel has:
Implanted nearly 400,000 Jewish settlers onto Palestinian land in the occupied West Bank and East Jerusalem. Today, there are approximately 650,000 Israeli settlers living in East Jerusalem and the West Bank in violation of international law and official U.S. policy.
Divided and isolated Palestinian population centers in the occupied territories from one another and the outside world, creating easily controllable cantons using strategically located settlements, walls, Israeli-only roads, and military checkpoints. Today, Israel's settlement enterprise covers approximately 42% of the occupied West Bank.
Built a ring of settlements and a wall around the expanded boundaries of occupied East Jerusalem, severing it from the West Bank, cementing Israeli control over the city and preventing most Palestinians on the outside from entering to worship, visit family and friends, do business, or study. Once a center of religious, cultural and economic life for Palestinians in the West Bank, now most aren't allowed to enter Jerusalem.
Imposed severe restrictions on Palestinian movement, to and from and within the occupied territories, including a permit system, network of military checkpoints, and the illegal siege and blockade of Gaza. These restrictions have caused great hardships for people, preventing them from accessing medical care, students from going to school, farmers from reaching their land, obstructing the conduct of business and commence, and separating families and friends.
Suffocated the Palestinian economy, particularly in Gaza, with restrictions on the movement of people and goods, the destruction of agricultural lands, restrictions on fishing, frequent curfews and closures, and the destruction of civilian infrastructure during military operations. As a result, the PA and Palestinians in the occupied territories are largely dependent on international aid and taxes that are collected and returned by Israel under the terms of Oslo.
Turned Palestinians into one of the most policed people on earth, using its army and PA police forces to suppress dissent against Israel's military rule. Today, more of the PA's budget goes into its paramilitary police than into education, health care, and the agriculture sector combined.
Destroyed more than 15,000 Palestinian structures in the occupied territories, including homes, businesses, irrigation and water collection systems, barns and other agricultural buildings, This figure doesn't include more than 20,000 Palestinian homes destroyed during military assaults.
Killed nearly 9,500 Palestinians, most of them civilians, including more than 2,000 children. These include deaths caused by military operations as well as attacks from settlers and other Israeli extremists.