Gaza Crisis Update (July 23, 2014)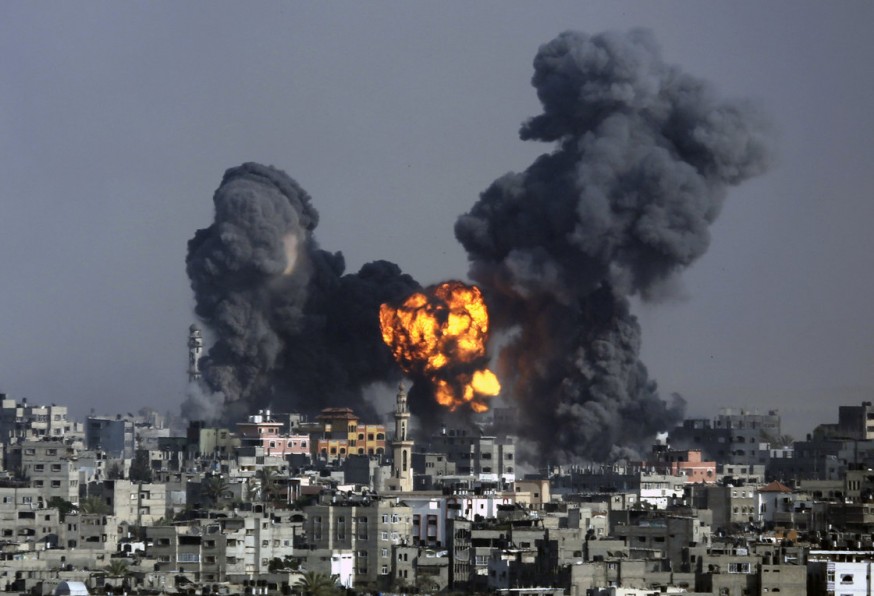 PHOTO: Hatem Moussa/AP
For background on the military strategy that Israel is employing in Gaza, which has caused massive civilian casualties, see our previously released fact sheet, The Dahiya Doctrine and Israel's Use of Disproportionate Force.
At least 443 Palestinian civilians have been killed, including at least 74 women. Of the child fatalities, at least 36 have been under the age of five.
Israel killed the equivalent of one Palestinian child every hour on July 20 and July 21.
During the 24-hour reporting period (8 AM ET on July 21 to 8 AM ET on July 22), at least 120 Palestinians, including 26 children and 15 women, were killed or their bodies recovered.
At least 3500 Palestinians have been injured, including at least 1100 children and 1153 women.
117,000 internally displaced people are sheltering in 80 United Nations Relief and Works Agency (UNRWA) schools.
At least 116,000 children require specialized psychosocial support (PSS) due to trauma caused by the death or injury of someone they know or loss of a home.
Israel has destroyed or severely damaged over 530 residential properties, including numerous multi-story buildings, causing civilian casualties and displacing survivors.
An estimated 1.2 million people have no or very limited access to water or sanitation services because of damage done to the electrical system or lack of fuel for generators. Repairs to the water and sewage system are urgently required to avert the outbreak of public health diseases.
The vast majority of households in Gaza have electricity for no more than four hours a day.
The Israeli army has declared 44% of the tiny Gaza Strip a military "buffer zone."
During the reporting period, a request for a "humanitarian pause" was rejected by Israel.
Notable Incidents of Civilian Casualties
On July 22, Israeli forces killed four members of the Hajjaj family in Gaza City. The dead were 15-year-old Rawan Ziad Hajjaj, 28-year-old Yousef Muhammed Hajjaj, 31-year-old Muhammad Shehadeh Hajjaj, and 66-year-old Fayzeh Saleh Hajjaj.
Also on July 22, the Israeli military killed two elderly women in Rafah in southern Gaza. The dead were 75-year-old Hakema Nafe Abu Odwan, and 85-year-old Najah Nafe Abu Odwan.
On July 21, the Israeli military carried out a number of attacks that killed multiple members of several different Palestinian families in Gaza. They included:
Approximately 25 members of the Abu Jamea family and three others were killed by an Israeli missile strike on a home in Khan Younis in southern Gaza. The dead included 18 children and five women, two of who were reportedly pregnant.
Ten members of the al-Qassas family were killed, including six children, and four others wounded when Israeli forces shelled their home in Gaza City. The dead children were 3-year-old Saman, 4-year-olds Arwa and Mohamad, Isra' and Nesma, both 7, and 13-year-old Layma.
Eleven people, including six members of the Kelani family were killed, and 40 others injured, when Israeli warplanes attacked a high-rise apartment building in Gaza City, reducing most of it to rubble. The dead family was identified as Ibrahim Kelani, his wife and four children.
Attacks on Medical Facilities & Medical Workers
Shortages of Medical Specialists, Equipment & Supplies
According to the UN, Gaza medical facilities urgently require:

Shifa hospital urgently needs neurosurgeons, anesthesiologists, plastic and general surgeons, and orthopedic specialists, as well as 20 ICU beds, a digital C-ARM machine for orthopedic surgeries, three operation tables and a lighting system for the five operation rooms.
Psycho-tropic drugs for patients with mental illness, trauma and anxiety, which are in critically short supply.
Attacks on Media/Deaths & Injuries of Journalists
Statements/Reports from Human Rights Organizations
(Bolding by IMEU)
"The Israeli military said that Shuja'iyyeh, a densely populated area with some 92,000 residents east of Gaza City, had been targeted because it was a 'fortress' housing rockets, tunnels and command centres. Israeli military and government officials have repeatedly said that civilians were warned to evacuate the area days before it was attacked.

"However, many civilians in Shuja'iyyeh and other areas did not evacuate because they had nowhere to go. All the UNRWA schools and other facilities opened as shelters are overflowing. Issuing warnings to evacuate entire areas does not absolve Israeli forces of their obligations to protect civilians under international humanitarian law."
​