Gaza Crisis Update (July 25, 2014)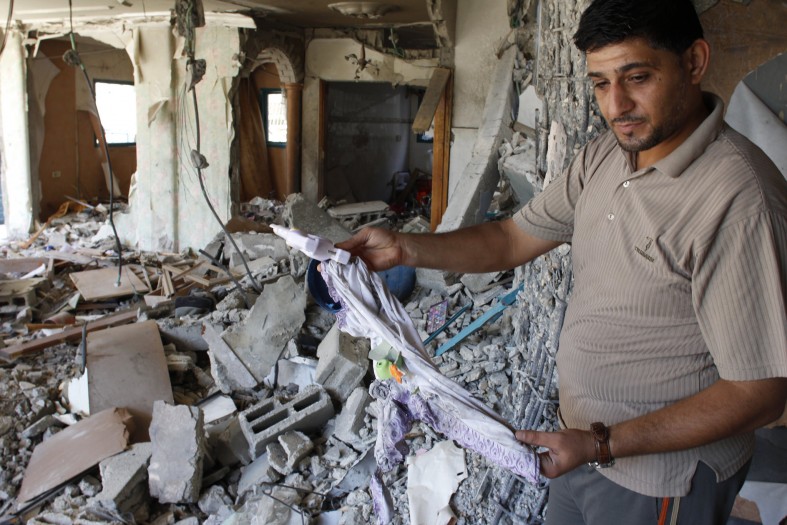 PHOTO: A Palestinian man stands in the ruins of his home after it was demolished by Israeli airstrikes on Gaza on July 16, 2014 (Jehad Saftawi/IMEU)
Since July 7, Israel has killed at least 808 Palestinians in Gaza, including at least 185 children.
At around 3 PM local time on Thursday (July 24), a United Nations school in Beit Hanoun where approximately 1500 internally displaced people (IDP) were sheltering was struck by several missiles, killing at least 16 people and injuring at least 150 others. It wasn't immediately clear who was responsible for the attack, however late Thursday the Israeli military acknowledged that it had fired into the area at the time of the incident, claiming they were responding to hostile fire. According to UN officials, they twice asked the Israeli military to allow a humanitarian corridor to evacuate civilians from the school during the day, but Israel refused. Over the past three days, the Israeli military has attacked UN schools housing IDPs on three different occasions, despite the fact that the UN has provided the military with precise GPS coordinates for all of its facilities.
According to the UN, as of July 24 at 8 AM ET:

At least 578 Palestinian civilians have been killed, including at least 185 children and 93 women.
During the 24-hour reporting period (July 23-July 24), at least 92 Palestinians were reported killed or their bodies recovered, including 17 children and eight women. (Note: These figures do not include at least 16 people killed in an attack on a UN school sheltering IDPs, the source of which is not yet conclusively known.)
Forty-two families in Gaza have lost at least three or more members killed by the Israeli military in the same incident, totaling 253 people.
More than 5100 Palestinians have been injured, including more than 1500 children and 1000 women, as of July 24 at 1 AM ET.
149,000 internally displaced people (IDP) are sheltering in 84 United Nations Relief and Works Agency (UNRWA) schools and tens thousands of others are taking refuge elsewhere. This is more than double the number of Palestinians who took refuge at UN facilities during Israel's devastating three-week assault on Gaza in the winter of 2008-2009, Operation Cast Lead. All are in need of emergency food assistance.
At least 148,000 children require specialized psychosocial support (PSS) due to trauma caused by the death or injury of someone they know or loss of home.
Israel has destroyed or severely damaged at least 615 residential properties, including numerous multi-story buildings, causing hundreds of civilian casualties.
Since July 7, Israeli attacks have damaged approximately 120 schools. On July 24, five people were wounded when the Israeli military shelled the Deir al-Balah girls school in central Gaza, which was sheltering approximately 1500 IDPs. At least six teachers are known to have been killed.
The Israeli army has declared 44% of the tiny Gaza Strip a military "buffer zone."

NOTABLE INCIDENTS OF CIVILIAN CASUALTIES
On July 24, the Israeli military killed at least ten members of the al-Astal family, including three children, in two separate attacks on civilian homes in Khan Younis in southern Gaza. According to the UN, in one of the incidents, Israeli forces fired on civilians attempting to aid the survivors of the initial strike. At least six other members of the al-Astal family have been killed by the Israeli military in the past week.
Also on July 24, Israeli forces killed five members of the Abu Aita family, including an eleven-year-old boy in Jabalia in northern Gaza. The dead were 67-year-old Ibrahim Abdullah Abu Aita, 65-year-old Jamila Salim Abu Aita, 30-year-old Ahmad Ibrahim Abdullah Abu Aita, and 11-year-old Adham Ahmad Abu Aita.
On July 22, Israeli forces killed four members of the Hajjaj family in Gaza City. The dead were 15-year-old Rawan Ziad Hajjaj, 28-year-old Yousef Muhammed Hajjaj, 31-year-old Muhammad Shehadeh Hajjaj, and 66-year-old Fayzeh Saleh Hajjaj.
Also on July 22, the Israeli military killed two elderly women in Rafah in southern Gaza. The dead were 75-year-old Hakema Nafe Abu Odwan, and 85-year-old Najah Nafe Abu Odwan.
On July 21, the Israeli military carried out a number of attacks that killed multiple members of several different Palestinian families in Gaza. They included:

Approximately 25 members of the Abu Jamea family and three others were killed by an Israeli missile strike on a home in Khan Younis in southern Gaza. The dead included 18 children and five women, two of who were reportedly pregnant.
Ten members of the al-Qassas family were killed, including six children, and four others wounded when Israeli forces shelled their home in Gaza City. The dead children were 3-year-old Saman, 4-year-olds Arwa and Mohamad, Isra' and Nesma, both 7, and 13-year-old Layma.
Eleven people, including six members of the Kelani family, were killed and 40 others injured, when Israeli warplanes attacked a high-rise apartment building in Gaza City, reducing most of it to rubble. The dead family were Ibrahim Kelani, his wife and their four young children.

On July 20, the Israeli military launched a bloody assault against the residential neighborhood of Shejaiya in Gaza City, killing at least 60 people, including at least 17 children, 14 women and four elderly people. Condemning the high civilian death toll, UN Secretary General Ban Ki-moon called Israel's attack on Shejaiya "atrocious." In a press release accompanying an open letter to Israel's attorney general on July 21, ten Israeli human rights organizations expressed "serious concern" about "the legality of the operation, and in particular, the potential violation of the fundamental principles of the laws of war, specifically the principle of distinguishing between combatants and civilians."
Also on July 20, a young Palestinian man searching for family members in the rubble of the Shejaiya neighborhood of Gaza City was shot several times and killed by an Israeli sniper in an incident that was captured on video (WARNING: Disturbing images).
On July 19, five civilians, including four members of the Zuwaid family, were killed by Israeli shelling in Beit Hanoun in northern Gaza. The dead family were Mahmoud Zuwaid, his wife Daliah, and their children three-year-old Nagham, and two-year-old Ruya.
On July 18, eight members of the Abu Jrad family including four children were killed by an Israeli missile fired into their home in Beit Hanoun in northern Gaza.
Also on July 18, four members of the Shaath family were killed and four others injured including one seriously by an Israeli airstrike on their home in Khan Younis in southern Gaza.
On July 16, four young boys were killed and three others injured, by Israeli shelling on the beach in Gaza City. The dead, all cousins, were Ahed Atef Bakr and Zakariya Ahed Bakr, who were ten-years-old, eleven-year-old Mohammad Ramiz Bakr, nine-year-old Ismail Mahmoud Bakr.
On July 13, 18 members of the al-Batsh family, including six children and three women, one of them pregnant, were killed, and 16 others injured by Israel in an unsuccessful attempt to assassinate Gaza's chief of police by attacking his cousin's home.
On July 10, Israeli forces killed 8 members of the Al Haj family, including five children, during an attack on their home in Khan Younis in southern Gaza.
On July 9, Israeli forces killed at least 9 civilians and wounded 16 others as they watched the World Cup at the Fun Time Beach café in southern Gaza.

ATTACKS ON MEDICAL FACILITIES & MEDICAL WORKERS

SHORTAGES OF MEDICAL SPECIALISTS, EQUIPMENT & SUPPLIES
According to the UN, Gaza medical facilities urgently require:

Shifa hospital urgently requires neurosurgeons, anesthesiologists, plastic and general surgeons, and orthopedic specialists, as well as 20 ICU beds, a digit C-ARM machine for orthopedic surgeries, three operation tables and a lighting system for the five operation rooms.
Psycho-tropic drugs for patients with mental illness, trauma and anxiety, which are in critically short supply.
ATTACKS ON MEDIA
On July 22, journalists working for Al Jazeera evacuated the offices of its Gaza bureau after Israeli forces fired on the building twice. The previous day, Israeli Foreign Minister Avigdor Lieberman was quoted saying that the respected news outlet "stands at the heart of the propaganda of terrorist organizations."
On July 20, a Palestinian cameraman, 25-year-old Khaled Hamad, was killed by Israeli shelling in the Shejaiya neighborhood of Gaza City.
On July 18, Israel bombed a building containing media offices in Gaza City, injuring a Palestinian photojournalist.
On July 15, a driver working for The New York Times was slightly injured by an Israeli rocket attack on a house in Gaza City.
On July 8, Israel bombed a car used by Palestinian journalists, even though it was clearly marked as media, killing the driver and wounding three reporters who were inside.

DAMAGE TO CIVILIAN INFRASTRUCTURE
According to the UN:

The electricity supply has further deteriorated after two Israeli missiles landed in the vicinity of the Gaza Power Plant (GPP) on 23 July. Electricity is being provided on a rolling basis and homes are left without power for approximately 20 hours per day. The damaged generator needs to be totally replaced. GPP engineers are seeking guarantees from the Israeli authorities that they will not be targeted while conducting repairs. At approximately 00:30 on 24 July, an Israeli airstrike hit a repair crew from the Gaza Electricity Distribution Company in the centre of Khan Yunis, reportedly injuring four.
15 wells and six sewage pumping stations are not operating. Less than half of the required amount of water is being pumped, according to the Municipality of Gaza. Humanitarian access to allow for repairs of wells, sewage pumping station and water and sewage lines is urgently needed to avert the outbreak of public health diseases. Several areas are experiencing sewage flooding, in particular in Beit Hanoun and Beit Lahiya, posing public health hazards.
An estimated 1.2 million people have no or very limited access to water or sanitation services because of damage done to the electrical system or lack of fuel for generators. Repairs to the water and sewage system are urgently required to avert the outbreak of public health diseases.
On July 23, the Palestine Cellular Communications Company announced that Gaza's only cellular phone network is at risk of going down because of damage done by Israeli bombing.
STATEMENTS/REPORTS FROM HUMAN RIGHTS ORGANIZATIONS
(Bolding by IMEU)
On July 23, Navi Pillay, the UN high commissioner for human rights, expressed deep concern over possible Israeli "war crimes" in Gaza, telling a special session of the UN Human Rights Council:

"The targeting of civilian homes is a violation of international humanitarian law, unless the homes are being used for military purposes. Attacks against military objectives must offer a definite military advantage in the prevailing circumstances, and precautions must be taken to protect civilian lives. The fact that an attempt to warn civilians has been made, does not release the attacker from its obligation to spare civilian lives. A number of incidents, along with the high number of civilian deaths, belie the claim that all necessary precautions are being taken. People – particularly the elderly, sick and those with disabilities – are not given sufficient time to scramble out of their homes. When they do manage to run out into the street, there is nowhere to hide and no way of knowing where the next shell or missile will land."