Gaza Crisis Update (July 30, 2014)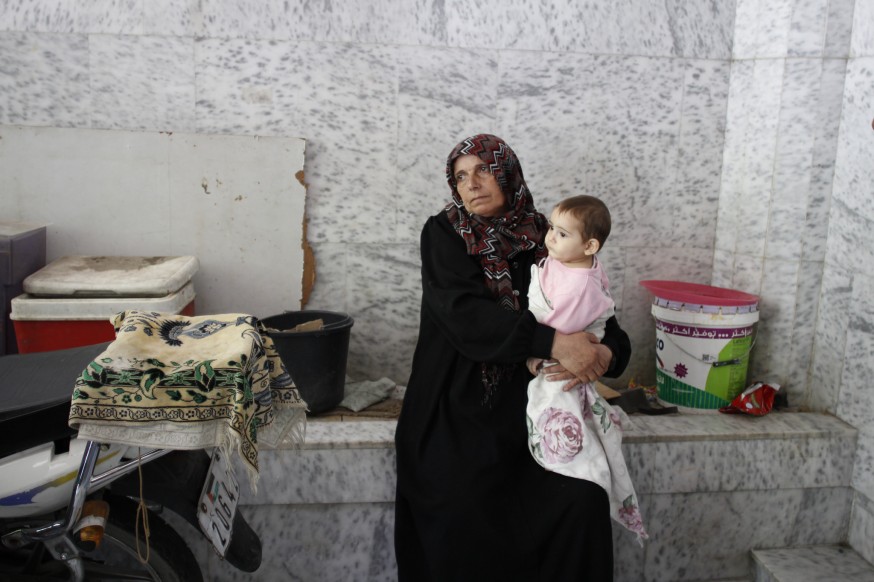 PHOTO: Lara Aburamadan
For background on the military strategy that Israel is employing in Gaza, which has caused massive civilian casualties, see our previously released fact sheet, The Dahiya Doctrine and Israel's Use of Disproportionate Force. For background on Israeli allegations that Hamas has been using civilians as human shields in Gaza, see our previously released fact sheet, The Neighbor Procedure: Israel's Use of Palestinian Human Shields, our recently released expert FAQ, Misperceptions about the Conflict in Gaza, as well as the Amnesty International report excerpted below.
NOTABLE INCIDENTS OF CIVILIAN CASUALTIES
SHORTAGES OF MEDICAL SPECIALISTS, EQUIPMENT & SUPPLIES
According to the UN, Gaza medical facilities urgently require:

Shifa hospital urgently requires neurosurgeons, anesthesiologists, plastic and general surgeons, and orthopedic specialists, as well as 20 ICU beds, a digital C-ARM machine for orthopedic surgeries, three operation tables and a lighting system for the five operation rooms.
Psycho-tropic drugs for patients with mental illness, trauma and anxiety, which are in critically short supply.
ATTACKS ON MEDICAL FACILITIES & MEDICAL WORKERS
ATTACKS ON MEDIA
STATEMENTS/REPORTS FROM HUMAN RIGHTS ORGANIZATIONS
(Bolding by IMEU)
On July 28, UN General Secretary Ban Ki-moon condemned both Israel and Hamas for the ongoing violence and warned that Israeli attacks on Gaza raised "serious questions about proportionality."
On July 25, Amnesty International issued a document entitled "Israel/Gaza conflict: Questions and Answers," which read in part:

"Israeli forces have carried out attacks that have killed hundreds of civilians, using precision weaponry such as drone-fired missiles, as well as munitions such as artillery, which cannot be precisely targeted, on very densely populated residential areas, such as Shuja'iyyeh. They have also directly attacked thousands of homes. Israel appears to consider the homes of people associated with Hamas to be legitimate military targets, a stance that does not conform to international humanitarian law.

"Although the Israeli authorities claim to be warning civilians in Gaza, a consistent pattern has emerged that their actions do not constitute an 'effective warning' under international humanitarian law. Israeli attacks have also caused mass displacement of Palestinian civilians within the Gaza Strip."

"Effective advance warning to civilians is only one of the prescribed precautions in attack aimed at minimizing harm to civilians. When Israeli forces have given warning in many cases key elements of effective warning have been missing, including timeliness, informing civilians where it is safe to flee, and providing safe passage and sufficient time to flee before an attack. There also have been reports of lethal strikes launched too soon after a warning to spare civilians. In any event, issuing a warning does not absolve an attacking force of its obligations to spare civilians, including by taking all other necessary precautions to minimize civilian casualties and damage to civilian structures. Israel's continuing military blockade on the Gaza Strip and the closure of the Rafah crossing by the Egyptian authorities since the hostilities began mean that civilians in Gaza cannot flee to neighbouring countries."

Regarding Israeli claims that Hamas and other Palestinian groups have been using civilians as "human shields," the document stated:

"Amnesty International is monitoring and investigating such reports, but does not have evidence at this point that Palestinian civilians have been intentionally used by Hamas or Palestinian armed groups during the current hostilities to 'shield' specific locations or military personnel or equipment from Israeli attacks."

"Reports have also emerged during the current conflict of Hamas urging residents to ignore Israeli warnings to evacuate. However, these calls may have been motivated by a desire to minimize panic and displacement, in any case, such statements are not the same as directing specific civilians to remain in their homes as 'human shields' for fighters, munitions, or military equipment. Under international humanitarian law even if 'human shields' are being used Israel's obligations to protect these civilians would still apply."