Humanitarian Crisis in the Gaza Strip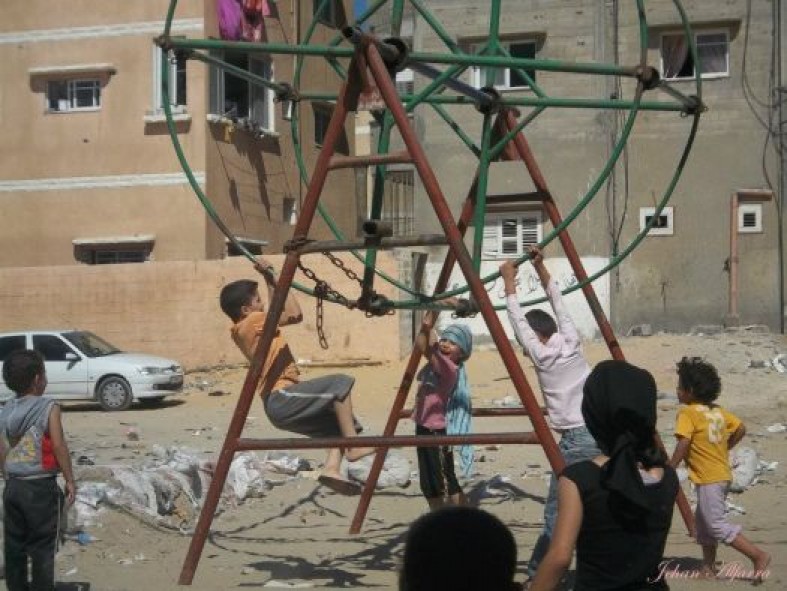 UPDATED November, 2011. Originally published May, 2010
On the morning of November 2nd, two boats carrying nearly 30 international human rights activists from five countries set sail from Turkish ports to challenge Israel's illegal blockade and siege of the Gaza Strip. Among the passengers is an American, Kitt Kittredge, of Washington State.
Dubbed "Freedom Wave to Gaza" this effort follows Freedom Flotilla II which comprised ten ships with civilians from 22 countries who attempted to sail for the Gaza Strip in July of 2011 but were thwarted as a result of Israeli pressure. The year before, on May 31, 2010, Israel attacked Freedom Flotilla I, killing nine civilians including one U.S. citizen. While Freedom Wave to Gaza carries a symbolic amount of humanitarian aid, the stated goal of the organizers is to challenge the illegality of the blockade itself.
The IMEU offers the following facts and figures on Israel's blockade and how, after more than five years, it has affected life for the roughly 1.6 million Palestinians in Gaza.
1. IS ISRAEL'S BLOCKADE OF GAZA LEGAL?
No. The stated aim of Israel's blockade is to apply "pressure" or "sanctions" to weaken the economy of Gaza and decrease support for Hamas. This amounts to collective punishment of Gaza's civilians, and as such is a violation of international humanitarian law under Article 33 of the Fourth Geneva Convention. Further, as an occupying power, Israel is required under Articles 55, 59 and 60 of the Fourth Geneva Convention to ensure free, unimpeded passage of humanitarian relief and is prohibited from impeding the full realization of the occupied people's human rights. Israel's blockade impedes Gazans' rights to food, to an adequate standard of living, to work, and to the highest attainable standard of health, and therefore is a violation of international law. The International Committee of the Red Cross, a UN fact-finding mission into Israel's attack on the 2010 Gaza flotilla, and a UN panel of five independent Special Rapporteurs have all found the siege to be in violation of international law.
2. ISRAEL CLAIMS THAT IT ALLOWS NECESSARY HUMANITARIAN PROVISIONS TO ENTER GAZA. IS THIS TRUE?
No. The amount of goods allowed into Gaza by Israel falls far short of the minimum required to avoid malnutrition, poverty, and prevent or treat a variety of illnesses. The United Nations' fact-finding mission regarding Israel's attack on the 2010 humanitarian flotilla found that "a deplorable situation exists in Gaza" that "is totally intolerable and unacceptable in the twenty-first century. It is amazing that anyone could characterize the condition of the people there as satisfying the most basic standards." Consider the following statistics:
3. DOES THE BLOCKADE PREVENT THE FUNCTIONING OF GAZA'S ECONOMY?
Yes. Export of Palestinian goods, the import of raw materials and access to Gaza's natural resources have been severely restricted, devastating Gazan businesses and the ability of the region to be self-sufficient, thereby rendering it dependent on international aid. For example: