Israeli Incitement: Fueling Intolerance & Hate Crimes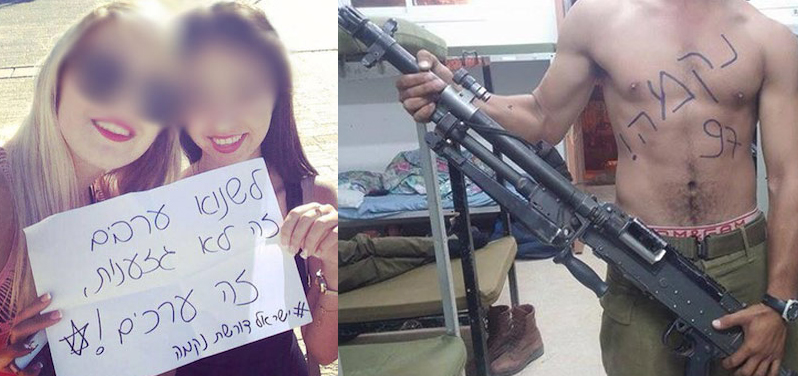 Photos uploaded to a Facebook page called "The people of Israel demand revenge." At left, two women hold a sign reading "Hating Arabs isn't racism, it's moral! Israel demands revenge" and at right, "Revenge!" is written across a soldier's chest.
Since three Israeli teenagers went missing in the occupied West Bank on June 12, Israeli society has witnessed a sharp increase in racially-motivated incitement and violent attacks against Palestinians, including Palestinian citizens of the state, who make up about 20% of Israel's population. Fanned and exploited by Israeli politicians and religious leaders, many observers say they've never seen such a poisonous atmosphere in Israel.
The following fact sheet provides an overview of some of the most egregious examples of Israeli incitement over the past seven weeks, as well as some of the consequences it has had for both Palestinians and dissenting Israeli Jews.

For further reference, see our recently released fact sheets, Fanning the Flames of Hate: Israeli Officials in Their Own Words (10 Examples), Rabbi Dov Lior: A Case Study in State-Sponsored Incitement, A Case Study in Complicity: The Israeli Government & Extremist Attacks Against Palestinians, and A Culture of Impunity: Violence Against Non-Jews in Israel & the Occupied Territories.
INCITEMENT BY OFFICIALS
On July 30, Deputy Foreign Minister (and settler) from Prime Minister Benjamin Netanyahu's Likud party, Zeev Elkin, condemned Netanyahu's acceptance of a ceasefire ending Israel's assault on Gaza, calling for a "thorough cleaning of Gaza" to stop rocket fire.
On July 28, Deputy Speaker of the Israeli Knesset (parliament) Moshe Feiglin published an article on the website of his Jewish Leadership Movement – one of the largest factions in Prime Minister Netanyahu's Likud party – in which he declared "the only innocents in Gaza are the IDF soldiers," describing Palestinians as "savages of the desert" and one of the arms of the "same octopus" of "fanatical Arab Islam." On July 15, Feiglin published an op-ed in the right-wing settler media outlet Arutz Sheva, entitled "My Outline for a Solution in Gaza," in which he called for the Israeli military to "Attack the entire 'target bank' throughout Gaza with the IDF's maximum force (and not a tiny fraction of it) with all the conventional means at its disposal. All the military and infrastructural targets will be attacked with no consideration for 'human shields' or 'environmental damage'." Feiglin urged the Israeli military to "conquer" all of Gaza, "using all the means necessary to minimize any harm to our soldiers, with no other considerations," and then for it to be "populated by Jews." The same day his Arutz Sheva op-ed was published, Netanyahu appointed Feiglin to the Knesset Foreign Affairs and Defense Committee.
On July 27, settler media outlet Arutz Sheva published an article by Rabbi Eliezer Melamed, head of a religious and military school in the settlement of Har Bracha in the occupied West Bank, entitled "Jewish Laws of War." Citing the Old Testament, Melamed wrote:

"O God, don't sit idly by, silent and inactive when we pray. Do to them [Palestinians] as once you did to Midian, or as you did to Sisera and Yavin at the river Kishon, and as you did to your enemies at Ein-dor, whose decaying corpses fertilized the soil. O my God, blow them away like dust; like chaff before the wind— as a forest fire that roars across a mountain. Chase them with your fiery storms, tempests, and tornados [sic]. Utterly disgrace them until they recognize your power and name, O Lord. Make them failures in everything they do; let them be ashamed and terrified until they learn that you alone, Hashem, are the God above all gods in supreme charge of all the earth."

"Unfortunately, in this war as well, we have heard leaders and commanders boasting that pilots and soldiers have refrained from attacking terrorists situated in the vicinity of civilians... [W]e are still far from acting appropriately from a Jewish, ethical standpoint, and as needed to achieve victory. Therefore, it is imperative to criticize those leaders and commanders who have mercy for the lives of our enemies' civilians, and endanger the lives of our soldiers. Expressing this position is tantamount to pikuach nefesh, saving the lives of our soldiers… The correct moral position is that in time of war, the enemy is hit together with the civilians beside him."

On July 23, 2014, Rabbi Dov Lior, chief rabbi of Jewish settlements in Hebron and Kiryat Arba in the occupied West Bank, head of the Council of Rabbis of Judea and Samaria (the occupied West Bank), and a leading figure in the religious Zionist movement, urged the Israeli government to take any measures necessary to "exterminate" the enemy in Gaza, including completely destroying the territory, regardless of the civilian death toll, writing on his Facebook page:

"Therefore, in a time of war, the attacked nation is permitted to punish the enemy population with whatever measures it deems proper, like blocking supplies or electricity. It may bomb the entire area based on the judgment of the war minister and not wantonly put soldiers at risk… deterrent measures to exterminate the enemy [are allowed]."

"The defense minister may even order the destruction of Gaza so that the south should no longer suffer, and to prevent harm to members of our people who have long been suffering from the enemies surrounding us."

Prior to the launch of the Israeli military's latest assault on Gaza on July 7, the commander of the Givati Brigade, Colonel Ofer Winter, declared a "holy war" on Palestinians in an official Israeli military dispatch distributed to soldiers, calling for them to "to wipe out an enemy" who "curses and defames God."
On July 5, Transportation Minister Yisrael Katz, from Netanyahu's Likud party, called on the Israeli government to take "revolutionary steps" against the people of Gaza, stating:

"We need to break away from the population in Gaza… We need to set boundaries and say goodbye to Gaza until their is peace - no fuel, no electricity, no water, no food… It makes no sense for Israel to give the enemy these things."

Echoing Katz's call, Knesset member Miri Regev, also from Netanyahu's Likud party, urged action to "prevent the people of Gaza from receiving basic goods and [to] block the crossings and main roads."
Also on July 5, Foreign Minister Avigdor Lieberman condemned Palestinian citizens of Israel for protesting the murder of a Palestinian teenager in occupied East Jerusalem, writing on his Facebook page: "It's good the police arrested the Arabs who rioted yesterday [in Israel's north]. We now expect the justice system to also do its part decisively and, through harsh punishments, deliver a clear message to those who enjoy Israeli citizenship and act as terrorists… [The protesters] do not belong in the state of Israel – and until that is resolved, their place is in jail."
On July 1, following the discovery of the bodies of three murdered Israeli teens who went missing in the occupied West Bank on June 12, Ayelet Shaked, a member of the Knesset from the Jewish Home party, which sits in Prime Minister Netanyahu's governing coalition, posted an article written by a former Netanyahu speechwriter and confidant on her Facebook page. It read in part:

"Words have meanings. This is a war. It is not a war against terror, and not a war against extremists, and not even a war against the Palestinian Authority. These too are forms of avoiding reality. This is a war between two people. Who is the enemy? The Palestinian people. Why? Ask them, they started… What's so horrifying about understanding that the entire Palestinian people is the enemy?"

"Behind every terrorist stand dozens of men and women, without whom he could not engage in terrorism. Actors in the war are those who incite in mosques, who write the murderous curricula for schools, who give shelter, who provide vehicles, and all those who honor and give them their moral support. They are all enemy combatants, and their blood shall be on all their heads. Now this also includes the mothers of the martyrs, who send them to hell with flowers and kisses. They should follow their sons, nothing would be more just. They should go, as should the physical homes in which they raised the snakes. Otherwise, more little snakes will be raised there."

On June 30, following the discovery of the bodies of the three murdered teens, Prime Minister Netanyahu issued a series of messages on Twitter calling their killers "human animals," and declaring, "Vengeance for the blood of a small child, Satan has not yet created," quoting a poem about early 20th century European pogroms. At the teens' funeral, Netanyahu declared: "May God avenge their blood." Echoing Netanyahu, Minister for Culture and Sports Limor Livnat, also from Netanyahu's Likud party, wrote on her Facebook page: "May God avenge their blood."
Shortly after the discovery of the bodies of the three missing teens, Rabbi Noam Perel, the secretary-general of World Bnei Akiva, the largest religious Zionist youth movement in the world, wrote on his Facebook page:

"An entire nation and thousands of years of history demand revenge… The government of Israel is gathering for a revenge meeting that isn't a grief meeting. The landlord has gone mad at the sight of his sons' bodies. A government that turns the army of searchers to an army of avengers, an army that will not stop at 300 Philistine foreskins... The disgrace will be paid for with the blood of the enemy, not with our tears."

Following criticism from some Bnei Akiva supporters, the organization decided not to censure Perel or remove him from his position.
On June 30, alarmed by growing extremism and racist incitement, Israeli human rights organization B'Tselem issued a statement entitled, "The government must refrain from acts of vengeance and security forces must prepare for possible acts of revenge by settlers."
INCITEMENT BY PRIVATE INDIVIDUALS
CONSEQUENCES OF INCREASING INTOLERANCE & EXTREMISM
On July 29:

Following numerous complaints from employees and students who were punished or fired from their jobs because of comments made against the war in Gaza, the Association for Civil Rights in Israel issued a statement entitled, "Employers Can Not Fire Workers for Making Objectionable Remarks," noting:

"In recent days, an increasing number of reports have emerged regarding workplaces, including academic institutions, that have imposed sanctions upon employees and students because of comments they have left on social media sites. In a number of instances, the exposure of these online comments have lead to dismissals and expulsions."

The Faculty Dean of Bar Ilan University announced that a professor who had expressed sympathy to students for both Israeli and Palestinian civilian casualties of the ongoing war would be punished for his comments, stating "'The matter will be handled with appropriate seriousness." He also called on the professor to apologize for his remarks.

On July 25, two young Palestinian men were attacked and brutally beaten in occupied East Jerusalem by a mob of Israeli Jews wielding baseball bats, metal bars, and pepper spray.
On July 24:

Two young Palestinian men were attacked by a mob of Israeli Jews as they delivered bread in West Jerusalem.
The Israel Broadcast Authority rejected an appeal from Israeli human rights organization B'Tselem against the IBA radio network for refusing to run an ad featuring the names of Palestinian children killed in Gaza being read aloud. In a statement, B'Tselem noted:

"More than 600 Palestinians have been killed during the fighting in Gaza so far, including more than 150 children. Yet Israeli media is barely covering the story, other than mentioning the number of casualties. To encourage public debate in Israel on the issue, B'Tselem asked to purchase a spot on IBA Radio in order to have the names of some of the children killed read out. The radio refused, on the grounds that reading out the names of Palestinian children killed in Gaza is politically 'controversial'. Yet the refusal is, in itself, far from neutral: it is a powerful statement in favor of silencing public debate over the massive price that Gazan civilians are paying for this operation."

On July 23, The Times of Israel newspaper reported that comedian Orna Banai had been fired from her position as a spokeswoman for an Israeli cruise ship line and received death threats after she called Israel's assault on Gaza "an embarrassment" and joked that she was a "lefty who loves Arabs."
On July 19, a mob of right-wing Israeli Jews chanting "death to Arabs" attacked a joint Arab-Jewish anti-war demonstration in Haifa, injuring 20 people. Haifa's Deputy Mayor, Dr. Sohail Asaad, was assaulted on his way to the demonstration.
On July 17, a CNN reporter in southern Israel was threatened by a group of Israelis who had gathered on a hill to watch and cheer as the Israeli military bombarded Gaza. The reporter tweeted: "Israelis on hill above Sderot cheer as bombs land on #gaza; threaten to 'destroy our car if I say a word wrong'."
On July 12, a small anti-war rally in Tel Aviv was attacked by a right-wing mob, resulting in the hospitalization of at least one protester who was hit by a chair. Some of the attackers were wearing the logo of the banned Kach movement, outlawed as a terrorist organization in the US and Israel, as well as the slogan "Good Night Left Side," a popular saying amongst European neo-Nazis.
On July 5:

Approximately 50 Israeli settlers rampaged through the Sheikh Jarrah neighborhood of occupied East Jerusalem, assaulting Palestinians and throwing stones at people and homes.
22-year-old Tariq Ziad Zuhdi Adeli was abducted by settlers near Nablus in the northern occupied West Bank. The assailants drove the victim to a remote area and attacked him with a hatchet, leaving him bleeding and injured.
Israeli settlers attacked the car of a Christian Palestinian cleric with rocks and iron bars near Ramallah in the occupied West Bank. The car carrying Bishop Abud Atallah Issawi and another priest managed to escape without suffering any injuries.

On July 3, Israeli police were captured on video brutally beating 15-year-old Palestinian-American Tariq Khdeir during protests in occupied East Jerusalem over the murder of 16-year-old Mohammed Abu Khdeir, Tariq's cousin.
On July 2, 16-year-old Mohammed Abu Khdeir was kidnapped from outside his home in occupied East Jerusalem, beaten, and burned alive. Three Israeli Jews were subsequently indicted for the murder, which is believed to have been carried out as revenge for the killing of three Israelis whose bodies were found in the occupied West Bank the day before. Following the murder, Haaretz newspaper published an editorial entitled "Jewish Hate of Arabs proves: Israel must undergo Cultural Revolution," which read in part:

"Abu Khdeir's murderers are not 'Jewish extremists.' They are the descendants and builders of a culture of hate and vengeance that is nurtured and fertilized by the guides of 'the Jewish state': Those for whom every Arab is a bitter enemy, simply because they are Arab; those who were silent at the Beitar Jerusalem games when the team's fans shouted 'death to Arabs' at Arab players; those who call for cleansing the state of its Arab minority, or at least to drive them out of the homes and cities of the Jews."

On July 1:

Hundreds of Israeli Jews rampaged through the streets of occupied East Jerusalem following the discovery of the bodies of the three teenagers in the occupied West Bank, chanting "Death to Arabs" and assaulting at least five Palestinians.
A journalist for Buzzfeed reported witnessing a hate crime carried out by four Israeli Jews, who attacked a 22-year-old Palestinian gas station attendant in occupied East Jerusalem.
Between July 7 and August 4, the Israeli military killed more than 1800 Palestinians in Gaza. According to the UN, more than 1300 of the dead were civilians, including more than 400 children. According to a poll by the Israel Democracy Institute released on July 29, more than 90% of Israeli Jews believed Israel's assault on Gaza was justified, while less than 4% believed the Israeli military had used excessive force against the people of Gaza.