Israeli Restrictions on Palestinian Movement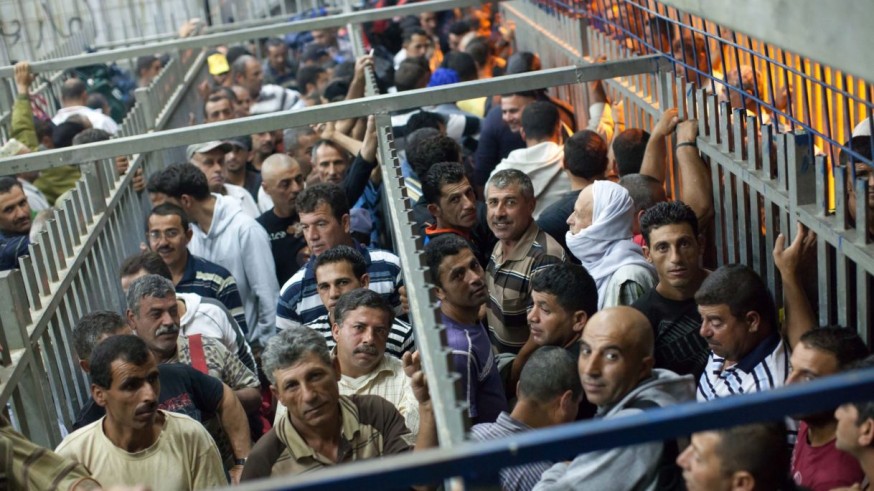 Palestinian workers wait in line at an Israeli military checkpoint near the city of Hebron in the occupied West Bank. (PHOTO: Emil Salman)
Using a variety of methods, Israel imposes severe restrictions on Palestinian movement within and to and from the occupied territories. These policies cause serious hardships for millions of Palestinians, preventing them from getting to work, school, accessing medical care, visiting family and friends, and severely hampers the Palestinian economy. At the same time, Jewish settlers living on occupied Palestinian land in violation of international law and decades of official US policy are able to travel freely in much of the occupied West Bank and East Jerusalem, including on roads constructed exclusively for their use.
Israel uses military checkpoints and other physical obstacles, including concrete blocks and piles of earth, to prevent Palestinians from moving freely within the occupied West Bank and to and from the outside world. According to the UN, in 2016 there were 572 Israeli checkpoints and other obstacles to Palestinian movement in the West Bank, an area smaller than Connecticut, with more than 100 more in the city of Hebron alone.
The wall Israel is building on occupied Palestinian land in the West Bank and East Jerusalem, deemed illegal by the International Court of Justice, also prevents Palestinians from travelling freely. In many cases, it cuts Palestinians off from their farmland, and separates them from schools, houses of worship, workplaces, and family and friends.
Israel prevents most Palestinians in the occupied West Bank from travelling to Gaza, and vice versa, even though they are supposed to be one territorial unit under the terms of the Oslo Accords .
Most Palestinians in the occupied West Bank and Gaza are denied entry to occupied East Jerusalem to worship at their holy sites, visit family or friends, do business, study, or access medical treatment.
Since 2006, Israel has imposed a suffocating and illegal siege and naval blockade of Gaza, amounting to collective punishment of the entire population of 1.8 million people, which is a war crime. As Dov Weisglass, then a senior advisor to Prime Minister Ehud Olmert, explained in 2006, Israel's Gaza policy is designed "to put the Palestinians on a diet, but not to make them die of hunger." As Human Rights Watch noted in a recent statement entitled, Israel: 50 Years of Occupation Abuses:
"For the last 25 years, Israel has tightened restrictions on the movement of people and goods to and from the Gaza Strip in ways that far exceed any conceivable requirement of Israeli security. These restrictions affect nearly every aspect of everyday life, separating families, restricting access to medical care and educational and economic opportunities, and perpetuating unemployment and poverty. As of last year, Gaza's GDP was 23 percent lower than in
1994. Seventy percent of Gaza's 1.9 million people rely on humanitarian assistance."
In addition to imposing onerous restrictions on the freedom of movement of Palestinians in the occupied territories, Israel prevents many Palestinians living in the diaspora the right to visit their homeland, including the holy city of Jerusalem, by denying them entry at the border. A majority of Palestinians live in the diaspora because Israel denies them their internationally-recognized legal right to return to their ancestral homeland.
---
For further reference, see our recently released fact sheets, 50 Years of Israeli Military Rule ,Israeli Settlements & Settlers, Israel's Theft & Destruction of Palestinian Land & Homes, and The Legal Status of Jerusalem.