Israel's Mass Incarceration of Palestinians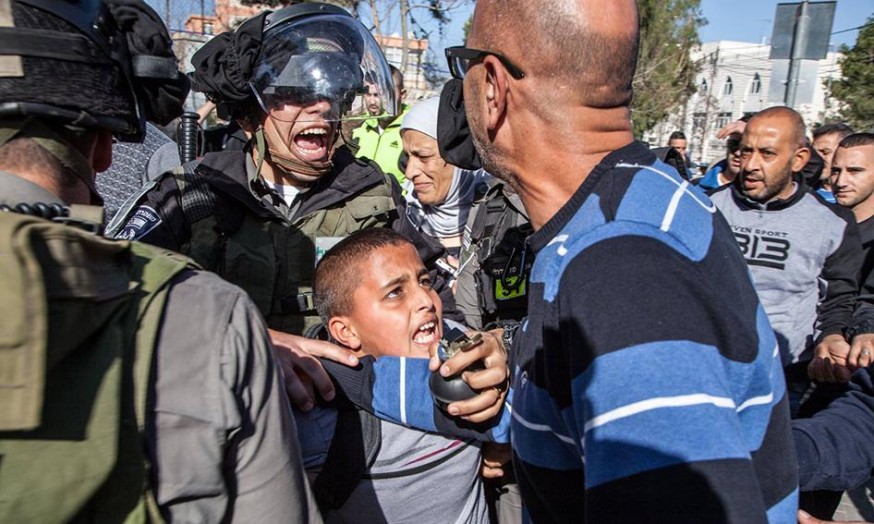 Israeli border police arrest an 11-year-old boy in front of his school in East Jerusalem. PHOTO: Majd Gaith
Since occupying the Palestinian West Bank, including East Jerusalem, and Gaza during the June 1967 war, Israel has imprisoned nearly a million Palestinians, including nonviolent human rights activists, in an attempt to crush any resistance to its military rule and theft of Palestinian land for its illegal settlement enterprise. As a result, nearly every Palestinian in the occupied territories has had loved ones imprisoned by Israel.
"Israeli soldiers, police and Israel Security Agency (ISA) officers subjected Palestinian detainees, including children, to torture and other ill-treatment with impunity, particularly on arrest and during interrogation. Reported methods included beatings, slapping, painful shackling, sleep deprivation, use of stress positions and threats. Although complaints alleging torture by ISA officers have been handled by the Ministry of Justice since 2014, and more than 1,000 had been filed since 2001, no criminal investigations were opened. Complaints that the Israeli police used torture or other ill-treatment against asylum-seekers and members of the Ethiopian community in Israel were also common."
---
For further reference, see our recently released fact sheets, Israeli Restrictions on Palestinian Movement, Israeli Settlements & Settlers, Israel's Theft & Destruction of Palestinian Land & Homes, 50 Years of Israeli Military Rule, and The Legal Status of Jerusalem.