Key Parties & Players in the New Israeli Government & Their Policies Towards the Palestinians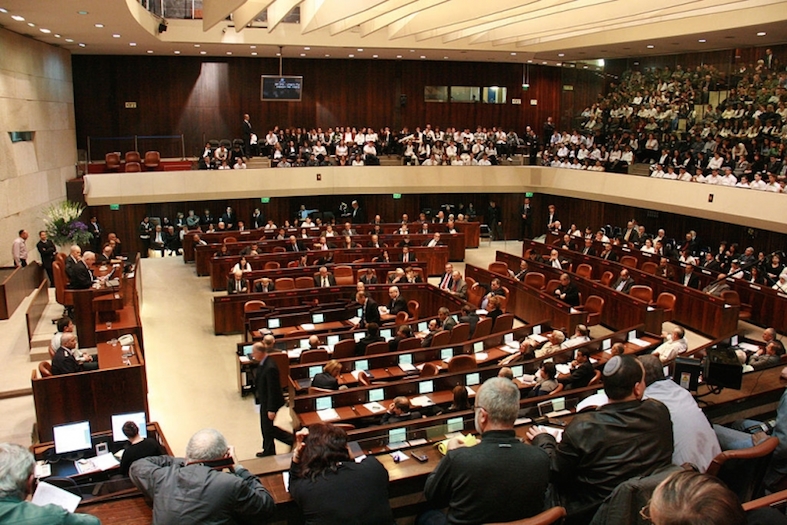 Key Players
BENJAMIN NETANYAHU
Prime Minister, Temporary Foreign Minister & Leader of the Likud Party
A lifelong staunch opponent of Palestinian statehood, only pressure from the United States and international community forced Netanyahu to declare that he accepted the necessity of a Palestinian state in a speech at Bar-Ilan University in June 2009. However, he attached numerous caveats, including demilitarization, Israeli control over borders and airspace, continued Israeli military presence in the Jordan valley, and retention of occupied East Jerusalem and large settlement "blocs." Taken together, these conditions would deny any real sovereignty or contiguity to his proposed Palestinian "state" and ensure that it would be dominated economically and militarily by Israel. In December 2012 Likud Knesset member (MK) Tzipi Hotovely said that Netanyahu's Bar-Ilan address was just a "tactical speech for the rest of the world." Expressing the view of the majority of Likud members, she declared: "We are opposed to a Palestinian state."
Netanyahu's second term in office was marked by a lack of negotiations with the Palestinians and a rapid rise in the approval of settlement construction, especially in and around occupied East Jerusalem. In November 2012, the US State Department issued an unusually strong rebuke of Israeli settlement policies following a string of settlement expansion announcements, with a State Department spokesperson describing them as a "pattern of provocation."
By all measures, the chances of the two-state solution to the conflict being realized have grown even dimmer since Netanyahu returned to power in 2009, and there's little to suggest that another Netanyahu-led government, even one that includes "moderates" like Yair Lapid and Tzipi Livni, will change that trend. To the contrary, as some Israeli observers have pointed out, while the initial results of the election seemed to indicate a victory for the moderate camp, with new faces such as Naftali Bennett and Moshe Ya'alon, Netanyahu's cabinet will actually be even more pro-settler than that of his previous, hardline pro-settlement government.
Click Here For More on Netanyahu
YAIR LAPID
Finance Minister & Leader of the Yesh Atid Party
While the political novice Lapid says he supports the two-state solution, he has also said that large so-called "settlement blocs" built on Palestinian land in the occupied West Bank and East Jerusalem must become part of Israel under any peace agreement, and that he opposes relinquishing Israeli control over occupied East Jerusalem, a prerequisite for the creation of any state acceptable to the Palestinians.
In January 2013, two days before the election, Lapid wrote on his Facebook page that he wanted to be "rid of" Arabs, stating: "I do not think that the Arabs want peace... What I want is not a new Middle East, but to be rid of them and put a tall fence between us and them." He added that his most important priority is "to maintain a Jewish majority in the Land of Israel." On Jerusalem, Lapid wrote, "The Palestinians must be brought to an understanding that Jerusalem will always remain under Israeli sovereignty and that there is no point for them in opening negotiations about Jerusalem."
Although Lapid initially made a resumption of talks with the Palestinians a condition for joining the government, it's doubtful he will expend much effort pushing for a permanent peace agreement, which would entail difficult and unpopular decisions which he mostly avoided talking about during the campaign. Moreover, as Finance Minister, he will have no direct hand in any negotiations that may occur.
NAFTALI BENNETT
Economics and Trade Minister & Leader of the HaBayit HaYehudi Party
Although he is not a settler himself, Bennett is strongly supportive of Israel's settlement enterprise and is a former head of the Judea and Samaria Settlement Council, the main political body representing Jewish settlers living in the occupied Palestinian territories. He supports annexing most of the occupied Palestinian West Bank to Israel.
In January 2013, Bennett told New Yorker magazine: "I will do everything in my power, forever, to fight against a Palestinian state being founded in the Land of Israel." In December 2012, he told another interviewer: "My positions are very clear: I never hide the fact that I categorically oppose a Palestinian state inside our country."
Click Here For More On Bennett

AVIGDOR LIEBERMAN
Leader of the Yisrael Beiteinu Party
The ultranationalist, Moldovan-born settler Lieberman resigned from his position as foreign minister in December 2012 after being indicted on fraud and breach of trust charges but remains a powerful player due to Yisrael Beiteinu's alliance with Prime Minister Netanyahu's Likud party. Lieberman retained his Knesset seat in the last election and has vowed that he will be cleared of the charges against him and return to his post as foreign minister, which Netanyahu has pledged to hold for him.
Over the years, Lieberman, a former aide to Netanyahu, has strongly opposed peace negotiations and Palestinian statehood. In 1997, he left the Likud party in protest over Netanyahu's signing of the US-brokered Wye River Memorandum with the Palestine Liberation Organization (PLO). In 2004, he was kicked out of Prime Minister Ariel Sharon's cabinet over his opposition to Sharon's plan to withdraw 8000 settlers from Gaza. In 2008, Lieberman and Yisrael Beiteinu left Prime Minister Ehud Olmert's coalition government in opposition to the restarting of peace talks with the Palestinians. Explaining the decision, Lieberman declared: "Negotiations on the basis of land for peace are a critical mistake...and will destroy us." In September 2010, Lieberman said that peace with Palestinians was not possible, "not next year and not for the next generation."
Click Here For More On Lieberman
MOSHE YA'ALON
Defense Minister (Likud Party)
Ya'alon is considered a hawk on Iran, a strong supporter of the settlement movement, and an outspoken opponent of Palestinian statehood. As defense minister, he will have direct oversight of approval for settlement construction. During the last government he criticized his predecessor, Ehud Barak, for not approving settlement construction quickly enough and for not legalizing so-called settlement "outposts" (nascent settlements built without official Israeli government approval).
Ya'alon, a hardline right-winger, has flirted with the extreme right of the Likud party, the Jewish Leadership faction, led by the ultra-right racist Moshe Feiglin. In 2009, he spoke at a Jewish Leadership conference, calling the Israeli peace organization Peace Now a "virus." He also warned against giving in to pressure from the United States regarding settlements, stating:

"There are certain things we need to say - up to here. When you do things you don't believe in, you enter a slippery slope because they put pressure on you, and you keep rolling downwards." To applause, he declared: "I'm not afraid of the Americans."
In January 2013 Ya'alon gave a speech claiming there was no difference between Mahmoud Abbas, chairman of the PLO and president of the Palestinian Authority, and Hamas, and ruling out the creation of a Palestinian state. In 2011, then-Deputy Prime Minister Ya'alon said there was no chance for peace with the Palestinians and that "A society that produces Qassam [rockets] instead of strawberries has no future." In 2005, he lost his post as chief of staff of the Israeli military due to his opposition to Prime Minister Ariel Sharon's plan to withdraw settlers and soldiers from Gaza.
In June 2010, Ya'alon, at that time Israel's Vice Premier and Strategic Affairs Minister, praised the founder of the Stern Gang, Avraham Stern, declaring: "Israeli students must draw courage and strength from the Lehi founder's ideas so one day they could use them to lead the nation." The Stern Gang was a Zionist terrorist organization that operated in British Mandate Palestine. Its members carried out a wave of violence aimed at Palestinian civilians and British targets in the 1940s, including the notorious massacre of some 100 Palestinian civilians in the village of Deir Yassin on April 9, 1948, and the assassination of UN peace mediator Count Folke Bernadotte in September 1948.
In 2009, Ya'alon canceled a visit to the United Kingdom over concerns he could be arrested and charged with war crimes for the actions of the Israeli military when he was its chief of staff (2002-2005) during the Second Intifada. In particular, human rights activists wanted Ya'alon tried for the assassination of Hamas leader Salah Shehadeh in Gaza in July 2002. To kill him, an Israeli warplane dropped a one-ton bomb on an apartment block in the middle of the night in one of the most densely populated places on earth, killing 13 civilians along with Shehadeh, including eight children. In 2002, then-General Ya'alon, who was tasked with suppressing the Second Intifada, stated: "The Palestinian threat harbours cancer-like attributes that have to be severed. There are all kinds of solutions to cancer. Some say it's necessary to amputate organs but at the moment I am applying chemotherapy."
DANNY DANON
Deputy Defense Minister (Likud Party)
Danon is an influential young Likud leader and outspoken opponent of Palestinian statehood. He has close ties to US fundamentalist Christian groups and individuals, including Texas Governor Rick Perry, Sarah Palin, and controversial radio host Glenn Beck, who Danon invited to address a Knesset committee in 2011. He has said that his "long-term vision" is "to apply Jewish sovereignty over the Jewish communities of Judea and Samaria [the West Bank], and I am proud of it."
During his time in the Knesset, Danon has supported bills calling for citizenship "loyalty oaths" aimed at Palestinian citizens and limiting the rights of human rights groups to petition the Israeli Supreme Court. Danon was also one of the sponsors of the controversial "boycott law," which penalizes individuals who organize or publicly call for boycotts against the state, Israeli educational institutions, or goods produced in Jewish settlements in the occupied territories. Human rights and civil liberties groups condemned the law, with one, B'Tselem, warning that it "tramples on fundamental rights, primarily the right to freedom of speech, the right to protest, and the right to organize."
During the most recent election campaign, Danon led an attempt to ban Haneen Zoabi, a Palestinian citizen and Knesset member from the Balad party, from running. Although the Israeli Central Elections Committee agreed to the ban, the Supreme Court subsequently overturned it. Danon also started a petition calling for the disqualification of Balad, which represents Palestinian citizens of Israel.
ZEEV ELKIN
Deputy Defense Minister or Deputy Foreign Minister (Likud Party)
In February 2012, pro-settler group Matot Arim ranked Elkin, who lives in the settlement of Alon Shvut in the occupied West Bank, the most right-wing member of the Knesset in what many considered to be the most right-wing Knesset in Israel's history.
It has been reporterd Elkin will become Deputy Defense Minister or Deputy Foreign Minister. As Deputy Defense Minister, Elkin, a settler, would be responsible for overseeing settlement construction. In January 2013, he was one of two leading Likud politicians (the other being Public Diplomacy Minister Yuli Edelstein) who called on the government to annex so-called "Area C" of the occupied Palestinian West Bank (about 60% of the total area), which according to the terms of the interim Oslo Accords falls under full Israeli security control. (See here for a UN map of Area C.).
GIDEON SA'AR
Interior Minister (Likud Party)
In December 2012, Sa'ar repeated his and his party's opposition to a Palestinian state, saying: "There is currently no Palestinian partner to end the conflict because they wish to prolong it, and at a time when they want to continue the conflict there is no room to establish a state for them, because then they will be able to continue the conflict from a better position." Under Sa'ar, Israel's Education Ministry caused controversy with a program that takes Israeli students on nationalistic tours of historical sites in the occupied Palestinian territories, by forbidding the teaching of the Universal Declaration of Human Rights, and by banning a high school textbook that included both Israeli and Palestinian historical narratives.
TZIPI LIVNI
Justice Minister & Leader of the Hatnuah Party
Having harshly criticized the Netanyahu government's policies towards the Palestinians during the campaign and prior, Livni's announcement that she was joining a government led by him as its minister responsible for the peace process prompted accusations that she was providing political cover for Netanyahu. Others have questioned whether a Netanyahu-led coalition that includes parties such as Likud, HaBayit HaYehudi, and Yisrael Beiteinu (see below for more on these parties) would ever agree to the creation of an independent Palestinian state even if Livni could successfully reach an agreement with the Palestinians.
In March 2013, Livni warned against raising hopes of reaching a permanent peace agreement with the Palestinians, stating that Israel needs "to prepare interim measures or other measures, or unilateral ones that can lessen the damage, which can reduce the pressure a little."
Although she supports the two-state solution and was involved in peace negotiations with the Palestinians when she was foreign minister in Ehud Olmert's government, Livni spent much of her political career with the Likud party, one of the main political patrons of the settlement movement, and maintains a right-wing ideological outlook. Considered a moderate by many Western politicians, many Palestinians remember Livni for the role she played during Operation Cast Lead, Israel's deadly assault on Gaza in 2008-9, which killed approximately 1400 Palestinians, most of them civilians, over a three-week period. As foreign minister, she was Israel's face to the world, defending Israel's bloody attack and claiming to reporters that there was no humanitarian crisis in Gaza. The United Nations and human rights organizations such as Amnesty International and Human Rights Watch subsequently documented evidence of widespread war crimes and crimes against humanity carried out by Israeli forces during Cast Lead.
URI ARIEL
Housing and Construction Minister (HaBayit HaYehudi Party)
Ariel is known for his extreme right-wing opinions about the conflict with the Palestinians and also for his anti-gay views. In March 2012, Ariel called for Israel to annex the occupied Palestinian West Bank, part of a "one-state solution" that would see Palestinians living there granted a sort of second- or third-class residency right similar to how Israel treats Palestinians in occupied East Jerusalem, with the possibility of eventually gaining Israeli citizenship after meeting certain requirements, including taking a loyalty oath. Prior to Israel's withdrawal of soldiers and settlers from Gaza in 2005, Ariel moved with his family to a Gaza settlement to protest the move. As Housing and Construction Minister, Ariel - a former secretary general of the Yesha Council, which represents Israeli settlers - will be responsible for overseeing settlement construction.
YAIR SHAMIR
Agriculture Minister & Deputy Leader of the Yisrael Beiteinu Party
In December 2012, the son of the late hardline Likud Prime Minister Yitzhak Shamir spelled out his views on the Palestinians and the two-state solution in an op-ed entitled "Why I oppose a Palestinian state." In it, he declared: "We must remove the idea of a Palestinian state in our area from the Israeli agenda immediately if not sooner."
Regarding Israeli settlement construction on occupied Palestinian land, in January 2013 Shamir told an interviewer: "The Arabs there who call themselves Palestinian, they'll stay or go, but we'll definitely stay. We need to keep building in the land."
YISRAEL KATZ
Transportation Minister (Likud Party)
Katz opposes Palestinian statehood. In May 2011, he called for Israel to annex Jewish settlements in the West Bank, stating: "Israel needs to take unilateral steps to apply Israeli sovereignty to all of the settlements in Judea and Samaria."
In March 2013, under Katz's direction as Transportation Minister in the previous government, the Transportation Ministry instituted controversial separate bus lines for West Bank Palestinians traveling into Israel following complaints from Jewish settlers who didn't want to share buses with them, prompting human rights groups to make comparisons to apartheid-era South Africa and segregation in the United States. In November 2012, as Israel was bombing Gaza, Katz called for the government to expel the 1.7 million people of Gaza into the Egyptian desert, stating: "the tear of one Jewish child is too much, even if it means that all Gazans must be evacuated to the Sinai desert."
Key Parties
Likud
Seats in the new Knesset: 31 (Combined Likud-Yisrael Beiteinu list)
In October 2012, Prime Minister Netanyahu and Foreign Minister Lieberman announced that their respective parties, Likud and Yisrael Beiteinu, would join forces to run on a merged parliamentary list in the upcoming election. The combined list issued no official platform, which caused some controversy when questions were raised about whether the two hardline parties actually supported the creation of even the truncated Palestinian mini-state shorn of any real sovereignty that Netanyahu described in his 2009 Bar-Ilan University speech.
In December 2012, Haaretz newspaper reported that senior Likud officials were opposed to any mention of a Palestinian state in any proposed party platform. One senior Likud official told the paper: "Likud's platform to date has not recognized the establishment of a Palestinian state," pointing out that Yisrael Beiteinu "rejects outright the possibility that a Palestinian state could be established alongside Israel."
Historically, Likud has strongly opposed the creation of a Palestinian state and has played a central role in the Greater Israel movement, which holds that all of historic Palestine as well as parts of neighboring countries such as Egypt, Lebanon, Syria and Jordan, belong to Israel. In previous years, Likud's platform explicitly prohibited the creation of a Palestinian state in the occupied territories, stating that the party "flatly rejects the establishment of a Palestinian Arab state west of the Jordan river."
Yisrael Beiteinu (Israel Our Home)
Seats in the new Knesset: 31 (Combined Likud-Yisrael Beiteinu list)
Yisrael Beiteinu's platform categorically rejects the creation of a Palestinian state, declaring: "The demand to establish a Palestinian state and the 'right of return' are designed to camouflage the real intention, which is to erase the State of Israel as a Jewish and Zionist state." A video on the Yisrael Beiteinu website claims one of their achievements over the past four years in government was having "thwarted a Palestinian declaration of statehood."
Click Here For More on Yisrael Beiteinu
Yesh Atid (There is a Future)
Seats in the new Knesset: 19
The newly formed Yesh Atid's campaign focused mostly on domestic issues, largely ignoring the Palestinian question. It's platform endorses the two-state solution but calls for Israel to retain large so-called settlement "blocs" built on occupied Palestinian land, refuses to accept the return of any Palestinian refugees to Israel, and rules out relinquishing Israeli control over occupied East Jerusalem.
Click Here For More on Yesh Atid
HaBayit HaYehudi (Jewish Home)
Seats in the new Knesset: 12
HaBayit HaYehudi strongly supports Israel's settlement enterprise and opposes the creation of a Palestinian state in the occupied territories. Leader Naftali Bennett has called for Israel to annex the approximately 60% of the occupied West Bank known as Area C, where Israeli settlers live, and where Israel has full control according to the interim Oslo Accords. (See here for a UN map of Area C.) This would in effect make permanent the Bantustan system that Israel has implemented in the West Bank, which an increasing number of observers, including Israelis, consider a form of apartheid.
Click Here For More on HaBayit HaYehudi
Hatnuah (The Movement)
Seats in the new Knesset: 6
While it only has six seats in the Knesset, leader Livni is considered a moderate by many western politicians and so her inclusion in his government helps Netanyahu deflect criticism from the international community and gives Israel a more moderate face to present to the world. Livni campaigned on reaching a peace agreement with the Palestinians, however Netanyahu and other coalition partners will severely restrict her in her role as chief minister responsible for negotiations
Click Here For More on Hatnuah
PHOTO: Foter / Creative Commons Attribution 2.5 Generic (CC BY 2.5)