Oslo Timeline: 20 Years Of Failed US-Led Peace Talks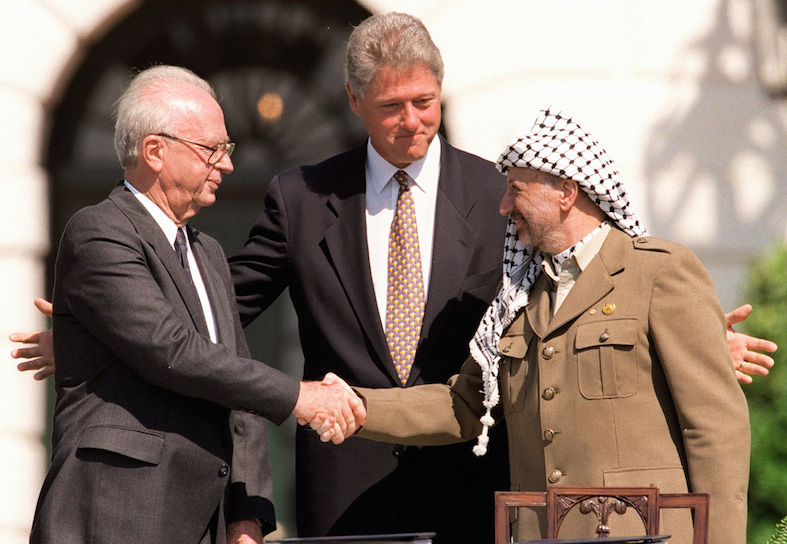 December 1987: The First Intifada
After 20 years of repressive Israeli military rule, Palestinians in the occupied territories launch a large-scale popular uprising, or Intifada. The mostly unarmed rebellion, and Israel's attempts to crush it with brutal force, gains widespread international sympathy for the Palestinian cause. (See here for more on the First Intifada.)
December 1988: PLO Recognizes Israel
The PLO officially recognizes Israel and agrees to the establishment of an independent Palestinian state in just 22% of historic Palestine. Israel dismisses this groundbreaking compromise and continues to refuse to negotiate with the PLO.
June 1990: Mounting US Pressure on Israel to Negotiate
Frustrated at Israel's intransigence, US Secretary of State James Baker, who is trying to organize an international peace conference, reads the White House switchboard telephone number during congressional testimony, adding to Israeli Prime Minister Yitzhak Shamir, who isn't present, "When you're serious about peace, call us."
October 1990: Haram al-Sharif Massacre
In October 1990, a group of Jewish extremists attempts to lay a cornerstone for a Jewish temple in the highly sensitive Haram al-Sharif mosque compound in occupied East Jerusalem. In the unrest that follows, Israeli forces kill at least 20 Palestinians using live ammunition. Israel's use of lethal, disproportionate force against Palestinian protesters prompts international condemnation, including from the US government, and increases pressure on Israel to talk peace.
1991: The First Gulf War
An international coalition led by the US ejects occupying Iraqi forces from Kuwait in the First Gulf War, heralding a new post-Cold War era in the Middle East in which the US is the sole superpower. Following its victory, the US seeks to take advantage of the new geopolitical reality, increasing its efforts to broker an Israeli-Palestinian peace agreement.
October 1991: Madrid Conference
Following threats by the administration of George H.W. Bush to withhold $10 billion in loan guarantees unless Israel ends settlement construction, Israeli Prime Minister Shamir agrees to meet with Palestinian representatives, but not PLO officials, despite the fact that the PLO is considered the sole legitimate representative of the Palestinian people by the UN and international community. Talks between Israeli officials and Palestinians based in the occupied territories, who are in close contact with PLO officials behind the scenes, begin in Madrid, Spain, in late October 1991.
October 18, 1991: US Letter of Assurance to the Palestinians
In a letter of assurance sent to the Palestinian delegation prior to the Madrid conference, US Secretary of State James Baker pledges that the US does "not recognize Israel's annexation of east Jerusalem or the extension of its municipal boundaries, and we encourage all sides to avoid unilateral acts that would exacerbate local tensions or make negotiations more difficult or preempt their final outcome… In this regard the United States has opposed and will continue to oppose settlement activity in the territories occupied in 1967, which remains an obstacle to peace."
1992: Secret Talks Under Oslo
While the Madrid talks flounder due to continued Israeli intransigence, the Israeli government bypasses the Palestinian representatives sent to Madrid and begins secret negotiations, sponsored by the Norwegian government, with the PLO, weakened politically since the disaster of Israel's 1982 invasion of Lebanon and the PLO's support for Iraq during the First Gulf War, believing it will be more willing to compromise on issues such as settlement construction and fundamental Palestinian rights like the right of return for refugees expelled from their homes during Israel's creation in 1947-9.
August 1993: Oslo I Announced
The agreement resulting from the secret PLO-Israel negotiations, known as the Declaration of Principles (or Oslo I), is publicly announced. The Oslo process creates the Palestinian National Authority (PA) and is supposed to lead to a final peace agreement by 1999, however the ultimate goal of talks is vague, with Israel still refusing to formally accept the creation of a Palestinian state. Israel subsequently allows Yasser Arafat and other exiled PLO leaders to return to Gaza and the West Bank to head the PA and institute limited Palestinian self-rule in some areas, while the Israeli military continues to maintain overall control of the occupied territories.
September 9, 1993: Official Exchange of Letters Between the PLO and Israel
On September 9, 1993, the PLO and the government of Israel exchange official letters in which the Palestinians formally recognize "the right of the State of Israel to exist in peace and security." In return, Israel acknowledges the PLO as the legitimate representative of the Palestinian people but does not endorse the creation of a Palestinian state.
September 13, 1993: Arafat-Rabin Handshake on White House Lawn
In what is widely hailed as an historic moment, PLO Chairman Yasser Arafat and Israeli Prime Minister Yitzhak Rabin sign the Declaration of Principles (also known as Oslo I) on the White House lawn with US President Bill Clinton overseeing the proceedings.
1994-2000: Increased Restrictions on Movement & Rapid Expansion of Settlements
As the terms of Oslo begin to be implemented, Israel imposes increased restrictions on Palestinian movement between Israel and the occupied territories, between the occupied West Bank and Gaza, and within the occupied territories themselves. This is part of an Israeli policy designed to separate Palestinians and Israelis, and to separate the West Bank from Gaza, which are supposed to be a single territorial unit under Oslo. Successive Israeli governments also rapidly accelerate the construction of Jewish settlements on occupied Palestinian land in violation of international law. Between 1993 and 2000, the number of Jewish settlers in the occupied West Bank (excluding East Jerusalem), nearly doubles, from 110,900 to 190,206 according to Israeli human rights organization B'Tselem. Accurate figures for settlements in occupied East Jerusalem are harder to obtain, but as of 2000 the number of settlers in East Jerusalem stands at more than 167,000 according to B'Tselem.
February 25, 1994: Cave of the Patriarchs Massacre
Brooklyn-born settler Baruch Goldstein murders 29 Palestinians as they pray in the Ibrahimi Mosque in Hebron. In the ensuing unrest, 19 more Palestinians are killed by Israeli soldiers. Following the massacre, Israel fails to remove Hebron's extremist settler enclave, instead increasing restrictions on Palestinian residents. Just over a month later, the Islamist militant group Hamas, which was formed a few years earlier during the First Intifada, launches its first suicide bombing against Israeli civilians.
May 1994: Gaza-Jericho Agreement Signed
On May 4, the Gaza-Jericho Agreement is signed. A much longer document than the Declaration of Principles, Gaza-Jericho spells out in greater detail the role of the Palestinian Authority and its relationship with Israel, and calls for a final peace agreement to be reached within five years.
September 1995: Oslo II Signed
On September 28, 1995, Israel and the PLO sign an agreement known as Oslo II, which provides for a redeployment of the Israeli military from some parts of the occupied territories and divides the West Bank (excluding East Jerusalem) into three separate administrative units: Area A, comprising the approximately 17% of the West Bank where most Palestinians live, which is nominally under PA civil and security control (although Israel continues to exercise overall control); Area B, which comprises approximately 23% of the West Bank and which is under nominal Palestinian civil control and Israeli security control; and Area C, comprising the approximately 60% of the occupied territories where most settlers live, which is under full Israeli civil and military control. As a result, Israel maintains total control over most of the West Bank while turning over responsibility for Palestinian population centers to the PA.
November 1995: Yitzhak Rabin Assassinated
On November 4, 1995, Prime Minister Yitzhak Rabin is assassinated by Yigal Amir, a right-wing Jewish extremist opposed to the Oslo Accords.
May 1996: Benjamin Netanyahu Elected Prime Minister for First Term
Following Yitzhak Rabin's assassination, hardliner Benjamin Netanyahu of the Likud party, an outspoken opponent of the Oslo Accords, defeats Shimon Peres in elections and becomes prime minister of Israel. Apparently taking the advice of his predecessor as Likud leader, Yitzhak Shamir, who stated following his 1992 electoral defeat: "I would have conducted negotiations on autonomy for 10 years and in the meantime we would have reached half a million [settlers in the occupied West Bank]," Netanyahu drags out talks while simultaneously expanding Jewish settlements. Netanyahu later brags about sabotaging the Oslo process, telling a group of settlers in 2001: "I de facto put an end to the Oslo Accords."
January 1997: Hebron Protocol Signed
In 1997, Netanyahu and Arafat sign the Protocol Concerning the Redeployment in Hebron, which delineates further phased withdrawals of Israeli soldiers from sections of Hebron and other parts of the West Bank. Netanyahu later boasts that with the Hebron Protocol he undermined Oslo by insisting that Israel wouldn't withdraw soldiers from "specified military locations," and that Israel would unilaterally decide what constituted a military location. Netanyahu later explains to a group of settlers: "Why is that important? Because from that moment on I stopped the Oslo Accords."
October 1998: Wye River Memorandum Signed
In October 1998, Israeli and Palestinian negotiators sign the Wye River Memorandum, which is intended to facilitate the implementation of parts of the Oslo II agreement which Israel failed to carry out previously, including further redeployments of Israeli forces.
May 1999: Deadline for Final Agreement Expires
Deadline for signing an agreement on final status issues as outlined in the Declaration of Principles and the Gaza-Jericho Agreement passes.
May 1999: Ehud Barak Elected Prime Minister
After defeating Netanyahu in elections in May, Labor party leader Ehud Barak becomes prime minister in July and declares his intention to reach a peace agreement with the Palestinians. However, at the same time, Barak further ramps up settlement growth, undermining Palestinian confidence in his intentions. By the end of his short term in office (July 1999-March 2001) Barak approves more settlements than his more right-wing predecessor, Netanyahu, did in his three years in power.
September 1999: Sharm el-Sheikh Memorandum Signed
Similar to the Wye River Memorandum, the Sharm el-Sheikh Memorandum, signed by Arafat and Barak, was intended to implement sections of Oslo II that Israel failed to enact previously, in particular further redeployments of Israeli soldiers. It also called for a permanent agreement on final status issues to be reached by September 2000.
July 2000: Camp David Summit
In July 2000, at the invitation of President Clinton, then in the final months of his second term in office, Israeli and Palestinian leaders meet at Camp David to negotiate final status issues for a hoped-for permanent peace agreement. In secret talks preceding Camp David, Palestinian negotiators offer far-ranging concessions beyond the international consensus of what the outlines of a peace agreement should look like. In contrast to the widely circulated story of the "generous offer" allegedly made by Barak, in reality the Israelis never actually make a formal offer at Camp David, submitting no written proposals. The only proposals offered by the Israelis are conveyed orally, mostly through US officials, and lack detail. The Camp David summit ends without an agreement, after which President Clinton praises Prime Minister Barak's "courage," and, contrary to an earlier promise made to the Palestinians who came to Camp David reluctantly, blames the failure on Arafat and the Palestinian leadership. This distorted, one-sided narrative quickly takes hold in Israel and the US, allowing Israeli leaders to claim that they have "no Palestinian partner" for peace. (See here for more on the talks at Camp David.)
October 2000: Outbreak of the Second Intifada
Palestinian frustration at seven years of fruitless negotiations, during which time Israel massively expands settlements and entrenches its occupation rather than rolling it back, boils over into a second, more violent uprising, sparked by a provocative visit by Israeli opposition leader Ariel Sharon, who is reviled by Palestinians for his brutal record as an officer in the Israeli military and as defense minister, to the Noble Sanctuary mosque complex in occupied East Jerusalem.
December 2000: The Clinton Parameters Unveiled
In December 2000, following the breakdown of talks at Camp David the previous July, US President Clinton proposes a framework for a permanent peace agreement, known as the Clinton Parameters. For the Palestinians, its key points include the creation of a Palestinian state in most of the West Bank with Arab neighborhoods of East Jerusalem as its capital, and Palestinian sovereignty over the Haram al-Sharif mosque complex in the Old City (known as the Temple Mount to Jews). For Israelis it stipulates that settlements comprising 80% of Jewish settlers would be incorporated into Israel, along with settlements in East Jerusalem, and that Israel would retain control over Jewish holy sites in the Old City. Both sides agree to the parameters as the basis for further talks, with reservations.
January 2001: Taba Summit
Following the failure at Camp David and the outbreak of the Second Intifada, Israeli and Palestinian negotiators meet again in Taba, Egypt, in January 2001. Although both sides subsequently agree that progress is made at Taba, by this time Barak is a lame duck prime minister, with polls predicting a massive defeat for his Labor party in elections scheduled for February.
February 2001: Ariel Sharon Elected Prime Minister
On February 6, 2001, Ariel Sharon, Netanyahu's successor as Likud leader and a staunch opponent of the Oslo Accords and Palestinian statehood, is elected prime minister. With Sharon's election, the peace process initiated by Oslo effectively ends. Sharon refuses to negotiate with Arafat and the PLO, continues settlement construction, and attempts to crush the Second Intifada by assassinating Palestinian leaders and launching massive, bloody military assaults on Palestinian population centers in the occupied territories.
April 2003: "Roadmap for Peace" Issued
Two and a half years into the Second Intifada, and more than two years after the last meaningful negotiations between Israelis and Palestinians, US President George W. Bush issues what comes to be known as the "Roadmap to Peace." Accepted by both sides with numerous reservations, the Roadmap's provisions call for an Israeli settlement freeze and the dismantling of all settlement "outposts" built after March 2001.
November 2004: Yasser Arafat Dies
Yasser Arafat dies in a French hospital after a brief illness, following months of being held as a virtual prisoner by the Israeli army in his Ramallah compound. Due to the mysterious circumstances surrounding his demise, and Israel's long history of assassinating Palestinian leaders, speculation remains to this day regarding the cause of Arafat's death.
January 2005: Mahmoud Abbas Elected President of the PA
On January 9, Mahmoud Abbas, Yasser Arafat's successor as chairman of the PLO, is elected president of the PA by Palestinians living in the West Bank and Gaza.
September 2005: Gaza Withdrawal Completed
In September 2005, Israel completes the withdrawal of soldiers and approximately 8000 settlers from Gaza, part of Prime Minister Ariel Sharon's so-called "disengagement" plan. In explaining the strategic thinking behind the withdrawal, top Sharon advisor Dov Weisglass tells the Israeli newspaper Haaretz that it is intended to be "formaldehyde" for the peace process, stating: "The significance of the disengagement plan is the freezing of the peace process... And when you freeze that process, you prevent the establishment of a Palestinian state, and you prevent a discussion on the refugees, the borders and Jerusalem. Effectively, this whole package called the Palestinian state, with all that it entails, has been removed indefinitely from our agenda… The disengagement is actually formaldehyde… It supplies the amount of formaldehyde that is necessary so there will not be a political process with the Palestinians." Despite the withdrawal of soldiers and settlers, according to international law Gaza remains under Israeli occupation, as Israel continues to exercise effective control over the area.
January 2006: Ariel Sharon Suffers Massive Stroke
On January 4, 2006, Prime Minister Ariel Sharon suffers a massive, debilitating stroke and falls into a coma which he remains in today. In the ensuing election, Ehud Olmert of Sharon's new Kadima party becomes prime minister.
November 2007: Annapolis Conference
Toward the end of his second term, US President George W. Bush convenes the Annapolis Conference, bringing together PLO Chairman Mahmoud Abbas, and Israeli Prime Minister Ehud Olmert in Annapolis, Maryland. Although the two sides reportedly make progress in talks, for the first time explicitly agreeing that the endgame of negotiations is the creation of a Palestinian state, Olmert's political future is clouded by corruption allegations, undermining his ability to ratify a peace agreement. In July 2008, Olmert announces he won't seek the leadership of the Kadima party ahead of upcoming elections.
February 2009: Benjamin Netanyahu Elected Prime Minister for Second Term
Following elections in February 2009, Benjamin Netanyahu forms a coalition government in March and returns for his second term as prime minister, declaring he won't continue negotiations where they left off under his predecessors.
June 2009: Netanyahu's Bar-Ilan University Speech
In June 2009, under enormous pressure from the US and international community, Netanyahu gives a speech at Israel's Bar-Ilan University where he states for the first time that he supports the creation of a Palestinian state. However, in his speech and subsequently, Netanyahu attaches numerous conditions that effectively strip the "state" he is proposing of any real sovereignty, including that it be demilitarized; that its borders and airspace would be controlled by Israel; the Israeli army would retain a long-term presence in the Jordan Valley; and occupied East Jerusalem would remain under Israeli control, as would large so-called settlement "blocs." Tzipi Hotovely, a parliamentarian from Netanyahu's Likud party, later explains that the Bar-Ilan speech was merely "a tactical speech for the rest of the world." (See here for more on Netanyahu and the two-state solution)
November 2009: Start of Israeli Settlement "Freeze"
In November 2009, the Israeli government responds to pressure from the Obama administration to stop all settlement construction in order to facilitate a return to talks, announcing a 10-month settlement "freeze" that includes numerous loopholes, allowing continued construction on previously approved projects, municipal infrastructure, and excluding settlements in East Jerusalem. Immediately following the end of the 10-month partial slowdown, Israel accelerates construction rapidly in what observers describe as a "settlement boom." According to settlement watchdog group Peace Now, the rate of settlement growth following the slowdown is four times higher than prior, with more than 13,000 housing units approved for the West Bank and East Jerusalem within two months of its expiration. Additionally, according to Peace Now, immediately before the partial slowdown comes into effect, there is a "33% spike in building starts compared to previous months, effectively inoculating the settlers in advance so that they would feel little or no effect from the moratorium."
May 2010: Proximity Talks Begin
Beginning in May 2010, under pressure from US President Barack Obama, representatives of Israel and the PLO engage in indirect talks through US officials. No progress is made due to the hardline positions of the Netanyahu government.
2010: Number of Settlers Triples Since Start of Oslo
In July 2010, Israeli human rights organization B'Tselem issues a report, "By Hook and By Crook: Israeli Settlement Policy in the West Bank," which notes that 17 years after the Oslo process was initiated, the number of settlers in the occupied West Bank (excluding East Jerusalem) has nearly tripled, from approximately 110,000 in 1993 to more than 300,000. Another approximately 200,000 Jewish settlers live in occupied East Jerusalem.
August 2013: Direct Talks Resume
Three years after negotiations last broke down, and almost 20 years since the start of Oslo, US Secretary of State John Kerry convinces Israelis and Palestinians to return to the negotiating table once again. Despite pleas from the Palestinian side, the US fails to convince Israel to institute a settlement freeze or make changes to the bilateral framework used in previous failed negotiations. As talks get underway, Israeli authorities make a series of announcements for new settlement construction, provoking the ire of Palestinians who accuse Israel of once again using negotiations as a cover to expand settlements on Palestinian land, in a replay of the Oslo years.