The Children of Gaza: A Generation Scarred & Under Siege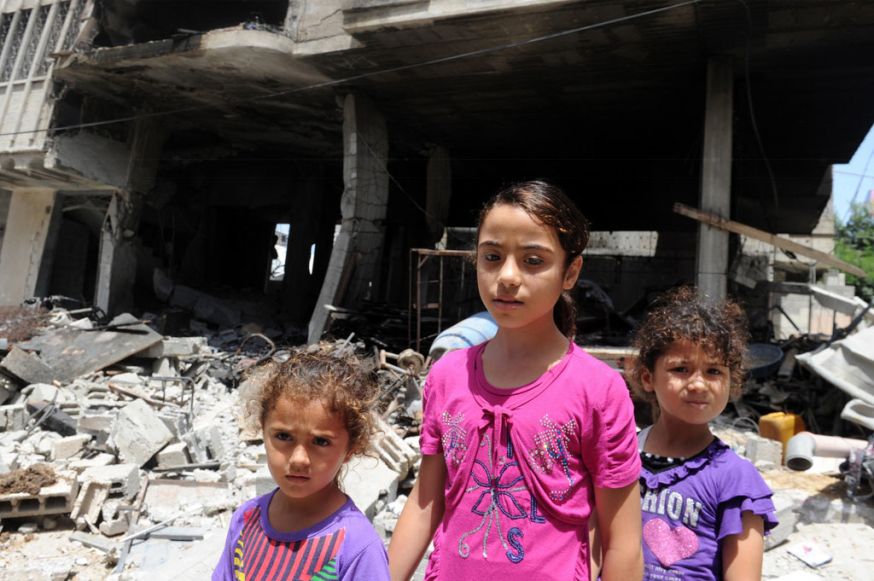 PHOTO: Palestinian children travel to an UNRWA school to seek shelter after evacuating their homes near the border in Gaza City on July 13, 2014. (UN/Shareef Sarhan)
On August 24, nearly half a million Palestinian children in Gaza who were scheduled to start a new school year were unable to do so because of Israel's latest military assault on the occupied and besieged coastal strip, "Operation Protective Edge," which began on July 8 and killed more than 2100 people, including at least 1462 civilians. With a fledgling ceasefire agreed to on August 26 taking hold, the children of Gaza are struggling to cope with the horrors they experienced during Israel's brutal attack, and to return to some semblance of normalcy.
The following fact sheet provides an overview of the impact that Israel's latest assault and its siege and blockade have had on the children of Gaza. For further reference, see our recently released fact sheet, Gaza Crisis Update (August 22).

CHILDREN KILLED & INJURED BY ISRAEL'S LATEST ASSAULT
CHILDREN TRAUMATIZED BY ISRAEL'S LATEST ASSAULT
FAMILIES DEVESTATED
According to the UN, between July 7 and August 22 at least 140 Palestinian families had three or more members killed in a single Israeli attack, for a total of 735 lives lost.
According to the UN, as many as 1500 children may have been orphaned by Israeli attacks that killed their parents.
The UN estimates that 6000 children will have a parent with a lifelong disability.
HOMES & LIVELIHOODS DESTROYED, FAMILIES STRUGGLING TO SURVIVE
(ADDITIONAL) OBSTACLES TO EDUCATION FOR GAZA'S CHILDREN