Israel's West Bank Crackdown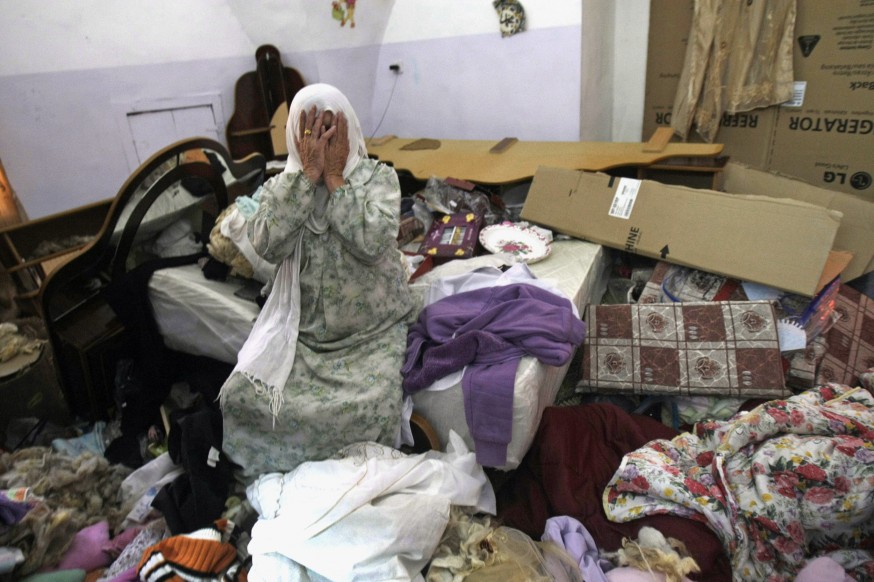 PHOTO: A Palestinian woman cries in her home after a raid by Israeli troops as the army continues feverish searches for three missing Israeli teens, in Salim village near the West Bank city of Nablus, Sunday, June 22,2014. (AP Photo/Nasser Ishtayeh)
On June 12, 2014, three Israeli teenagers disappeared while hitchhiking from an Israeli settlement near Hebron in the southern occupied West Bank. In response, Israel immediately accused Hamas of kidnapping them and launched its largest military operation in the West Bank in a decade.
The widespread and repressive nature of the crackdown, which has been condemned by Palestinian, Israeli, and international human rights organizations, has led some observers to conclude that the government of Israeli Prime Minister Benjamin Netanyahu is exploiting the teens' disappearance to suppress Hamas and to undermine the recently formed Palestinian Authority unity government, which is supported by Hamas.
PALESTINIANS KILLED & INJURED
Since the start of the large-scale crackdown on June 13, 2014, at least nine (as of June 27) Palestinians – mostly unarmed civilians - have been killed by Israeli soldiers or died as a result of their operations in the West Bank and Gaza, and scores more have been injured.
Palestinian fatalities:
MILITARY RAIDS & ARRESTS
Hundreds of military raids have been launched across the occupied West Bank, although the missing Israeli teens were last seen near Hebron in the southern West Bank and are believed to still be in the area. Raids have targeted more than 1000 private homes, the offices of political parties, refugee camps, and the campuses of Birzeit University near Ramallah and the Arab American University in Jenin, resulting in the detention and arrest of students and staff.
IMPRISONMENT WITHOUT TRIAL & TORTURE & ABUSE OF PALESTINIAN PRISONERS
INCREASED LIMITATIONS ON MOVEMENT & COLLECTIVE PUNISHMENT
Since the start of the crackdown on June 13, Israel has further tightened its restrictions on the movement of Palestinians within the occupied West Bank, particularly the southern West Bank in and around Hebron where the missing teens were last seen, collectively punishing the entire Palestinian population of the occupied territories. These restrictions are in addition to the already severe Israeli restrictions imposed on the movements and freedoms of Palestinians living under Israel's 47-year-old military rule.
According to a statement issued by Amnesty International on June 17:

"Israeli authorities have imposed a number of measures that clearly constitute collective punishment on Palestinians in the Occupied Palestinian Territories. These include the imposition of a complete closure on the Hebron district of the West Bank, which prevents some 680,000 Palestinians from moving between villages and the city of Hebron, as well as within the city. Thousands of residents of the Hebron district who have permits to work inside Israel or in Israeli settlements cannot reach their places of employment. Residents of the Hebron district under the age of 50 have also been prevented from leaving the West Bank via the Allenby Crossing to Jordan."

"These latest measures of collective punishment come on top of many prolonged punitive measures against Palestinian civilians imposed by the Israeli authorities, including Israel's seven-year blockade of the Gaza Strip, which Amnesty International and many other organizations have repeatedly condemned as a flagrant violation of the Fourth Geneva Convention."
STATEMENTS FROM HUMAN RIGHTS ORGANIZATIONS
B'Tselem
Human Rights Organizations: "Refrain from Collectively Punishing Palestinians" (June 22, 2014)
Letter from Human Rights Organizations to Israeli Defense Minister Moshe Yaalon.
Harm to the Palestinian population and collective punishment in Operation Brother's Keeper (June 22, 2014)
Amnesty International
Abducted Israeli Teens Must Be Released, Israel Must Cease Collective Punishment Of Palestinians (June 17, 2014)
Human Rights Watch
Free 3 Abducted Youth: Israeli Response Needs to Respect Palestinian Rights (June 16, 2014)
comments powered by

Disqus