Sharif S. Elmusa: Poet and Environmental Scholar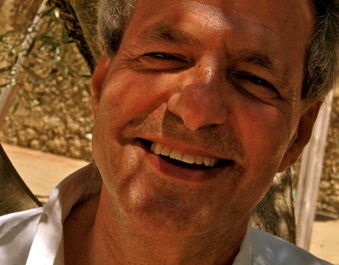 For Palestinian-American poet and environmental scholar Sharif S. Elmusa, writing poetry is not just an art. It is what he describes as the "continuous exercise of an existential need." A self-described poet from birth and first-generation Palestinian refugee, Elmusa recently published the first collection of his poetic works, Flawed Landscape: Poems 1987-2008.

Divided thematically into three sections, the collection depicts aspects of the author's imagined life - the initial trauma of forced migration, the fragile warmth of family, and the tensions of exile - while maintaining a consistent theme of deep-rooted connectedness to the homeland. Elmusa's poems are rich in imagery, and draw on elements of impressionism and surrealism. "I like to think of my writing more as a form of painting with words," he says. "I enjoy juxtaposing distant realities."

Elmusa is an associate Professor of political science at the American University of Cairo and one of the leading hydropolitics and environmental scholars of the Middle East. He has published, among other works, Water Conflict: Economics, Politics, Law and Palestinian-Israeli Water Resources, widely regarded as the definitive volume on this issue. He is also editor of Culture and the Natural Environment: Ancient and Modern Middle Eastern Texts.

Born in 1947 in the village of Al-Abbasiya - 10 miles from the port city of Jaffa - Elmusa's family fled the village during the Nakba, along with the more than 700,000 Palestinians who were driven from their homes during the creation of Israel in 1948. He grew up in a refugee camp on the outskirts of the ancient town of Jericho, but has vivid recollections of hearing about his home village as a child. "Our parents didn't read us 1,001 Nights," he recalls. "For us, Palestine was the legend."

Elmusa left Jericho first to study civil engineering in Egypt. Then he traveled to the United States, where he attended the Massachusetts Institute of Technology, receiving a doctorate in regional development. Soon after, he settled with his wife, Middle East historian Judith Tucker, in Washington, DC. In addition to continuing his work as a poet in the city, he served as a free-lance author, Senior Fulbright Fellow, and senior research fellow at the Institute for Palestine Studies. He has two children, Karmah and Layth, and currently divides his time between Washington and Cairo.

Elmusa co-edited the pioneering anthology Grape Leaves: A Century of Arab-American Poetry. His own poems and translations of Arabic poetry have appeared in numerous publications. He has just completed a new poetry manuscript entitled Transport, which is looking for a home.