Tatreez & Tea Preserves Palestinian Embroidery in the Diaspora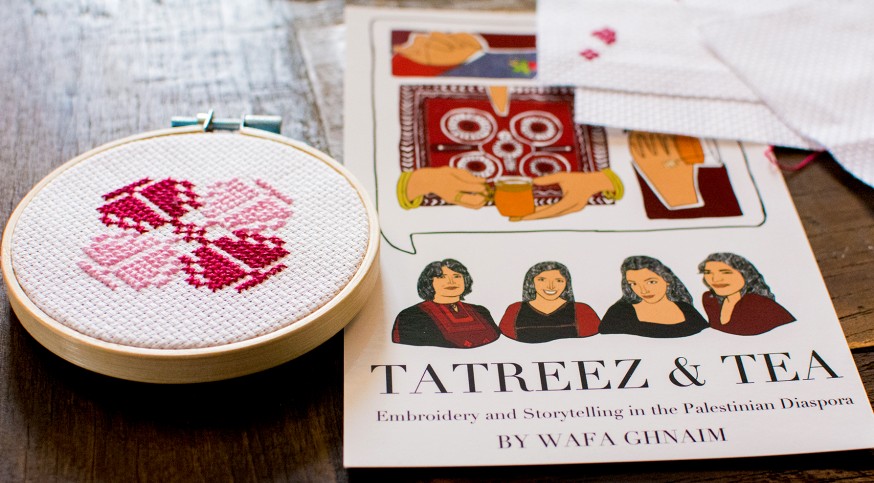 The second edition of Tatreez & Tea, a book on the history of Palestinian embroidery, is set to be released later this month.
Tatreez & Tea, a U.S.-based initiative dedicated to preserving Palestinian embroidery (tatreez), folk art, and storytelling, celebrates the release of its second edition book this June 30th.
Produced by mother-daughter duo Feryal Abbasi-Ghnaim, an award-winning embroidery artist and Nakba survivor, and Wafa Ghnaim, a Palestinian-American writer and artist, the expanded second print edition of Tatreez & Tea: Embroidery and Storytelling in the Palestinian Diaspora contains dozens of embroidery design patterns and inspirations, new family recipes, and rare details about traditional Palestinian folk art passed down through generations of Palestinian women.
Historically, Palestinian women created embroidery, utilizing motifs that documented the stories of their lives. A centuries-old folk art, Palestinian tatreez embroidery is passed from mother to daughter, often over a cup of tea.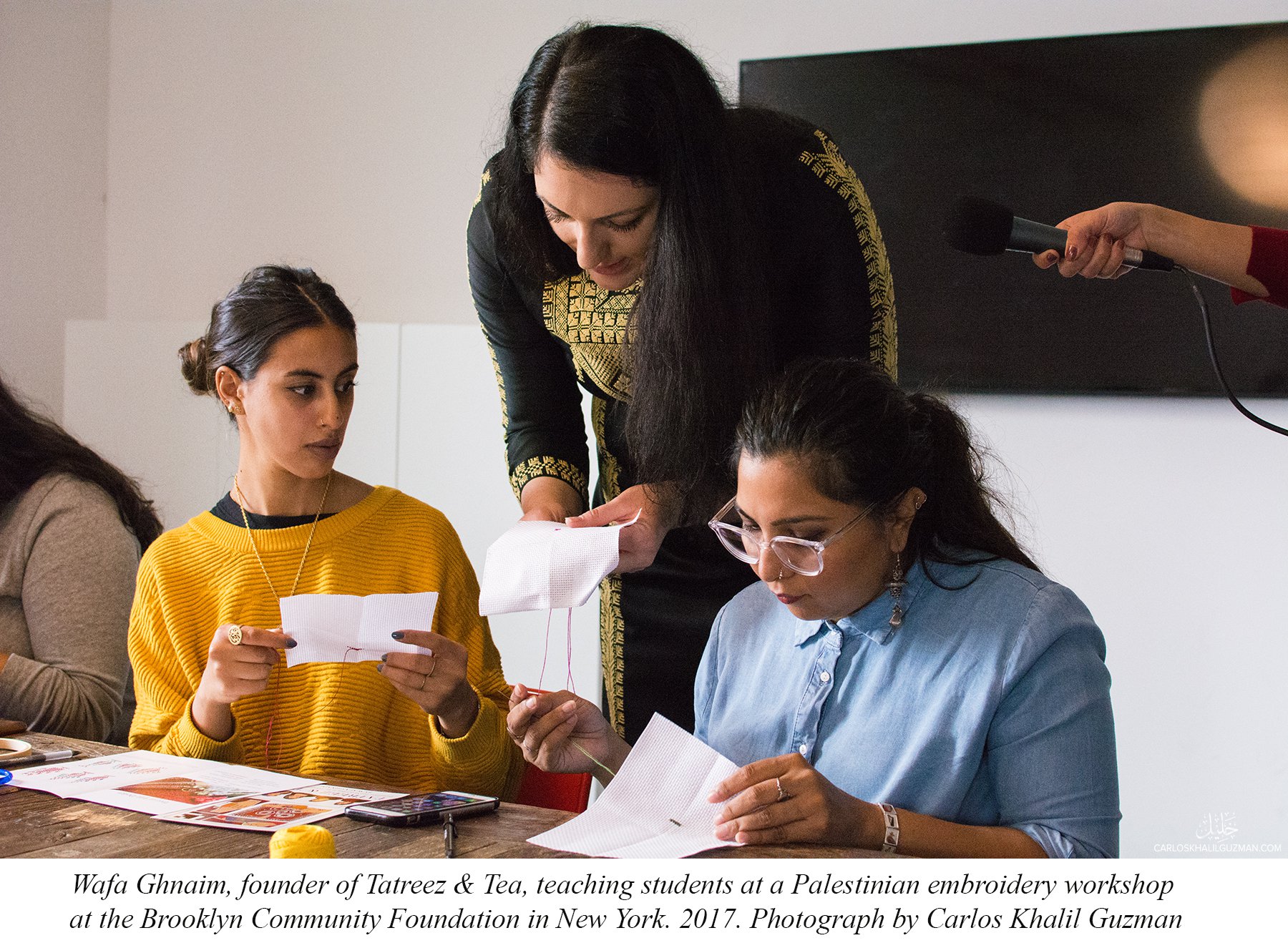 "Palestinian embroidery contains women's stories, and describes nature, lessons about the harvest season in Palestine, personal stories and historical events," Abbasi-Ghnaim explains. "Women would stitch their observations and experiences onto their dresses.
In the book, Abbasi-Ghnaim and Ghnaim decode a total of 43 embroidery designs along with instructions for learning to stitch.
"We provide resources, namely through workshops, lectures and publications, to preserve Palestinian tatreez embroidery, folk arts and storytelling traditions in the diaspora," says Ghnaim.
Since Tatreez & Tea launched in 2016, Ghnaim has held dozens of embroidery workshops across the U.S. and Canada at community centers, art collectives, libraries, universities, and even Spotify.
Tatreez & Tea is only a couple years old but Abbasi-Ghnaim has been dedicated to preserving Palestinian art since she was a teenager.
In 1965, Abbasi-Ghnaim started her career as a teacher for the United Nations Relief Works Agency (UNRWA) at Jordan's Irbid Palestinian refugee camp; her passion to preserve Palestinian art and culture resulted in the implementation of her art curriculum at all UNRWA schools in the Damascus region. Later, her design was chosen as the logo for UNESCO's Palestinian heritage encyclopedia series.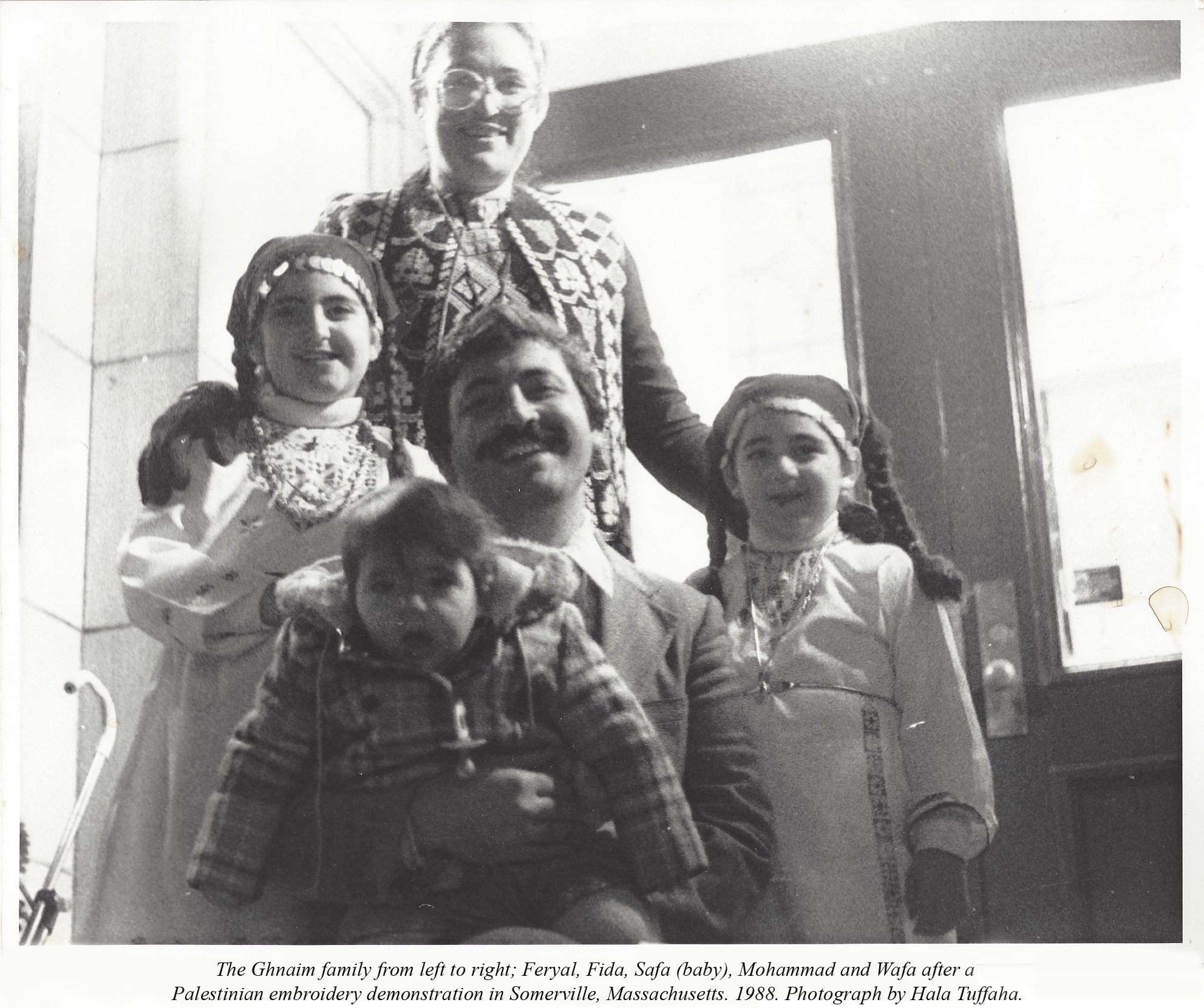 In 1980, Abbasi-Ghnaim and her husband immigrated to Boston, Massachusetts where she led a project with the director of the Oral History Center of Cambridge, Massachusetts. The culminating exhibit, A Passion for Life: Stories and Folk Arts of Palestinian and Jewish Women, nationally toured the works and words of eight Jewish and Palestinian traditional artists, including Abbasi-Ghnaim. In 1985, the Women's Peace Conference in Nairobi, Kenya, featured Abbasi-Ghnaim's "حمامة السلام" ("Dove of Peace") tapestry.
After having three daughters, Abbasi-Ghnaim moved to Oregon with her family in 1989 where she went on to receive numerous awards as a master artist for Oregon's Traditional Arts Apprenticeship Program. Also an educator, Abbasi-Ghnaim has lectured at various universities including the University of Massachusetts, the Oral History Center of Cambridge and Portland State University.
Today, her daughter continues her work as Abbasi-Ghnaim focuses her artistic mentorship on apprentices sponsored by the Oregon Folklife Network and the University of Oregon, utilizing a curriculum that is executed through one-on-one guidance.
"Tatreez is a personal and sacred practice. The motion of embroidering the cross-stitch by pulling the threaded needle through the fabric in a meditative repetition summons a powerful spirituality with the legacy of all Palestinian women who once did the same. " Ghnaim explains. "When we embroider, we are instantly transported through time, place and space to a simple, peaceful moment of creation and craft by our ancestors. We give our Palestinian ancestors life and dignity through tatreez, many of whom might have worried they'd have no legacy at all."
Abbasi-Ghnaim adds, "When I embroider, I feel that I am close to my homeland."
Many of the designs in second edition of Tatreez & Tea were passed down through the Abbasi family, and were preserved from memory after the Nakba. When Abbasi-Ghnaim immigrated – designs in tow – with her husband from Jordan to the U.S., she received her artistic roots in the diaspora.
Abbasi-Ghnaim was born in Safad, a city in northern Palestine where traditional folk arts are especially prevalent, and fled with her family to Northern Syria during al-Nakba before moving to Jordan. Her half sister carried her the entire way to Syria.
"When people are refugees, they don't have the outlook or money to buy tatreez materials, so for six or seven years most people didn't do any embroidery," Abbasi-Ghnaim explains. She learned to stitch tatreez from her mother and grandmother, and says, "When I was young, I felt proud stitching tatreez, because it was something that the older people were doing. Tatreez is who I am."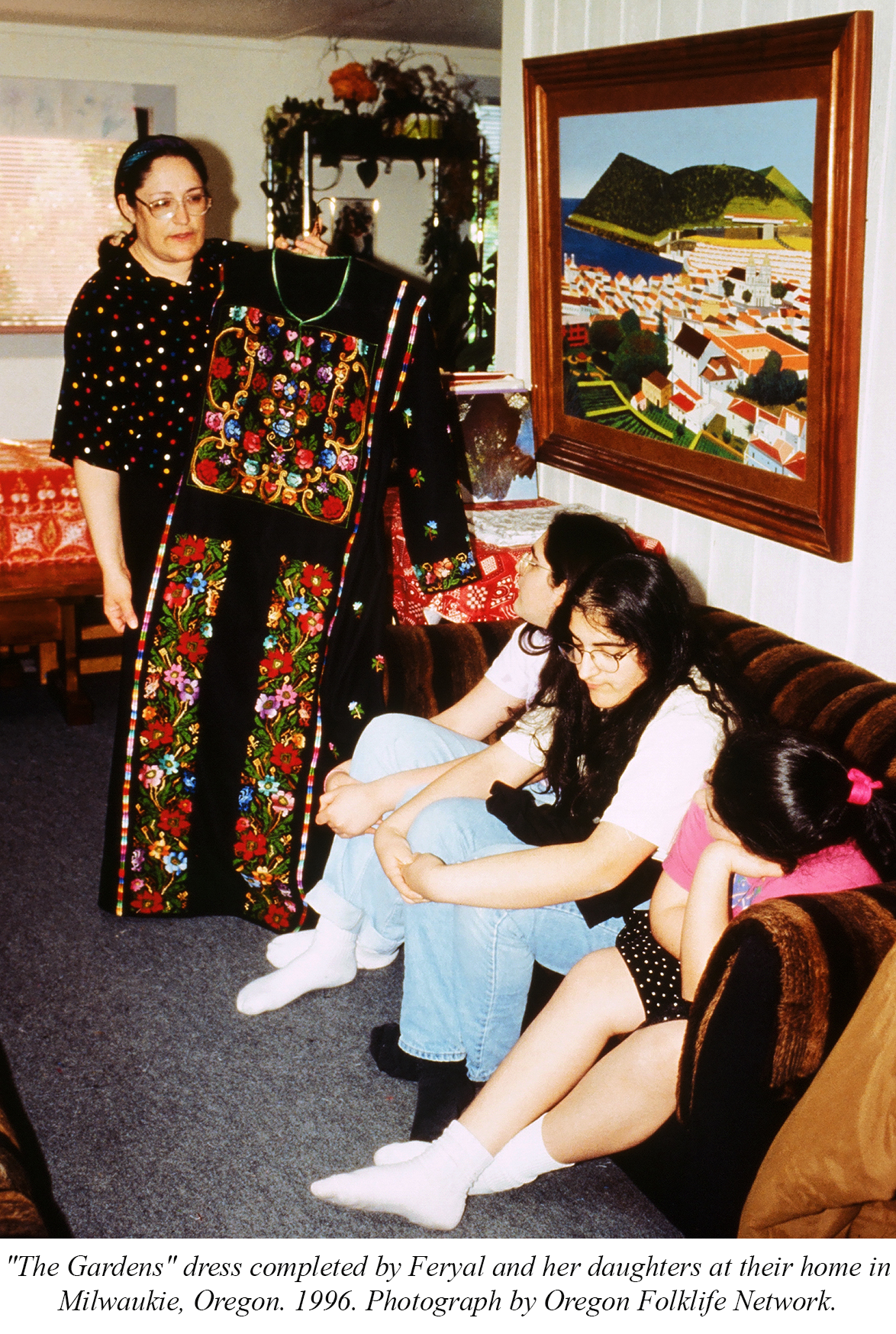 Abbasi-Ghnaim raised her three daughters to understand the craft. Ghnaim has a picture of herself assisting her mother at age two, seated at her mom's side holding a pair of threading tweezers.
Her and her sisters, Fida and Safa, spent their childhood creating embroidery projects and assisting their mother. In 1993, Ghnaim and her older sister, Fida, were awarded a two-year apprenticeship which the used to help Abbasi-Ghnaim stitch an elaborate Palestinian dress called "The Gardens," which was displayed at the Oregon State Capitol.
Ghnaim jokes, "We started The Gardens dress when my sisters and I were very little. We spent so much of our childhood with the dress that she felt like our fourth sister." By age 13, despite struggling to claim her Palestinian-American identity living in a mostly white community, Ghnaim knew she wanted to write a book about tatreez.
The book project later came to fruition in 2015, and once she started writing the first edition, Ghnaim says she "couldn't stop." Three years in a row Ghnaim has been awarded by the Brooklyn Arts Council, Regional Arts & Culture Council and the Clackamas County Cultural Coalition. Abbasi-Ghnaim looks forward to sharing the new designs with Palestinians in the diaspora. "I don't want our children to forget their homeland, their identity," she shares. "Embroidery helps Americans understand who we are. We are human."
To be released in print on June 30, 2018, Tatreez & Tea: Embroidery and Storytelling in the Palestinian Diaspora, is now available for pre-order on Amazon. To contact Feryal Abbasi-Ghnaim or Wafa Ghnaim please email [email protected].