Gaza Crisis Update (July 21, 2014)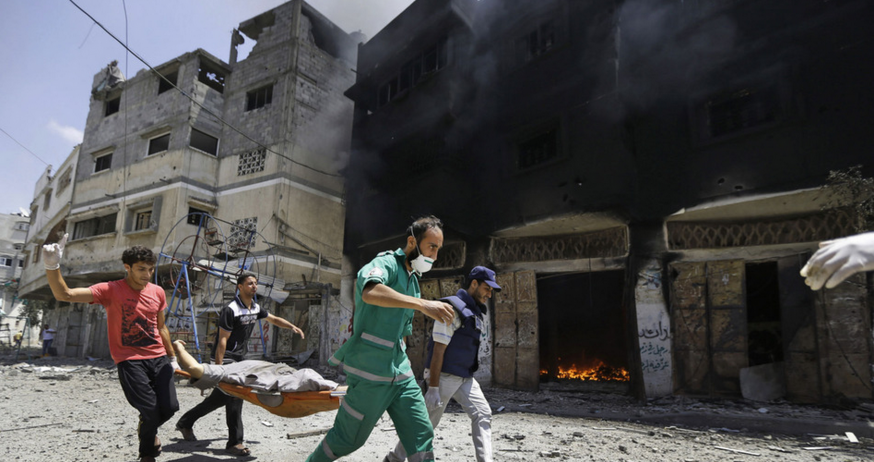 PHOTO: LEFTERIS PITARAKIS/ASSOCIATED PRESS
Since July 7, Israel has killed at least 502 Palestinians in Gaza, including at least 100 children.
On Sunday (July 20) alone, Israel killed at least 150 Palestinians in Gaza, including at least 17 children, 14 women, and four elderly people.
During the first three days of Israel's ground invasion, which began on July 17, Israel killed approximately 200 Palestinians in Gaza.
According to the United Nations, as of July 20 at 8 AM ET:

At least 270 civilians have been killed (Note: this figure does not include the complete death toll from Israel's bloody assault on the Shejaiya neighborhood in Gaza City on Sunday).
At least 3000 Palestinians have been injured, including at least 900 children and 530 women.
100,000 people are internally displaced, including 84,000 who are sheltering in 61 United Nations Relief and Works Agency (UNRWA) schools.
At least 72,390 children require specialized psychosocial support (PSS) due to trauma caused by the death or injury of someone they know or loss of home.
Water supply or sewage services to as many as 1.2 million people have been cut or severely disrupted.
80% of the population receives electricity for only 4 hours a day.
At least 85 schools and 18 health-related facilities damaged since July 7 (three hospitals, twelve clinics and three nursing care centers) require repair. At least one doctor and one medic have been killed and at least 19 medical staff injured, and at least four ambulances damaged.

​NOTABLE INCIDENTS OF CIVILIAN CASUALTIES INCLUDE:

SHORTAGES OF MEDICAL SPECIALISTS, EQUIPMENT & SUPPLIES
According to the UN, Gaza medical facilities urgently require:

Specialists in neurosurgery (cranial and spinal cord), plastic surgery, war general surgery, advanced orthopedics, anesthesiologists, and burn management specialists.
71 drug items and 20 disposable items, especially psycho-tropic drugs for patients with mental illness, trauma and anxiety.
Eight anesthesia machines, 10 ventilators, five electrosurgical units, 20 vital sign monitors, ECG machines, and five defibrillator machines.
ATTACKS ON MEDIA