Tareq Abboushi: Musician and Composer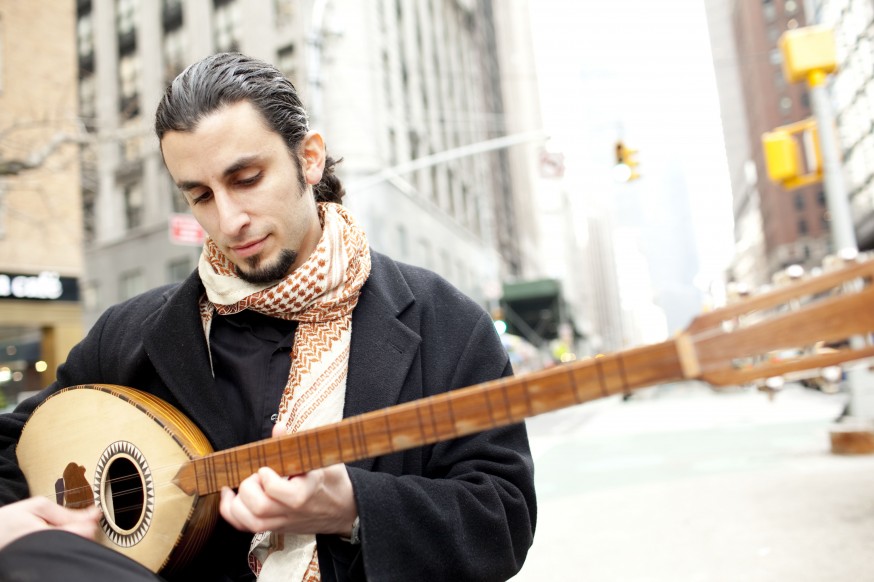 Musician and composer Tareq Abboushi grew up around music but didn't plan on it being his livelihood. "My mother is a piano teacher, so I've been interested in music since I was a kid, but never really thought that it would be a career," he explains. "I just played the piano - it was a hobby more than anything else. When I first went to college, I studied advertising. Later on, it became clear that music was what I wanted to pursue."
Born in Dubai in 1978, Abboushi grew up in Palestine. He came to the U.S. for his senior year of high school and earned a B.M. in Jazz Piano Performance at William Paterson University.
From 1998 to 2000, Abboushi founded and played in a jazz trio in Ramallah, Palestine. It was during that time he also began playing the buzuq, a long-necked lute. Back at college in late 2000, he founded the quintet Shusmo, for which he composes pieces of Middle Eastern/Jazz fusion. In 2005, they released their first album, "One."
"Ironically, now that I've graduated with a jazz piano degree, I don't play the piano," says Abboushi. "I've found that things happened, doors opened, when I became interested in the buzuq. It speaks to me, and resonates more with me and my identity as a Palestinian than jazz piano, which remains a little foreign."
Tareq Abboushi plays with a variety of groups in New York and has performed with musicians such as Simon Shaheen, David Brosa, and Dan Zanes. He has given lectures at Columbia University, New York University and The Museum of the City of New York. In 2009, he composed the score for a short film called "Roos Dajaj" (Chicken Heads) that took the prize for "Best Short Film" at both the Dubai and Columbia Film Festivals. The film w as also selected for Sundance, New York and Clermont Film Festivals.
The last time Abboushi was back in Palestine was to perform at the Jerusalem Festival in 2005. "It was amazing," he says. "The festival was one I had been going to when I was in Palestine, so to be on that same stage and to play for an audience of familiar faces was really an honor."
"I'm always working on new stuff, writing new material," he says. "I'm experimenting right now with new elements: electronic music, a full drum set, and an electric bass."Mumtastic, Abboushi's latest album with his band Shusmo will be released in the fall of 2010.
To interview Tareq Abboushi contact the IMEU at 718-514-9662 or [email protected]