Does Netanyahu Really Support the Two-State Solution?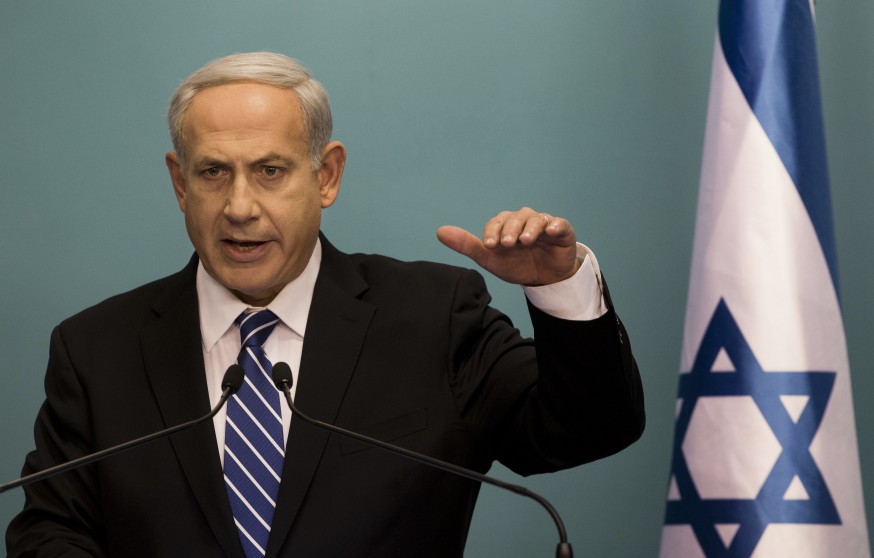 PHOTO: Israeli Prime Minister Benjamin Netanyahu speaks during a news conference at the prime minister's office in Jerusalem. (Bernat Armangue / Associated Press)
Originally published on March 19, 2013 and updated on March 24, 2015.
Opposition to the Oslo Accords & the Gaza "Disengagement"
The Bar-Ilan University Speech & Netanyahu's Vision of a Palestinian "State"
Returning to power in March 2009 for a second term as prime minister (2009-2013), Netanyahu once again came under pressure from a US president, recently elected Barack Obama, and the international community, to enter into serious negotiations with the Palestinians based on the two-state solution.
In June 2009, Netanyahu gave a speech at Israel's Bar-Ilan University where he said for the first time that he supported the creation of a Palestinian state, in a move heralded by his supporters as a bold and historic moment. However, he attached numerous conditions that effectively stripped the proposed state of any real sovereignty, and others that no Palestinian leader could accept even if they wanted to. These conditions included:

The state would be demilitarized and its borders and airspace would be controlled by Israel.
Occupied East Jerusalem would remain under Israeli control.
Palestinians would have to recognize Israel as the "state of the Jewish people," thereby formally endorsing the institutionalized discrimination that Palestinian citizens of Israel (who make up about 20% of the population) face living in a state that privileges Jews over non-Jews.
Palestinian refugees expelled during Israel's creation and their descendants (also refugees) would not be allowed to exercise their internationally recognized legal right to return to the land they were forced to leave when Israel was established in 1948-9

In his speech to a joint session of the US Congress in May 2011, Netanyahu reiterated and elaborated on his vision of a Palestinian "state," saying:

He would refuse to base negotiations on Israel's internationally recognized, pre-1967 borders, the foundation of previous talks and international efforts to make peace going back decades.
Israel would retain large so-called settlement "blocs" in and around East Jerusalem, which jut into the West Bank (the heartland of the proposed Palestinian state), effectively cutting it in two.
Israel would maintain "a long-term military presence" in the Jordan Valley, meaning Israel would control all entry in and out of the Palestinian "state" along with some of its most fertile agricultural land.

In late December 2012, Likud Knesset member (MK) Tzipi Hotovely told a panel discussion that the Bar-Ilan address was merely a "tactical speech for the rest of the world," declaring: "We are opposed to a Palestinian state."
In July 2014, Netanyahu declared that he would never relinquish control of the Jordan Valley, the heartland of the West Bank portion of an envisaged Palestinian state, saying:

I think the Israeli people understand now what I always say: that there cannot be a situation, under any agreement, in which we relinquish security control of the territory west of the River Jordan.

In March 2015, while campaigning for reelection, Netanyahu declared that his Bar-Ilan University speech was no longer relevant and that he would never allow the creation of a Palestinian state as long as he was prime minister. Although he tried to walk back his statement rejecting a Palestinian state after winning reelection, a senior Israeli official subsequently went even further, telling a journalist that the creation of a Palestinian state "won't even happen in our generation."
Creating "Facts on the Ground"
Likud & Coalition Partner Opposition to Palestinian Statehood (During Netanyahu's Third Term)
Likud
Inspired by the Revisionist Zionism of Zeev Jabotinsky, who advocated the creation of a Greater Israel that included all of historic Palestine as well as Jordan, Netanyahu's Likud party has historically opposed Palestinian statehood in the occupied territories and is strongly supportive of Israel's settlement enterprise. In previous years, Likud's platform explicitly prohibited the creation of a Palestinian state "west of the Jordan River." During the most recent election, the combined Likud-Yisrael Beiteinu party electoral list released no platform, with some observers speculating that it was because neither party supports the two-state solution but didn't want the diplomatic headaches that would be created if they declared it in their electoral platform.
Despite Netanyahu's supposed acceptance of Palestinian statehood as detailed in his Bar-Ilan speech, his party and its rank and file members have never accepted the idea of an independent Palestinian state in the occupied territories. Key Likud members named to Netanyahu's new cabinet who oppose Palestinian statehood include Defense Minister Moshe Ya'alon, Deputy Defense Minister Danny Danon, and Deputy Foreign Minister Zeev Elkin. During the previous government Ya'alon criticized his predecessor, Ehud Barak, for not approving settlement construction quickly enough, while Danon and Elkin, a settler considered one of the most right-wing members of Israel's previous parliament, want to annex "Area C" of the occupied Palestinian West Bank (about 60% of the total area) which, according to the terms of the interim Oslo Accords falls under full Israeli security control. (See here for a UN map of Area C.)
Yisrael Beiteinu & HaBayit HaYehud
In October 2012, Netanyahu allied Likud with former Foreign Minister Avigdor Lieberman's ultranationalist Yisrael Beiteinu (Israel Our Home) party to run on a joint parliamentary ticket in the upcoming election. Yisrael Beiteinu and Lieberman were important players in Netanyahu's previous government and will be again for his third term. Lieberman, a settler, has a long history of opposing peace negotiations and agreements signed with the Palestinians, and has said on numerous occasions that peace isn't possible for at least a generation. (See here for more on Lieberman and Yisrael Beiteinu.)
Naftali Bennett's ultra right-wing, pro-settler HaBayit HaYehudi (Jewish Home) party is another key member of Netanyahu's new government. While not a settler himself, Bennett is a former head of the main political body that represents Jewish settlers living in the occupied Palestinian territories and also supports annexing the 60% of the Palestinian West Bank known as Area C. In January 2013, Bennett told an interviewer: "I will do everything in my power, forever, to fight against a Palestinian state being founded in the Land of Israel." As part of the coalition agreement signed between the governing parties, HaBayit HaYehudi added a provision requiring the government hold a national referendum on any peace agreement that involved returning occupied Palestinian land. (See here for more on Bennett and HaBayit HaYehudi.
What Others Think of Netanyahu
Influences on Netanyahu's Views Towards the Palestinians
Netanyahu's views on the Palestinians were heavily influenced by Zeev Jabotinsky, the founder of the Revisionist Zionism movement and ideological father of Netanyahu's Likud party. Jabotinsky, who died in 1940, advocated the creation of a "Greater Israel" that encompassed not only what is today Israel, but the occupied Palestinian territories and neighboring Jordan.
Netanyahu was also deeply influenced by his father, Benzion, with whom he was close until the latter's death in April 2012. The elder Netanyahu (who was born Benzion Mileikowsky before emigrating to Palestine from Warsaw, Poland, in 1920 and changing his name to Netanyahu) worked for a time as a secretary to Jabotinsky in the late 1930s and held uncompromisingly harsh, racist opinions of Arabs. In a lengthy 2009 interview in which he described in detail his views towards Palestinians and other Arabs, Benzion Netanyahu told the Israeli newspaper Maariv:

The Bible finds no worse image than that of the man from the desert. And why? Because he has no respect for any law. Because in the desert he can do as he pleases. The tendency toward conflict is in the essence of the Arab. He is an enemy by essence. His personality won't allow him any compromise or agreement. It doesn't matter what kind of resistance he will meet, what price he will pay. His existence is one of perpetual war.

The two-state solution doesn't exist. There are no two peoples here. There is a Jewish people and an Arab population… There is no Palestinian people, so you don't create a state for an imaginary nation… They only call themselves a people in order to fight the Jews.

When asked what he thought the solution to the conflict was, the elder Netanyahu replied: "No solution but force… strong military rule. Any outbreak will bring upon the Arabs enormous suffering. We shouldn't wait for a big uprising to start, but rather act immediately with great force to prevent them from carrying on."
Asked how his views had influenced his son's policies as prime minister, in the same 2009 interview the elder Netanyahu stated:

Bibi might aim for the same goals as mine, but he keeps to himself the ways to achieve them, because if he gave expression to them, he would expose his goals.

Because he is smart. Because he is very careful. Because he has his ways of handling himself. I am talking about tactics regarding the revealing of theories that people with a different ideology might not accept. That's why he doesn't expose them - because of the reaction from his enemies as well as from the people whose support he seeks. It's an assumption, but it might be correct.

In a televised interview with Netanyahu and his father after the Bar-Ilan speech in 2009, the elder Netanyahu said of the caveats that his son (who was sitting next to him) had placed on Palestinian statehood:

He supports the kind of conditions they would never in the world accept… That's what I heard from him. Not from me. He put forth the conditions. These conditions, they will never accept them — not even one of them.