Mural Honoring Palestinian History and Culture to be Unveiled in San Francisco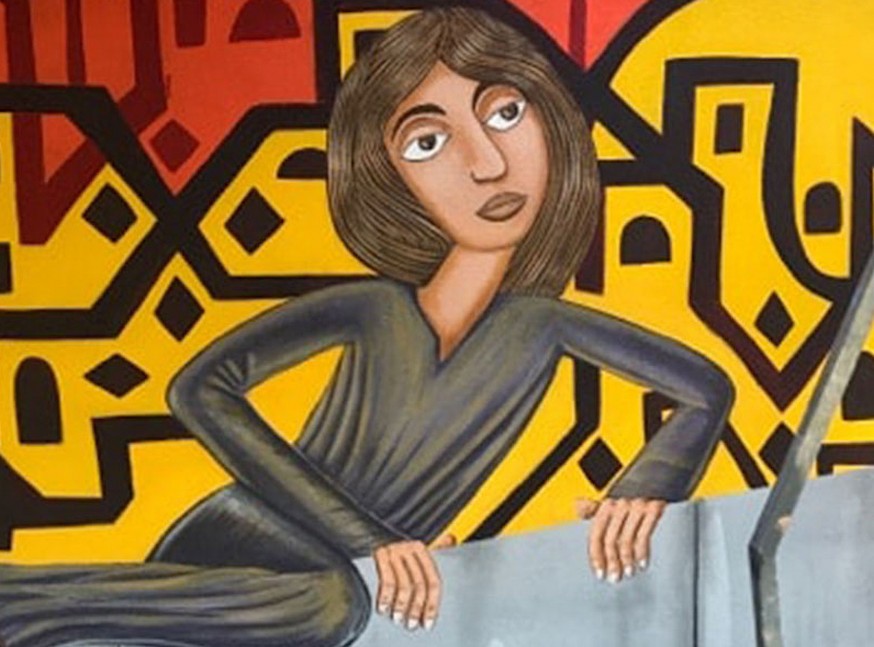 Motorists entering the 101 in San Francisco's upper market will soon see a large, vibrant wall with kids climbing over it.
The wall is part of a mural being painted by artist Chris Gazaleh on a residential building owned by Ron Dudum. Gazaleh and Dudum are both from San Francisco, and, in Dudum's words, both Eastern Orthodox Christian Americans of Palestinian ancestry.
The image of the wall is important to both. It represents the Separation Barrier that Israel built through the West Bank, further restricting Palestinans' access to medical care, education, farmland and more.
There's also a universality to the wall's message. Gazaleh calls the wall "a complete contradiction to humanity," remarking on the barrier at the U.S.'s southern border.
The image is a way to connect struggles.
Dudum agrees. "The parallels are obvious. I don't believe walls are a strategy for long-term peace anywhere," he says. The mural depicts a woman clutching a key and cracking the wall.
As the construction on Dudum's building neared completion, he conceived of the mural. He wanted the building's walls to represent both a beautiful, historical example of the Palestinian experience in general, and his own family's history. "My great uncles came to the San Francisco Bay Area almost a hundred years ago. This mural is for our neighbors and friends," recounts Dudum.
When Dudum reached out to 34-year old Gazaleh, whose mother grew up with Dudum, Gazaleh enthusiastically agreed to take on the project, even though it meant delaying his entry into a masters program. This mural was the opportunity he had been waiting for to put his art—and his message—into the world.
Gazaleh wants the mural to challenge Americans' perspectives about Palestine. "It will spark conversation, encouraging people to question and talk about Palestine."
Gazaleh welcomes the questions the mural might raise. "What is this about, what does this mean? What is this key? What is this orange tree?"
The orange tree in the mural has deep significance in both Dudum's and Gazaleh's family histories.
Dudum's grandfather planted orange groves near Jaffa 100 years ago. "That land has been part of our family narrative for over 100 years," he says.
For Gazaleh, the orange tree represents Palestinians' connection to the land, an economy that used to be thriving, and coexistence between Palestinian Jewish, Muslim, and Christian farmers. It also represents a specific section of coastal land on which his great grandfather owned an orange grove. "He was forcibly removed by guns," says Gazaleh, talking about the 1948 Nakba. Gazaleh's great grandfather never saw his orange grove again.
For Dudum, the mural is about a future without walls. "Sincere empathy in the celebration of diversity is a value not only in San Francisco but hopefully across the country."
Gazaleh hopes that the mural will show the beauty of Palestinian culture and history and will "assert our place, our existence." He also wants viewers to feel the connection to communities here. "I see how the destruction of my people relates to the destruction of people here," he says. "The more people learn about the connections that exist between the systems, the more we can learn how to free each other." Gazaleh believes art plays an important role in this freedom struggle. "Art is a form of resistance, because you can make something that's contrary to the mainstream framework. It's not accepting that story; we're reshaping the framework."
The mural holds possibilities for a better future. "These kids in the mural are resilient, they're taking the initiative in their own hand, they're climbing over this wall, they have dreams." Gazaleh has seen so many hopeless kids on the streets of San Francisco. "Somebody had to take away their hope," he says. "I want this mural to re-imbue some of that hope."
Gazaleh recognizes that climbing over the walls, whether on the U.S. border or in Palestine, may not be physically possible right now. However, he says, through painting the image of kids scaling those walls, "We can infer that this is a possibility. That we have the right to do this. We can be reminded of how important it is to honor our different, but also often shared, experiences and history."