Omar Dajani: Professor and Former Negotiator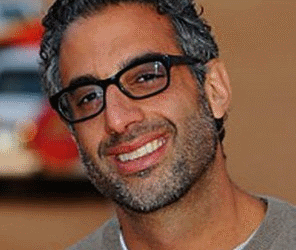 Law professor and former Palestinian negotiator and UN advisor Omar Dajani first became interested in the law in college. "I was fascinated by both legal theory and the way in which the law was unresponsive to the needs of the disenfranchised, yet had great potential to be a tool for vindicating their rights," he explains.

Born in Texas in 1970, Dajani earned his B.A. from Northwestern University and his J.D. from Yale Law School. Upon completing his degree, he was a law clerk for Ninth Circuit Court of Appeals Judge Dorothy Nelson and worked for Sidley Austin, LLP.

Dajani took a leave from his law firm in 1999 to join the Palestine Liberation Organization's Negotiations Support Unit. "Going to Palestine the first time was the most important experience that I've had," Dajani says. "I think that the conflict on paper is poignant enough, but when you see the political geography and the way in which the land is divided and the consequences it has for people's lives, it's hard not to get incensed."

He worked for the PLO from 1999 to 2001, before moving on to become a political adviser to UN Special Coordinator Terje Roed-Larsen, until 2003. "I left the NSU in part because Ariel Sharon had suspended negotiations and I was disturbed by the path things were taking at that juncture," Dajani says. "At the UN, part of my job was providing the Secretary General and Special Coordinator with as clear an understanding of Palestinian dynamics as possible, as well as working on the Road Map."

Omar Dajani is now an Assistant Professor of Law at McGeorge School of Law at the University of the Pacific. He continues to travel frequently to Palestine. "When I arrived in 1999, there was a prevailing sense that everything was going to change for the better very quickly," he explains. "One of the hardest things to bear is to see that hope dissipate ounce by ounce over the years. I think that the situation now is devastatingly depressing."

Currently, Dajani is working on two projects in Palestine, a USAID-funded effort to facilitate the access of Palestinian agricultural goods to the global market, and the Al-Mustaqbal Society to promote private business and an active civil society in Palestine.
Op-Eds by Omar Dajani:

Cause for hope with the Arab peace plan, IMEU

In Middle East's problems lie the solutions, San Francisco Chronicle